If the truth really does hurt, then sooner or later Australia is in for a world of pain.
And ironically, the guardians of our painful truths – the men and women of our Fourth Estate – are the ones with the most to lose.
Over the weekend, our mainstream press did something it rarely does – it let down its guard to lay bare its institutionalized racism for all to see.
And it was a glorious, glorious thing.
On Friday night, in Sydney and Melbourne, thousands of Australians – Aboriginal and non-Aboriginal – marched in protest at plans by the Commonwealth and West Australian governments to shut down remote Aboriginal communities.
Here's how the Herald Sun reported it.
Herald Sun asks what we think? You, @theheraldsun, are the 'SELFISH RABBLE' shut paper. #sosblakaustralia pic.twitter.com/Bi6LMx4sXx

— Mitchell Ward (@rocklilydesign) April 11, 2015
And here's the Fairfax coverage: less provocative, but just as willfully ignorant (it tackles the story as a traffic report).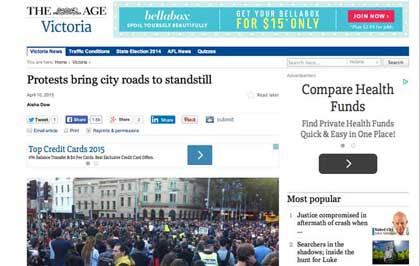 For the record, the Melbourne rally attracted around 4,000 people, Sydney around 800. And for the record, they were there to protest the forced closure of more than 100 remote Aboriginal communities, home to people for endure some of the worst life statistics on earth.
The mainstream media's indifference to this reality would be startling, if it wasn't so commonplace.
When 4,000 people turned out for a viewing of John Pilger's Utopia* at The Block in Redfern last year – a film which highlights the depth of Australia's brutal and long-standing racism – not a single syllable appeared in any mainstream media outlet, anywhere. The ABC included.
Utopia was seen by millions and millions of people in the UK and Europe. It's been far less warmly received in Australia.
But you don't have to look back to 2014 for the evidence. As with so many things 'political', what makes Fairfax' and News Corporation's weekend racism so obvious is the timing.
A week ago, both publications were salivating over the 'Reclaim Australia' rallies, which were staged in eight times as many locations (16 in all), but still attracted less people. In the case of Melbourne, more people turned out to protest Reclaim than the Reclaimers themselves.
And yet, strangely, the Reclaim rallies garnered significant media attention, much of it sympathetic to the racist cause the rallies were promoting.
There was no Herald Sun condemnation of the protesters; no branding of them as 'selfish'. Just an attack on some of those who protested against Reclaim, and a rallying cry for the right of people's free speech, even if that free speech was inherently racist.
Free speech is important of course… but some free speech is more important than others.
And here's where the timing gets really interesting. Only a few days before the Reclaim rallies, 148 university students were slaughtered by Islamic extremists at a university in Kenya.
You might have missed that fact – if was barely reported in Australian media. Even though all deaths at the hands of Islamic extremists are evil, some are clearly more evil than others… and worthy of media outrage.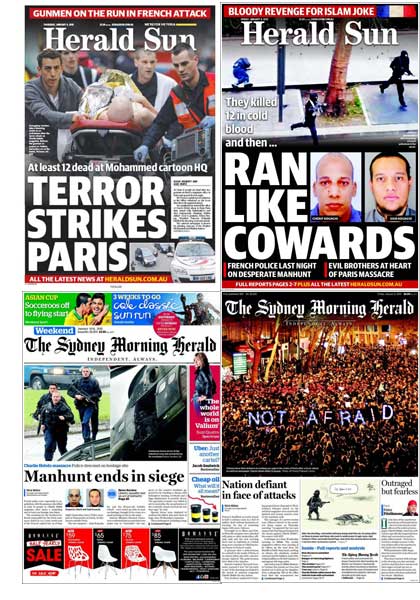 You might recall the Australian tabloids' reaction to the killings at Charlie Hebdo earlier this year, when 12 white people were slaughtered.
Of course black lives matter… just not as much as white lives.
And you might also recall the rolling Australian media coverage of the recent crash of a Germanwings flight. News blogs fired up, and 24 hour reporting ensued… with no accusations of 'terrorism' from Australian media at a white pilot who murdered 149 people.
All acts of terrorism are evil, of course… but only Muslims are actually terrorists.
Equally, people who disrupt Melbourne trams to highlight the ongoing destruction of Aboriginal lives and culture are "selfish rabble". And those inconvenienced are the victims.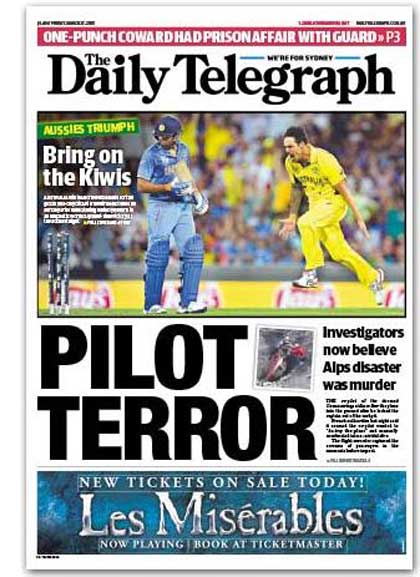 Never mind that Western Australia has the highest Indigenous incarceration rate on earth. The jailing rate of black males in WA is more than eight times greater than the jailing rate of blacks males during the dying days of Apartheid South Africa.
Our treatment of Aboriginal people appears to be a fact not lost on prominent South Africa activist, Sisonke Msimang who also turned her mind this week to Australian racism and the role that media plays.
Writing on the influential 'Africa Is a Country' website, Msimang notes: "The first thing that strikes you when you arrive in Australia is how racist this place is, and yet how committed many Australians are to not talking about race.
"As a South African I recognize this purposeful, focussed commitment to faux race blindness. Even as someone slags off Aboriginal people and immigrants, and rants about the need to 'reclaim Australia', many here will insist that they are not racist.
"Last week I opened the newspaper and read a story about a white woman who called a family of neighbors who are originally from Sierra Leone 'jungle bunnies' and 'monkeys'. In the story the word 'racist' was in quotes as though she may or may not have been racist, even though her racist rant had been filmed on their phone. I was chagrined, but others I spoke to weren't: They argued that the paper was 'just trying to be neutral.'"
Which begs a few questions: If a writer from South Africa can identify our racism and ignorance so quickly, why can't we?
Why are we so afraid of the truths of this country?
And when we're confronted with some of the truths – like commuters in Melbourne were on Friday – why do we turn away?
Msimang offers an answer: "The levels of racism amongst many white Australians seem to match the levels of denial about their being racist. And there is no doubt that the deepest and most abiding forms of racism are directed against Aboriginal people.
"It is as though on some psychic level, white Australians are angry with Aboriginal people for still being here, for reminding them of their sins, for refusing to conform to their own ideas about what Australia is or should be."
The media, of course, is really just a mirror of the society that Msimang describes.
What is staring back at us is deeply ugly and ignorant. Like I said, the truth is going to hurt. But don't hold your breath waiting for our tabloids to bring it to you.
* Chris Graham worked as an Associate Producer on Utopia.
** New Matilda is a small, independent Australian media outlet. We rely almost entirely on reader subscriptions for our survival. If you would like to help us keep reporting, you can subscribe here. Or you can help us by sharing this story on social media (click on the links below).
Donate To New Matilda
New Matilda is a small, independent media outlet. We survive through reader contributions, and never losing a lawsuit. If you got something from this article, giving something back helps us to continue speaking truth to power. Every little bit counts.