It was the dramatic protest witnessed by millions of people around the world, but understood by few.
Yesterday's cricket world cup final was a bland affair from a sporting perspective, with Australia hardly breaking a sweat on their way to an easy victory over New Zealand.
Before a single ball had been bowled that the day's most dramatic spectacle had already taken place.
In front of a record 93,000 strong crowd, and the countless millions watching around the world, AJ Van Tonder was standing on the sidelines of the MCG, ready to make a dash onto the field and, inevitably, be brought down by a pack of burly security guards.
Unlike most who take part in Australia's proud history of streaking, Tonder had not been drinking, and wasn't even naked. In fact, the 23-year-old was wearing a specially made cape, and in a very sober frame of mind.
"In some ways it feels kind of freeing, but it's not really about the experience, it's more about the message that we're trying to get out," Tonder told New Matilda this morning.
Tonder isn't an avid cricket fan, but he insisted his actions were not designed to interrupt the game or ruin it for spectators. With unblinking bipartisan support for harsh refugee policy continuing, the real goal was to spark international coverage of Australia's current policies.
"Really the aim is to cause the international community – including overseas governments, businesses, companies, and individuals – to take a look at what Australia is doing around asylum seekers, to realise the Australian government is breaking a heck of a lot of international laws and agreements through their treatment of asylum seekers, and somehow get people to start to put pressure n the government form the outside."
As the video shows, Tonder made it out to the middle of the field, gave the crowd a friendly wave, and was thrown to the ground.
"A lot of us feel like the time has come to take more direct actions and more risky actions, where it might be possible that people get arrested, to take the issue to the next level and force more of a change rather than just asking politely for politicians to make changes that they're not really willing to make at the moment," Tonder said.
It's not the first time Tonder has made a dramatic dash for refugee rights.
Decked out in his white 'I heart Refugees' shirt and a red cape with 'Justice 4 Refugees' printed on it, Tonder ran onto the field during Australia's first world cup match against England in February.
While that first effort got some traction, including coverage in the British media, most outlets appear to have totally missed the intention of yesterday's action, with many reporting Tonder as a run-of-the-mill streaker.
"I feel like the media at the moment, the mainstream media, seems to have this thing about not publicising protest," he said.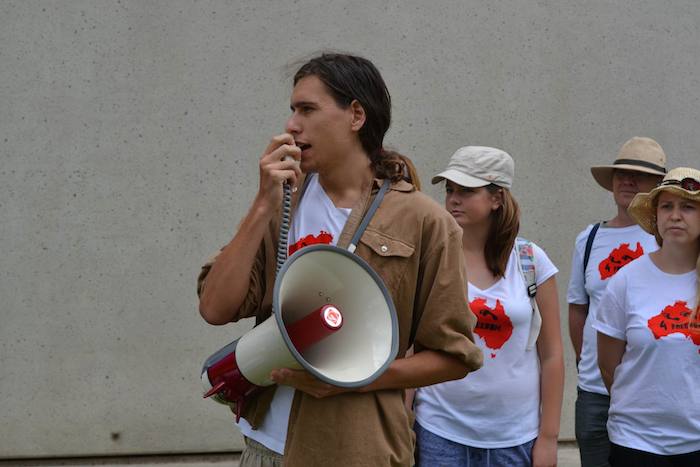 While Tonder's sprint was largely misreported, Sunday's Palm Sunday protests, which attracted an estimated 15,000 people in Melbourne, did manage to grab some headlines.
The protests came in the wake of the independent Moss Review, which found evidence of sexual assaults on Nauru and violence against asylum seekers in detention centres.
The Review also found no evidence aid workers removed from Nauru had encouraged asylum seekers to self-harm, despite then Minister for Immigration Scott Morrison airing the allegations in October last year.
For Tonder, the issue of refugee rights is not an abstract political question.
"A lot of my motivation comes from personally knowing some detainees, or ex-detainees, and understanding more about the experience they've been through, and the experiences they're still going through," he said.
"I think a lot of Australians who are either apathetic about the issue or generally for rougher treatment of asylum seekers, if they actually got to know asylum seekers and refugees they would change their opinions straight away."
The idea of using international sporting events to draw attention to the plight of refugees was inspired by a similar action during the Australian Open final.
Aside from a few bruises, Tonder's reward for the stunt was a 24-hour ban from the MCG – the same kind of ban usually reserved for patrons who are drunk, set off fireworks, or damage and deface the stadium.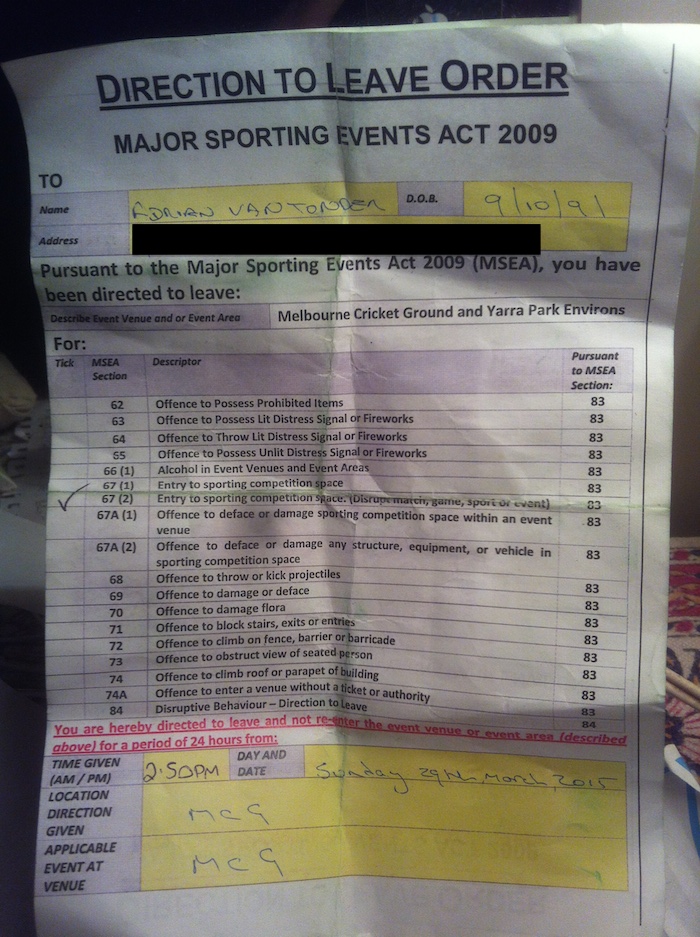 Tonder was also charged after the first incident and is expecting another court appearance notice after yesterday's protest. He said he could be facing up to $18,000 worth of fines.
He hopes the political motivations of the action will help him escape the highest order punishment.
"It's not just for showmanship…and also I wasn't naked while I was doing it, so hopefully that will count in my favour as well," he said.
Tonder said he understood acts of civil disobedience were not for everyone, but that people could still make a difference by writing to their MPs about the treatment of asylum seekers, signing petitions, visiting detention centres, and donating to organisations like the Asylum Seeker Resource Centre.
After being ejected from the MCG, the lone protester went round to a friend's place where he watched the rest of the New Zealand innings. Bowled out for just 183, he'd already put on a better show than they managed to muster.
Donate To New Matilda
New Matilda is a small, independent media outlet. We survive through reader contributions, and never losing a lawsuit. If you got something from this article, giving something back helps us to continue speaking truth to power. Every little bit counts.