Pastor John Morris is a man with a big smile, a West Papuan independence sticker firmly attached to his hat, and the chief of Lamine village, which exists on top of a mountain overlooking the Pacific on Vanuatu's main island of Efate.
He tells me he always has and always will pray for the people West Papua, currently under the brutal oppression of the Indonesian military. Vanuatu, who gained her independence in 1983 from joint British and French rule has always maintained that she will never be free until the whole of Melanesia also enjoys freedom.
A testament to the strength of the small island country is the fact that Vanuatu is the only nation in the world to remain firmly in support of a free West Papua. But today, it is Vanuatu who needs the world's prayers, Pastor John says, as he tends to newly planted island cabbage in his roadside garden.
Last week, Efate, and the rest of Vanuatu – particularly the Shephard and Tafea group of islands – were savaged by a "monster" – the category five Cyclone Pam which has left 166,000 people (half the nation's population) severely affected, with 96 per cent of crops destroyed, 75,000 people in need of shelter, and 110,000 people without safe drinking water.
Pastor John began re-planting a garden off the main road yesterday – using tools donated by the Red Cross.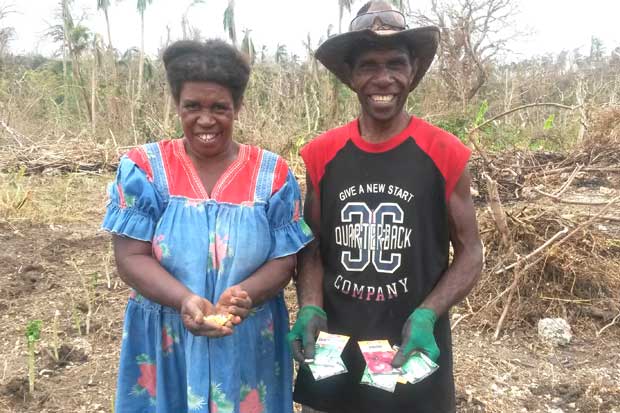 His village of 40 people had not received food or water. His house is completely destroyed and he is holding onto a promise from the Red Cross for a tarpaulin in which to shelter.
Nearly two weeks on from Cyclone Pam, he had not heard from anyone. He was so desperate for help, he told the boys of the village to put a sign up on the road.
"No one has come and see us," he tells New Matilda. "I said to the boys, 'We'll put a sign up on the hill, and the plane will see it'. And then yesterday I said 'Go down to the road with the sign'.
"And then the Red Cross passed and there were tools left and they came and gave it to us."
Yesterday, Pastor John began planting the island cabbage, and seeds of corn that he had previously saved.
"It will take maybe one month," he says.
He is hoping that the local province will give rice "and we pray that someone will give me more".
Pastor John lives only a 20-minute drive from the capital of Port Vila, but because of the scale of the disaster, the number of people who the nation needs to feed is immense. Even those close to the capital city are struggling to obtain the help they need.
While the outer islands are a priority for the government, those in rural Efate are still concerned about where they will get their food. With the majority of crops destroyed – a primary source of sustenance and income for the majority of Ni-Vanuatu – there is little hope of outside aid. And it is only now beginning to trickle in.
This week, the Vanuatu government announced its priority areas in a Flash Appeal to the international donor community. There are numerous aid agencies involved and the Australian, French and New Zealand defence forces are helping Vanuatu with the effort.
The country has appealed for $29.9 million to address the needs of the country – to provide food, water, sanitation, hygiene, shelter amongst other basic necessities.
But the roll-out has been slow and hampered by communication problems. Even in Efate, many in the villages do not know that aid is on its way.
"Maybe Australia or New Zealand or any other country, when the cyclone hits, they'll go fast. But Vanuatu it goes slow," Pastor John says.
"We have a spring water, and it's very dirty. I said to the boys yesterday, 'Come and clean up'. And the Red Cross passed and we said 'Would you give some medicine?' They said 'ok'.
"But we don't know, maybe they give some. I don't know."
He is worried people are going to get sick from drinking the water.
"When the cyclone came, the few money we had left and the clothes are gone. We need some roof. When the rain comes, it'll be bad."
A short drive down the road, men from neighbouring villages all around are lining up for rice and tin food at a larger village called Epau.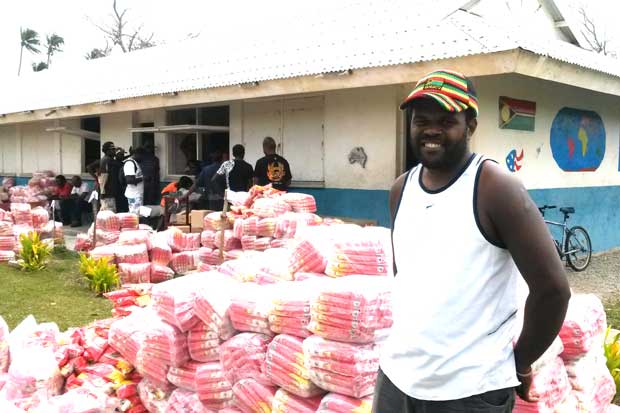 Pawie Kalondas from Eton Vilage, about 20 minutes drive from Epau, is part of his local Community Disaster Committee (CDC) but said while he thinks the food assistance came quickly to his village, he doesn't know how it will cover the amount of people who need assistance.
There are 213 houses in Eton, with seven people in each house. The people have been allocated five kilograms of rice per head.
"I think the aid that comes is not enough," Mr Kalondas tells New Matilda.
"A lot of people will be complaining about food. There will be a lot of tension around food."
He doesn't know if there will be more assistance forthcoming from the National Disaster Management Office (NDMO), although the government agency has encouraged villagers to replant crops.
"That's so after this disaster relief, we can have something to eat after. That's next month. So we have to get through this month."
There have already been cases of diarrhoea and flu in his village, despite the CDC warning people to boil water.
In Betel village, only 10 minutes down the road, Michel Lui and his family only have water provided from the ProMedical trucks which are driving around the island.
Despite it only being a short drive, they have no idea when food will be coming. New Matilda has only just returned from the food lines, but the communication pipeline doesn't stretch that far.
Because it is a smaller village, the CDC is presently in a different area.
"From now on, there is no food here. We haven't been given any information," Mr Lui says.
"Only water we are getting from the trucks driving around the road. They've been coming every week.
"We asked them for food, and they said no, we are only delivering water."
The situation is getting urgent for his family and they need it soon.
But even in Port Vila, there are growing concerns that the food coming through won't be enough. Last week, the Vanuatu government warned the aid coming in would be insufficient to meet the demand, and predicted civil unrest.
At Erakor Bridge, where 1880 people live, food began to arrive yesterday. When New Matilda, visited it was being divided into half-filled sacks. The restrictions here are even more severe – only 2.5 kg of rice per person, to last the next 15 days.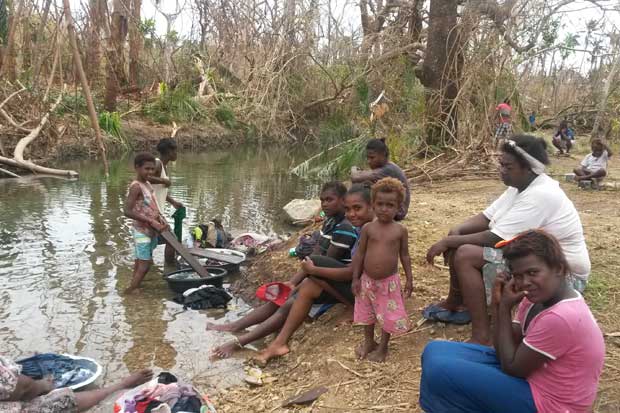 Chief Timothy Andrew, who is also chairman of the local council, told New Matilda that people were getting angry.
"People all know that 2.5 kg of rice won't last for 15 days," he says.
"We have been talking to people but it's hard, they are getting angry. They still have enquires about what will be the next thing to feed their bellies.
"The government has been too slow to supply. The government is very slow to comply with the need."
He says he hasn't been given an explanation about the delays.
"We have to wait and it's not good. People are suffering. Especially they are living in broken homes. We need help. This is one of the worst disasters in the world. It's a category five. And we have to ask for help directly. We can't trust government. There are too many politicians."
He says at least 700 homes were destroyed and people are living in tarpaulins. They desperately need more iron roofs.
He says while the CDC were in place in the village, they weren't properly prepared for the cyclone.
"They thought the cyclone would be later. It was very ill-prepared."
He is worried about his village because there are already cases of theft within the ruins of homes. The septic tank at the local health clinic was also damaged by the Cyclone, and waste is seeping into the nearby water, where people fish for seafood and where children go swimming.
"The water is contaminated," he says. But they haven't received any safe drinking water nor water purification tablets.
They've relied on volunteer doctors who have flown in from Australia. They were already friends of the community, and have begun treating many people who have diarrhoea, while the threat of malaria from mosquitos in the nearby waterways always looms.
They are still waiting for government doctors to come.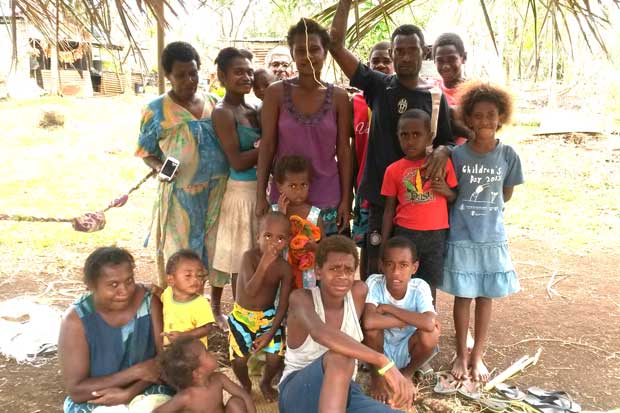 Mr Andrew says his community is appealing for outside help, separate from government.
"We don't care about the money. We need materials. When someone talks about money it creates conflict. But we need material, iron roofs, nails and hammers to rebuild our shelters."
Nearly two weeks on from Cyclone Pam, the smiles are still there, but Vanuatu is still struggling to overcome this disaster.
Pastor John Samuel still clings to his faith in a country where at least 90 per cent of the population are Christian.
"If you want to help, I just say – we need some bibles. Our guitar for singing is broken. I say to the people we just worship with the hands and sing. All our bibles are destroyed.
"Every afternoon we hold the devotion, we just pray and pray about some people they live in Australia or Port Vila or where, if they want to help us, help us minister to the heart."
* Amy McQuire is a Darumbul and South Sea Islander woman, and has been reporting from Vanuatu for the past week. If you want to assist this sort of journalism, you can help New Matilda by subscribing here.
Donate To New Matilda
New Matilda is a small, independent media outlet. We survive through reader contributions, and never losing a lawsuit. If you got something from this article, giving something back helps us to continue speaking truth to power. Every little bit counts.