"You can still be passionate about human rights and work within the confines of the centre can't you?"
That was one of the thousands of questions former Integrity Commissioner Philip Moss put to witnesses during his investigation into allegations of sexual assault and violence in the Australian-backed detention centre on Nauru.
Moss' final report was released by the Department of Immigration on Friday, just hours after news broke of the death of former Prime Minister Malcolm Fraser.
If the Department had been hoping Fraser's passing would help bury the report, they must have been disappointed, though a Friday release ensured the coverage was less than it ordinarily might have been.
Moss found evidence of multiple sexual assaults, violence against asylum seekers, and mistreatment of detainees. A 16-year-old showed Moss bruises he said had been left by guards. "It happens very often," he said. "This is the treatment that we get."
Moss also found evidence that guards may have been trading marijuana for sexual favours from female inmates. He reported that 17 minors had self-harmed over a one-year period.
Women told him of a lack of privacy, of being spied on in their tents, and pushed to expose their naked bodies to guards.
In the middle of this mess, Moss went close to exonerating 10 staff ordered off the island. He could not find evidence to substantiate claims that Save The Children employees had encouraged self-harm or protest activity. The Department of Immigration is now in consultation with the aid group, to try and remedy the situation.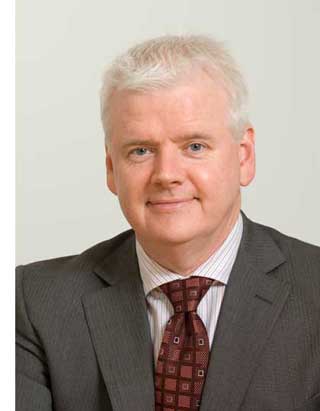 The 10 workers were removed from the island despite Deputy Secretary Mark Cormack (pictured right) conceding to Moss that he had no firm evidence they had engaged in any misconduct.
So why were they targeted? The answer, it seems, is partially bound up in the questions Moss posed about human rights and employment in detention centres.
Throughout leaked transcripts obtained by New Matilda, employees of Wilson Security, IHMS (the private medical provider used in detention centres), and the Department of Immigration express scepticism about Save the Children generally, as well as specific staff members.
There's a telling line from a senior official within the Department of Immigration, who explained to Moss why she believed Save the Children staff might have been orchestrating or facilitating protest in the compound.
"I think at times an advocacy group collectively, but then also individuals within that group, often find it difficult to draw a line between their advocacy role, and their role in delivering services in an Offshore Processing Centre," she said.
"So it's not a stretch for me to think that somebody who bases their professional career around their moral and ethical base, would… let that drive their behaviour in terms of how they would respond to a political policy that is, in their mind, against their moral and ethical base."
And there it is. While the official emphasised to Moss this was her personal opinion, not that of the Department, we still have a fairly senior departmental figure acknowledging that those with a strong "moral and ethical base" are going to have trouble working in detention centres.
Similar sentiments are expressed elsewhere throughout the leaked transcripts. One of the Wilson Security staff interviewed accidentally refers to the Save the Children staff as "whistleblowing", before pausing and saying "for want of a better word".
Cormack himself also expresses the view that some of his staff on Nauru felt Save The Children workers were "over-identifying" with asylum seekers.
"I'd hear (from staff), 'Mark, we're a bit worried about Save The Children, you know, we're seeing some unhelpful behaviour, a bit of over-identification with the transferees. It's really hard to put your finger on it, but we are a bit concerned that they're going the way of Salvation Army.'"
That's a reference to the Salvation Army's work on Manus Island, where, the department also felt case workers were getting too close to asylum seekers, and were unable to do their jobs effectively.
The transcripts also show one Save the Children staffer became a kind of 'whistleblower on whistleblowers', providing Moss with allegations of wrongdoing by other staff, which she believed included providing information to journalists and human rights lawyers about what was happening in the centre.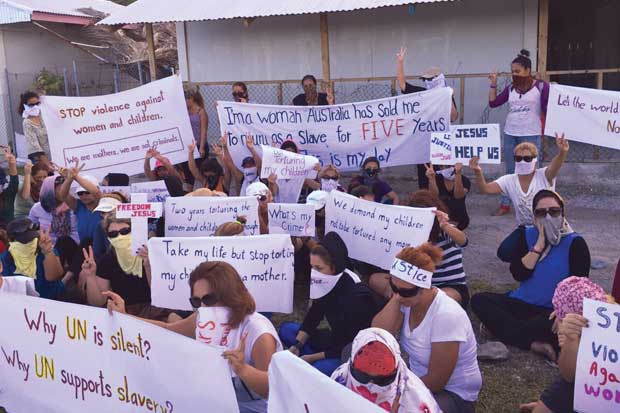 Explaining her suspicion of another staffer, she said: "Anyone knows that she's really passionate about human rights and asylum seekers' rights, and that she fundamentally disagrees with everything that was happening [on Nauru]".
This was the statement that saw Moss pose his question: "You can still be passionate about human rights and work within the confines of the centre can't you?"
The staffer responded with a 'yes', but added: "If you make everything into a big thing, then nothing will ever get addressed.
"There are things that we can change and things that we can't change," the staff member later added.
Save the Children staff are there to perform casework duties and, specifically, to advocate for people in detention. The obvious truth of the matter is that men, women and children cannot receive adequate care, be kept safe, or experience liberty while being processed offshore.
Neither can they look forward to a future of peace, security, or wellbeing, facing life on a tiny, nearly bankrupt island without anything like the economy or infrastructure to support them.
These are the things workers inside detention centres can't change. No matter how adequately they perform their tasks, and how dutifully they follow their Department of Immigration contracts, they cannot alleviate the suffering they will both witness, and to varying degrees, enforce.
The frustration of working within such constraints clearly pulled at the conscience of some Save the Children staff. And despite, so far, a lack of substantiated evidence that they engaged in any wrong doing, for that they were judged, then punished. Just like the asylum seekers they are there to assist.
In a system that detains children indefinitely, fails to prevent and at time enables sexual abuse, and pushes people fleeing persecution to self-harm, a passion for human rights will always be at odds with your duties.
Those who push too hard for human dignity will always come under suspicion.
You can have a passion for human rights and work in the confines of the Nauru detention centre. But there's a strong chance you'll be sent home.

Donate To New Matilda
New Matilda is a small, independent media outlet. We survive through reader contributions, and never losing a lawsuit. If you got something from this article, giving something back helps us to continue speaking truth to power. Every little bit counts.