Asylum seekers allegedly received threats after they provided evidence to the Moss Review and, unbeknownst to Moss, some were interviewed by officials in the Nauruan detention centre after participating in the investigation into allegations of sexual and physical assault.
In leaked transcripts obtained by New Matilda, and shared with Guardian Australia, former Integrity Commissioner Philip Moss raises the fact that a subject he interviewed as part of the process was contacted by a Wilson's Security intelligence gathering official, after their conversation.
"Now I don't know the rights and wrongs of that, I just put it out there because there is a suggestion now that some of the information that was given to me is now at large in the centre," Moss told Lee Mitchell, a Wilson employee during their interview.
Elsewhere in the transcripts, allegations emerge suggesting threats were made against asylum seekers after they spoke to Moss.
In the 86-page report released by the Department of Immigration last week – just hours after news broke of the death of former Prime Minister Malcolm Fraser – Moss presented evidence and snippets of testimony indicating sexual assaults, harassment, a lack of privacy, and self-harm are part and parcel of life in the Nauru detention centre, where 752 people remain interned.
Despite the level of detail, the leaked transcripts reveal other serious allegations not included in the final report, as well as greater detail about the difficulties endured by asylum seekers in the centre.
Sexual Assault
In one interview, Moss is told by a woman that she was raped in the detention centre, having already fled a sexually violent husband in her country of origin.
First detained on Christmas Island, where she told Moss she felt safe because of a high level of security, the woman was assured Nauru would be safe.
"The doctor on Christmas Island, she told me that you have suffered so much for your children and I want you to go to Nauru because I know that you will be safe and secure there," the woman recounted to Moss.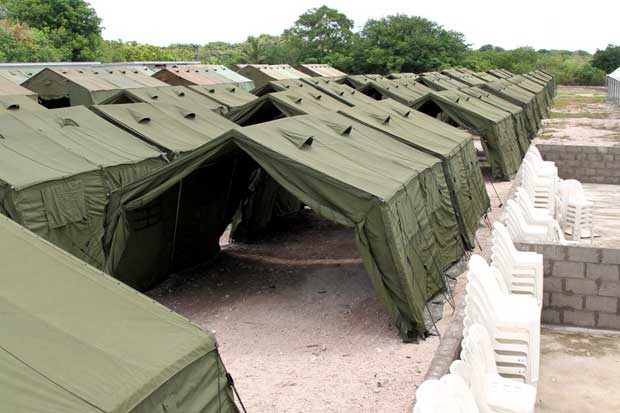 "When I came and saw the condition of the tent, and there's no proper door, just, there's no cameras, I saw the way it is, I want to see the psychologist here, I mentioned about my past and I said that I'm scared, I'm a single mother and I'm scared – I'm worried about my security here."
As the opening of the interview makes clear, those fears were justified.
"I want to report a rape, that it happened to me at the camp, and that nothing was done for me," the woman said.
The lack of security in the centre's tents, and the inadequacy of privacy in such an environment, was picked up on by Moss in his final report.
He also found evidence that rape and sexual assault allegations had been under-reported by asylum seekers.
Violence and Dissatisfaction With Australian Guards
In an interview with men from various language groups, Moss was told guards had a poor attitude towards asylum seekers in the centre, and that incidents of violence and self-harm had been met with laughter.
One man told Moss he saw another asylum seeker consume mosquito repellent. "The Nauruan security, they just came and they were just laughing at him, they didn't do anything, sending him to medical or anything, they were just laughing at him," he said.
Later in the transcripts, a Wilson Security official dismissed the seriousness of the self-harm taking place in the centre, on the basis it hadn't claimed any lives.
"If people are concerned and that serious about doing something, and wanting to make that kind of statement, my view is that somebody probably would have already passed away," the official told Moss.
Moss' report found that 17 minors had self-harmed between October 2013 and October 2014, including an attempted hanging by a 16-year-old.
Asylum seekers often singled out Australian guards in their criticism, and compared Wilson guards unfavourably to Serco staff on Christmas Island.
"The Australians [sic]security, their attitude is very bad," one asylum seeker said.
Another had this exchange with Moss.
Asylum seeker: "The Nauruans are even better than the Australians."

Moss: "They're better in their behaviour? They're more courteous? Polite?"

Asylum seeker: "They are more human."
Different groups expressed different levels of distress at being in the camp, with some citing weather and uncertainty about processing as their major issues.
Others were more emphatic.
"You guys keep us under the shit and treat like a mushroom, and feed shit. We're not getting any equal justice, regarding that so many times we bring up issues but nothing is done yet," one said.
Concerns that incident reporting is a waste of time are constant throughout the transcripts.
15 Incidents Of Self-Harm Following Morrison Video
As reported previously, a video featuring then Minister Scott Morrison played to asylum seekers in September 2014 sparked weeks of unrest and protests.
The stern video re-emphasised to asylum seekers that they would never be able to settle in Australia, despite the fact others who arrived on Christmas Island at the same time, and had not been transferred offshore, would be.
According to evidence given by IHMS staff (the company contracted to provide medical services in the centre), 15 patients presented after self-harm incidents, which included slashed wrists, drinking washing powder, and sewn lips.
The IHMS staff told Moss the response to protests and self-harm had been well organised and effective.
Blunt Words
Moss' final report is written in the kind of neutral prose that could only ever find a home in a government report. But the language of the transcripts is somewhat more blunt.
As New Matilda revealed earlier this month, they record former Immigration Deputy Secretary Mark Cormack speaking freely about the fact Morrison was "shit worried" about Manus style riots and death occurring in Nauru. He also said the then Minister's "looseness" was to blame for the dissemination of misleading information to the media after the death of Reza Berati, and that the Department did not know whether 10 Save The Children workers banished from the island actually did anything wrong.
Similarly, IHMS staff make a frank admission about the running of the Nauru centre. The Australian government insists it is not responsible for the centre, and is arguing as much in this country's courts.
"Ultimately the Nauruan's have responsibility for the Regional Processing Centre," Minister Peter Dutton told media less than a week ago.
Staff working in the centre don't see things the same way, it would seem.
"It's also difficult for a lot of people to remember that this is a Nauruan-led operation when everything up front is actually done by others," one IHMS employee told Moss.
Moss' report makes several recommendations in relation to communication between Australian and Nauruan forces and organisations.
Deaths At Sea
One of the Save the Children staff ordered off the island by the Department of Immigration had been doing lifeguard work for refugees released from detention. The STC worker was known to be particularly sympathetic to the plight of those in detention and, according to testimony from a co-worker, had warned Save the Children that refugees from landlocked countries would be at risk of drowning at Nauru's beaches.
While the STC worker was in Australia for a period of respite, a refugee drowned.
The story was recounted to Moss as an example of the STC worker's failings, not because his warnings had not been acted upon, but because, according to the staff member recounting the incident, it revealed he was too close with the refugees.
New Matilda put questions to the Department of Immigration relating to whether it had changed the report in any way since receiving it from Moss. The Department referred us to Peter Dutton's office who have ignred questions from New Matilda.
* New Matilda is an independent Australian news outlet. You can help support our investigative journalism by clicking here, or on the graphic below, and subscribing.

Donate To New Matilda
New Matilda is a small, independent media outlet. We survive through reader contributions, and never losing a lawsuit. If you got something from this article, giving something back helps us to continue speaking truth to power. Every little bit counts.