A severe lack of resources, teams of skeleton staff forced to take work outside their areas of expertise and victims of domestic violence falling through the cracks.
This is the reality of what's happening in women's refuges around NSW since the NSW government's Going Home Staying Home homelessness program was introduced in July last year. The changes led to the closure of some women's refuges. Many other long standing community and feminist run domestic violence refuges have been handed over to large charity providers, who won 75 per cent of the tenders.
The Kempsey Women's Refuge had a 25-year long record of success in providing services to victims of domestic violence. Now operating as the Kempsey Homeless Support Service for Women, it was taken over by Newcastle-based charity the Samaritans.
A spokesperson for Samaritans told New Matilda the organisation has no experience in running women's refuges. There is no reference to domestic violence or refuges on their website. www.samaritans.org.au
New Matilda has spoken to a number of ex-staff and local domestic violence support workers who say the quality of care for women and children escaping domestic violence has dropped dramatically since the Samaritans Foundation took over the Kempsey refuge.
As one community worker told us: "Many of us have had grave concerns about the capacity of the Samaritans to provide an equivalent service given they have no background in domestic violence."
New Matilda was told a number of stories about the quality of care being provided to women and children by the Samaritans:
• A client collapsed in the shower at the refuge and other occupants were unable to contact any staff until the following day. An ambulance was called and the sick woman's child was left in the care of another client who was herself very stressed.
• Women in crisis have arrived at the refuge to find no staff on site to support them.
• An incident of 'inappropriate behaviour' relating to children of women in the refuge.
• The refuge phone line answered by a male.
• The refuge phone line directed to an answering machine that told the client to call 000.
• After hours phone calls directed to a generalist call centre staffed by those not yet fully trained in domestic violence case management.
Samaritans Newcastle declined to answer a set of detailed questions from New Matilda, however one staff member was willing to talk anonymously about the tender process and lack of resources under the new system.
"The process was flawed in a lot of ways. There was an increase in dollars for the Mid North Coast overall, but the way it's been structured has put more pressure on organisations," the staff member said.
Unravelling the tender process is a story in itself, one that shows serious recklessness on behalf of the NSW government.
"There could have been better consultation, better collaboration," the Samaritans worker told us.
Tender responses were assessed against a set of four detailed selection criteria that made no mention of the terms 'women' or 'domestic violence'. Through this lack of thorough assessment, the Samaritans Foundation, who previously provided homeless outreach services for youth and adults, were awarded successful tenders to run women's refuges in both Taree and Kempsey.
The NSW Government says organisations like the Samaritans are now giving "people in need the right help when and there they need it most". But the worker we spoke to says as a result of the government's poor tender process, "skill sets are now not in the place that they're needed".
It's this lack of appropriate experience in managing a women's refuge that helps to explain why the new service provider is failing in many of its core duties.
Previously Kempsey and Taree were specialist refuges for women fleeing domestic violence. But the new tender requires them to also provide services for other women who are homeless or at risk of homelessness for other reasons.
Staffing issues
Before the takeover there were five full time caseworkers, including a dedicated child support worker, and a part time support worker at Kempsey. There was also a full time Dunghutti Aboriginal worker.
More than six months into their contract, the refuge has just three full time staff members on the ground, and a coordinator based in Taree, more than 100 kilometres away.
It no longer has a staff member on call 24 hours a day, despite the fact that domestic violence emergencies often happen out of business hours.
In November and again this week New Matilda was told an Aboriginal caseworker will start work soon, but more than six months after the tender this is yet to happen.
The Samaritans worker we spoke to gave a damning insight into the lack of resources for the job at hand.
"While the funding level didn't change much in Kempsey, the expectations and the type of work [the Department of Family and Community Services]are expecting to happen did… the model is short in relation to staffing," the worker said.
Under the new structure, these three staff have responsibility for assessing the often complex needs of women coming into the refuge, crisis support and day-to-day running and supervision within the refuge, providing support to women who have left the refuge, as well as servicing an information 'hub' located in Kempsey to provide generalist advice on homelessness issues.
Project manager at child abuse prevention service Speak Out 4 Kids in Kempsey, Natalie Smee, who previously shared premises with the refuge, said the widened focus on homelessness meant there were less resources and services available for women escaping domestic violence.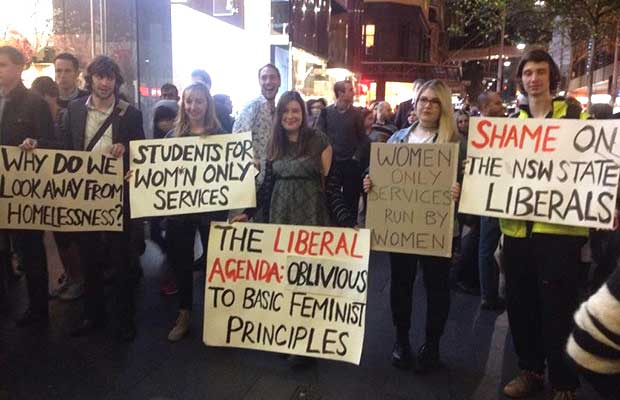 "They're extremely overworked and under-resourced," Smee said.
An ex-staff member from the refuge told us that as a result of procedures introduced with the new staffing model, there's been a dramatic shift away from the "holistic, feminist model" that came before. She's had complaints from Aboriginal elders in the local community and past clients of serious incompetence that has led to victim blaming.
In one case, it's alleged the service provider responded to a woman's need for emergency food support with a request for bank statements and an explanation for her lack of money.
"[Before] it was a 'no questions asked, no judgment' approach. They've moved to a mentality that requires women to prove they're worthy of support," the ex-staff member told New Matilda.
According to the Samaritans worker we spoke to, red tape around the department's definition of 'homeless' means proving 'worth' for crisis accommodation can be difficult for some.
The worker tells the not-uncommon story of women who experience domestic violence while visiting the Kempsey area. In some communities, including the Kempsey Aboriginal community, it's not uncommon to move around, visiting relatives around the region.
However to qualify for crisis accommodation, women must have been living in a certain area for six weeks, leaving women staying in temporary accommodation with friends or relatives with nowhere to go.
"Women are being refused motel accommodation by the department," the Samaritans worker told us.
"We've been told we should not be using any brokerage money to put these women into motels overnight.
"Well, absolutely, we are doing that… we're not going to contribute to homelessness by not giving them a motel."
The 'hub'
Despite being paid $560,000 by the NSW government to run a service for women, the Samaritans are using part of their funding envelope to staff an information 'hub' that provides support and referrals for both women and men who are homeless or at risk of homelessness.
According to the department, "The aim of the hub is to provide a one-stop shop to assist women, men, families and young people with information and referral to local homelessness and other specialist support services such as domestic and family violence services."
One ex-staff member told us she was concerned that by stretching already over-worked staff to run the hub, the Samaritans were taking resources from the very women and children the refuge is supposed to protect.
Further south
Just over an hour down the road, the story in Taree isn't much different.
When the Samaritans took over that successful refuge as well, there were staff cuts and sackings. This is despite the fact that Taree has the responsibility to provide services for women and children in the neighbouring Forster-Tuncurry area, which has no women's refuge.
Campaign spokesperson for Save our Services, Roxanne McMurray says a lack of confidence in the way the refuge is being run in Taree has resulted in requests from the Forster-Tuncurry community for funding to support women escaping domestic violence in their local area. According to McMurray, these requests have been largely ignored by government.
"The intention of the reforms was to reduce barriers, it's done exactly the opposite.
"We need an independent review. The department has a review running, but it's being run by the very people who implemented the reform. It needs to… independently assess the gaps and make immediate recommendations on solutions.
"There is a strong degree of urgency about all of this," McMurray said.
That urgency is being felt further south in Wallsend in the Hunter Region, where staff at the Warlga Ngurra Women's and Children's Aboriginal Refuge tell an all too familiar story – the refuge is full, and they're turning away at least three women a day from their services.
"It's just heartbreaking", outreach worker Liann Taffe told New Matilda.
Taffe is currently managing 20 outreach clients alone.
"By the time a woman gets to a refuge, she really wants it to finish. But it's in that craving stage [to return], that a woman needs to be nurtured, then empowered. We can't empower the women because there are no services," Taffe said.
Taffe said before the reform it was possible to ring around other local refuges to give these women options, but now, services are limited everywhere.
She estimates another two outreach workers are needed at Warlga Ngurra to help cover the much larger area they've been allocated by the department, which includes the cities of Maitland and Newcastle, and towns nearly 200 kilometres inland.
Silencing the sector
While researching previous stories on this issue, domestic violence workers told New Matilda they could not speak openly because of fears that their department-funded organisations could lose funding.
The silencing continues.
New Matilda is aware of instances of community advocates being pressured to stay quiet by the department, including subtle requests to restrict what's said on Facebook and to the media.
"What we're facing as women in-the-know is social silencing."
"We're all tippy toeing a little bit about what we say and who we say things to because we don't want to jeopardise [future funding]," one worker says.
"So much needs to be brought to attention, but how do we do that without losing the money?" says another.
"What is most disappointing is the fact we had such a strong support network in Kempsey. We all worked together… it was the women and children who were the focus, and this has all been ripped apart."
Donate To New Matilda
New Matilda is a small, independent media outlet. We survive through reader contributions, and never losing a lawsuit. If you got something from this article, giving something back helps us to continue speaking truth to power. Every little bit counts.