When it comes to media reporting of major events, it's always best to set your expectations low, so that you're not disappointed.
And I set my expectations very, very low…. But even my patience was tested this week by a story posted by the Australian edition of the Daily Mail, in response to the devastation wrought in Vanuatu by Tropical Cyclone Pam.
With no idea of the death toll or the extent of damage (it stands at 16 and more than 100,000 people are believed to be homeless, in a nation with a population of just over 250,000) the Daily Mail decided earlier this week to tell the really 'personal stories'.
"Still standing: Actress Cate Blanchett's beachside Vanuatu home survives deadly tropical Cyclone Pam".
Wow. Thank God for that. Here's me worried about an unfolding humanitarian disaster, completely unawares that one of Australia's wealthiest actresses might have been in the path of the cyclone.
And it seems Cate almost was. The story featured a photo of a stressed looking Blanchett hurrying along an island road with her children, and a caption marked 'Close Call'.
Fortunately, the shot was of Blanchett on the island in July 2014.
But I don't want to downplay how close Cate and her family came to cheating death. Had they been on the island (eight months later), it could have been an epic tragedy. Other pictures on the Daily Mail show at least five or six palm trees tipped over in what is apparently the backyard of the popular Aussie actresses' Vanuatu home.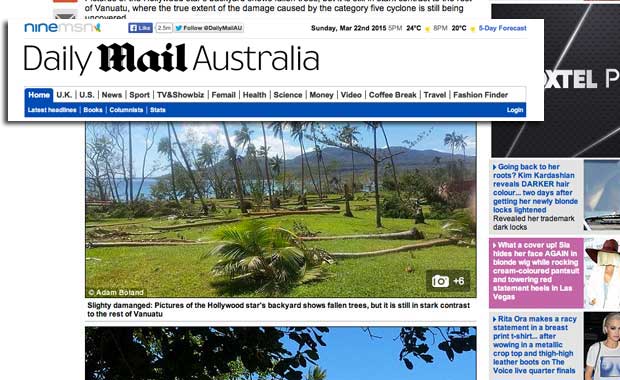 None of this, of course, is a shot at Blanchett, who has no absolutely control over the banal jibberish that appears in shit sheets parading as media. And on that front, some of our organisations have, in fact, excelled.
The ABC and SBS in particular have provided outstanding coverage of events, as you would expect.
And in a first for New Matilda, we decided that we too, should probably lift our game, and join the first-handing reporting, albeit for some personal reasons as well.
On Friday morning, Amy McQuire flew from Sydney to Port Vila. She'll spend the next 10 days reporting from the island nation.
Amy is a Darumbul woman from Rockhampton, but she's also a South Sea Island woman, and her family hails from Tanna – the island in Vanuatu most devastated by Cyclone Pam.
On Friday night, we got a brief email from Amy: 'By Wednesday they are expecting food to run out – 160 000 people without food – aid is being ramped up but it's really, really bad.
"People here in Vila are naturally happy people, so you can't really get a sense of the urgency unless you talk to the UN, aid people etc. But the scale of the humanitarian disaster is huge and it's right on our doorstep! Anyway, talk soon."
Amy is basing herself in Port Vila, and flying in and out of Tanna – there's no power on the island, and no way to communicate.
Images that came in late on Sunday showed extensive devastation. We'll keep you updated on developments in Vanuatu tomorrow, and as the week unfolds.
And if you want to help fund this sort of journalism, then one of the best things you can do is subscribe to New Matilda (click here for details).
Note to readers: A very special thanks to Qantas and Air Vanuatu, who let slip excess baggage fees. Amy and her sister Hayley did a whip around before leaving Friday night, and gathered donations of clothing and food. On arrival at the airport, the excess baggage fees amounted to almost $800, most of which was waived by Qantas and Air Vanuatu.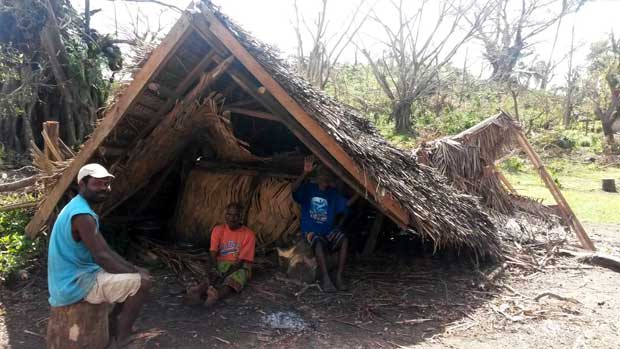 PLEASE CONSIDER SHARING THIS STORY ON SOCIAL MEDIA: New Matilda is a small independent Australian media outlet. You can support our work by subscribing for as little as $6 per month here.
Donate To New Matilda
New Matilda is a small, independent media outlet. We survive through reader contributions, and never losing a lawsuit. If you got something from this article, giving something back helps us to continue speaking truth to power. Every little bit counts.