Protestors are expected to mobilise around the country tomorrow as a national day of action calls on the Barnett government to halt its controversial plan to close up to 150 remote communities in Western Australia.
The rallies will be held in the majority of capital cities, as well as regional Western Australian centres like Geraldton, Port Hedland and Broome.
In Canberra, protestors will be walking to Parliament House to directly protest Prime Minister Tony Abbott's comments that taxpayers can't be expected to fund 'lifestyle choices'.
Late last year, WA Premier Colin Barnett announced he would close up to 150 remote WA communities after the federal government forced the state to sign an agreement handing over responsibility for infrastructure and municipal services in these areas.
In exchange, the WA government would receive $90 million to aid the transition.
Mr Barnett has stated in the past that many of these small communities were 'unviable', and at times only had 10 people living in them. Last month, he also claimed that a review of the communities slated for closure would most likely uncover child abuse and domestic violence.
Barnett's plans were widely condemned across Australia last week when Mr Abbott backed the Premier, by insinuating Aboriginal people were living in remote communities there as a 'lifestyle choice', and being propped up by the taxpayer.
For Yawuru man Stephen Buck Pilgram, whose traditional country takes in Broome, it is far more than that.
He will speak at his local rally and says while Mr Barnett's plans aren't surprising given his past dealings over the James Price Point gas hub, it will be devastating for those who want to practice their traditional culture.
"We've got family connections to the surrounding communities. We are a saltwater people, we have songlines that go across here. We're all connected culturally somehow," Mr Pilgram told New Matilda.
"What I'm seeing as the biggest threat for the communities around us is we won't be able to go there any more, we won't be able to practice our traditional ways.
"It's going to be a detriment to our cultural practices. And blackfellas without culture are going to end up depressed and angry and the rest of it.
"It's 200 years and it's just another method of assimilation and oppressing our culture."
He's worried that young men who have begun their beginning stages of ceremony won't be able to go to the higher stages.
"Ceremony is being ripped out of their hands. It's tearing our hearts apart. That's on a more grassroots personal level. But they don't see these things."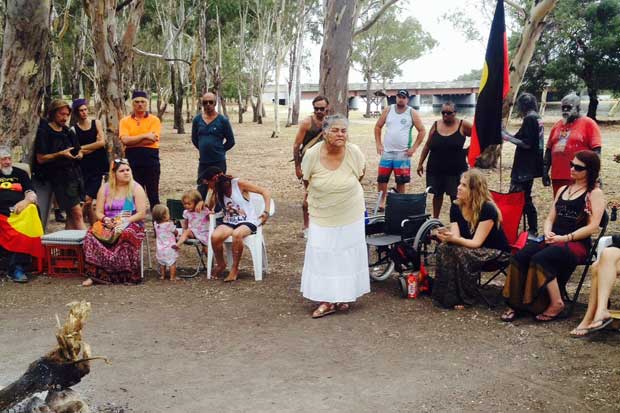 In Geraldton, Yamaji woman Charmaine Green estimates that up to five communities in that country could be affected.
She's organising the rally not only to protest the decision, but to raise awareness amongst the local mob, who might not know the full ramifications of the proposals.
"We're a smaller population, but we want to be part of a larger movement as well," Ms Green told New Matilda.
"We're putting our voices across about how important and crucial it is for people in our region who probably don't get to hear any of these issues.
"It's about raising that awareness and letting people know that country is important and we have a right to say no, and we have a right to stay on our country.
"We're always on the tail end of any movement and information is really slow getting through."
Green is worried that her region is being left out of the overwhelming public concern around the community closures. Because even if there are a smaller population in Yamaji country, Ms Green says these plans will be detrimental to her people.
"They may affect only a small amount of people living in community, they are supposedly targeting communities with 50 or less people. But you have to think of what will happen when you force those people into towns.
"That'll put pressure on infrastructure, housing, overcrowding, and all the problems that come with overcrowding – like health and education.
"The pressure is going to be so great. People won't be moved from where they belong. And what about the waste of money that's already been spent in communities?
"In the long run it would be cheaper to keep people in their communities if people were only thinking of the money side of things."
Ms Green says she's concerned that the Barnett government hasn't made an attempt to consult with communities.
"We're protesting Barnett wanting to close down these remote communities – telling him not to keep everyone in suspense. There's no criteria, he's not consulting with his West Australian Aboriginal advisory committee. He's having no discussions with anybody, but he's putting fear into the lives of people who live on the homelands, and live out on country.
"They think they're once again going to be herded around like cattle. There's that fear. And they wouldn't do that to anyone else. It seems very racist."
Uncle Ben Taylor, a Noongar elder from Perth, is also distressed about the closures. He was at the site of the Nyoongar Tent Embassy last week when the police brought in horses, dogs and helicopters to shut down the Aboriginal refugee camp, set up to house displaced people from homelands.
"They're going to close down these communities and turn people into fringe dwellers. There's going to be more in jail, and more homelessness. And there's a lot of people homeless now," Uncle Ben told New Matilda.
"I'm 75 now, and there's been 70 years of racism in my life. Dehumanising conditions we've been living under. There's still that hopelessness."
TIMES OF RALLIES FOR THURSDAY 19th MARCH
CANBERRA: Assemble at the Aboriginal Tent Embassy at 11:30 am
SYDNEY: Kirribilli House, Kirribilli Avenue, 12:30 pm
PERTH: Forrest Chase, 1 pm
MELBOURNE: Parliament of Victoria, 5:30 pm
ADELAIDE: Victoria Square, 12:30 pm
BROOME, WA: ICC Office, Dampier Terrace to Broome Shire Offices, 1 pm
HALLS CREEK, WA: Cnr of Duncan H'way and Great Northern H/way, 10 am
GERALDTON, WA: Edith Cowan Square, Marine Tce, 10 am
BEAGLE BAY, WA: KRCI office, 10 am
HEDLAND, WA: Bloodwood Tree, Sth Hedland 10 am
BELLINGEN, NSW: Outside N5 & Kombu, Church St, 10 am
BENDIGO, VIC: Rosiland Park, Cnr of View St and Pall Mall, 11:45 am
LISMORE, NSW: Lismore Transit Centre, 5 pm
Donate To New Matilda
New Matilda is a small, independent media outlet. We survive through reader contributions, and never losing a lawsuit. If you got something from this article, giving something back helps us to continue speaking truth to power. Every little bit counts.