Iconic Aboriginal activist Pat Eatock passed away this morning after a long bout of ill health.
Aunty Pat was famous for a lifetime of Aboriginal activism, but rose to particular prominence in the minds of white Australians in the last few years of her life, as the lead litigant in the now infamous case against right-wing columnist Andrew Bolt.
She also rose to 'infamy' as the 'holder of the shoe', after Prime Minister Julia Gillard famously lost one of her "size 36 Midas glorifies" during a protest at the 2012 Aboriginal Tent Embassy 40th anniversary commemorations in Canberra.
Pat Eatock was born in Queensland, and after moving to Canberra became the first Aboriginal woman to stand for federal parliament, in 1972, during the height of tensions around the establishment of the Aboriginal Tent Embassy.
The following year, she became the first non-matriculated mature aged student at the Australian National University (ANU), and graduated a few years later with a Bachelor of Arts.
But it was Aunty Pat's role as the lead litigant in the challenge to Andrew Bolt in 2011 that won her national prominence.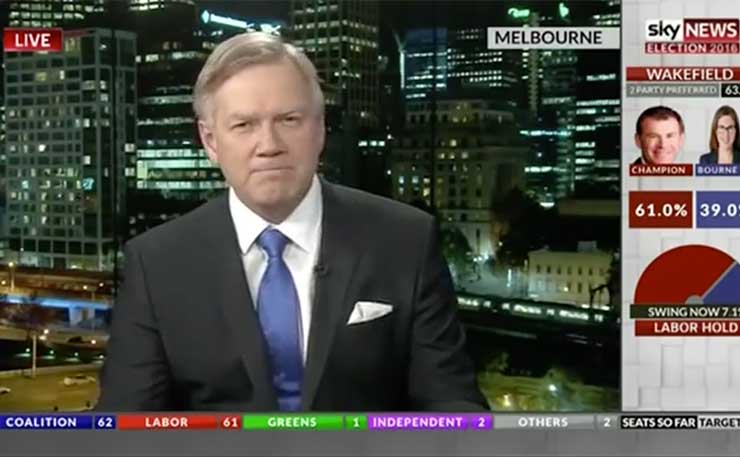 Bolt's rampant inaccuracy as a columnist was laid bare in 'Eatock vs Bolt', when Aunty Pat and eight other Aboriginal leaders famously sued Bolt under the Racial Discrimination Act, after a series of columns he wrote which alleged that fair-skinned Aboriginal people only identified as First Peoples for the money.
The group could have easily sued Bolt for defamation – and won – but instead they chose to test the RDA laws, in particular section 18c, which makes it an offence to vilify people on the basis of their race.
Aunty Pat and her crew won. Bolt lost. But it was no ordinary loss. The depth of his inaccuracy as a 'journalist' became a feature of the case.
The transcript from Justice Bromberg's findings was devastating.
One of Bolt's articles alleged: "[Pat Eatock] thrived as an Aboriginal bureaucrat, activist and academic."
Justice Bromberg found: "The comment is unsupported by any factual basis and is erroneous. Ms Eatock has had only six to six-and-a-half years of employment since 1977."
Bolt also alleged: "[Ms] Eatock only started to identify as Aboriginal when she was 19, after attending a political rally."
Bromberg found: "This statement is untrue. Ms Eatock recognised herself to be an Aboriginal person from when she was eight years old whilst still at school and did not do so for political reasons."
The ramifications of Eatock vs Bolt were still reverberating around Canberra last year, when Attorney General George Brandis tried unsuccessfully to water down the laws, to howls of national protest.
Aunty Pat was also at the centre of the sensational developments during the 40th anniversary protests at the Aboriginal tent Embassy in Canberra.
After Aboriginal protestors surrounded the nearby Lobby restaurant – in response to comments by then Opposition leader Tony Abbott that it was time for the Embassy to "move on" – security for the Prime Minister panicked, and rushed Gillard out the side door.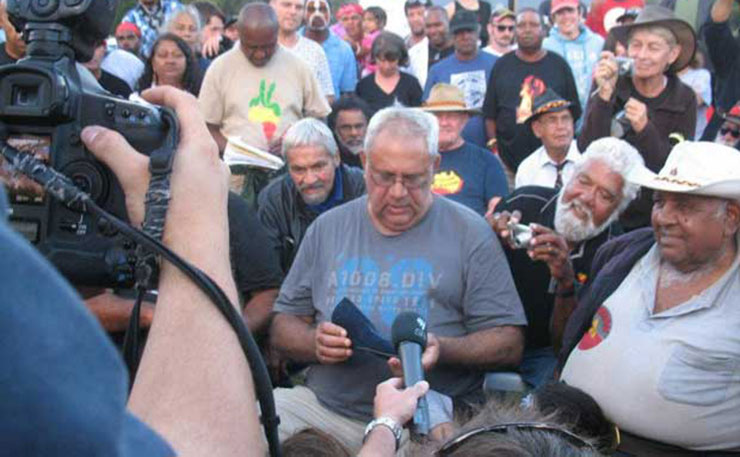 In the haste, Gillard famously fell, and was dragged to a waiting car by one of her bodyguards, losing one of her shoes in the process.
It was picked up by legendary Aboriginal Legal Service identity Paul Coe, and somehow ended up in the possession of Aunty Pat, who told media she would be auctioning it on eBay and donating the proceeds to charity (the Aboriginal Tent Embassy, of course).
Aunty Pat eventually agreed to return the shoe – it was displayed at a hastily convened press conference later in the day, and returned to Parliament House the following evening.
Aunty Pat's daughter Cathy, herself a prominent activist, this afternoon said her mum fought to the end.
New Matilda will bring readers details of Aunty Pat's funeral service when they're available.
The start of 2015 has proven to be a difficult few months for Aboriginal Australia, with the passing of a succession of high profile activists.
Kwementyaye Tilmouth, an iconic figure from the Northern Territory passed away earlier this month.
Two weeks earlier, Faith Bandler, a South Sea Islander who played a prominent role in the 1967 referendum to recognise Aboriginal people as citizens also passed away.
And in early February, Brian Johnstone, a prominent Aboriginal affairs journalist (and more recently a New Matilda writer) passed away in Adelaide.
* Chris Graham worked pro bono as the media adviser for the Aboriginal Tent Embassy's 40th anniversary.
Donate To New Matilda
New Matilda is a small, independent media outlet. We survive through reader contributions, and never losing a lawsuit. If you got something from this article, giving something back helps us to continue speaking truth to power. Every little bit counts.