Last month, the Forgotten Children report presented evidence in forensic detail, showing a policy in use by both government and opposition was causing psychological and medical harm to a group of children.
Medical and psychological experts who interviewed and examined children were able to estimate that mental illness rates in this group ran at higher levels than a comparable group of Australian children. The cause was indisputably laid at the door of a policy which condemned these children and their parents to mandatory detention with no known end date.
Ian Macdonald, the leader of the Senate estimates session looking at the document, admitted he had not read it when time came to debate the findings. https://newmatilda.com/2015/02/25/ian-macdonald-great-sexism-not-so-good-reading-and-writing
Instead an extraordinary piece of theatre was enacted where an old and discredited tactic of shooting the messenger took place. The Forgotten Children Report was forgotten in the ensuing slanging match, and its tragic evidence barely saw the light of day.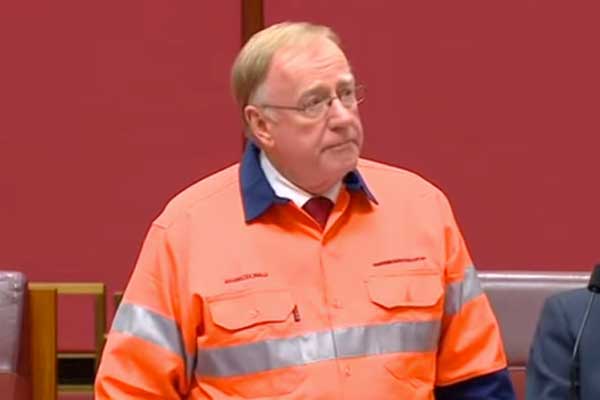 If Ian Macdonald and his cohort had taken the time to discuss the report they would have heard evidence from the department that there were 19 reported cases of sexual assault – including five involving minors – in Nauru's detention centre in seven months, as well as 44 cases on the mainland.
Another report into this awful statistic commissioned by the Minister himself has been hidden away from public view. We are still awaiting a full release of the Phillip Moss Report commissioned by the then Minister Morrison.
However, to understand the threats faced daily by families on Nauru, you have to talk to the mothers whose stories of trying to keep themselves and their children safe in the brutal camp conditions explain the mental disintegration affecting children and parents alike. Most at risk are women and girls without a husband or brother to protect them.
Sister Brigid Arthur and I have talked to mothers in camps on mainland Australia and also on Facebook to women still on Nauru. As well we have talked with the separated families of husbands, wives and children some onshore and some on Nauru. These are their stories of daily life in the communal tent camps on Nauru.
Abuse of women and children
One of the most distressing stories involves eight-year-old Ali* who became very fearful. Suddenly he would not leave his mother's side. He was afraid and tearful and refused to go to the education tent even for a few hours without his mother. He cried with nightmares each night but could not say why. This went on for weeks.
One afternoon a female relative was playing with him as he started to cry. He could not tell her why, so she gave him some coloured pencils and paper and asked him to draw anything he liked. She was outside the tent with his mother when he became very distressed. The women went to him and he threw himself into his Mother's arms sobbing. He had drawn a Nauruan guard naked with an erect penis. This information was given to Phillip Moss.
Mariam*, another mother on Nauru told me how one day she heard her teenage son shouting in fear and then her neighbour in the tent also crying out. She looked out to see them running. They told her that one of the guards had taken his pants down, exposing his genitals and was shouting at everyone.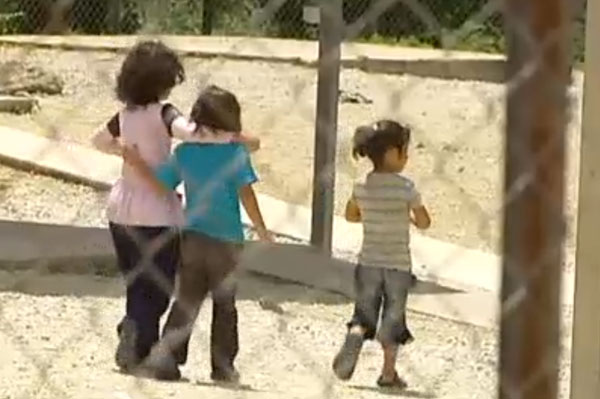 Mariam said that some of the Nauruan guards "have no control over themselves" and that they come to work drunk. Deals with the Nauruan government ensure high levels of employment in the camps for local people at pegged rates of pay. This places more Nauruans in the camps, both in single and family areas, and many have roles as security guards. This role requires them to walk around the camp at night doing "welfare" checks, which is the expression for head counts. Tents are checked three times a night.
Mariam told me that she lies awake at night in fear, watching the curtain for when the guard comes in. As she said, "you can't lock a tent". Australian and New Zealand staff do not interfere. Even when an incident is acknowledged the person or child at risk is not removed, nor is the perpetrator.
Ina*, a young girl told me that of a guard who had pushed her to the ground and was only stopped from assaulting her further by screams from another woman. This guard stayed in her camp and watched and followed her continually. She lives in terror. This information was given to Phillip Moss.
Children are living in these camps in fear, knowing that their own parents cannot protect them. They are all prisoners. If a parent speaks back they can be victimised and reported on as being "non-compliant".
The mothers talk about physical conditions in the camps which undermine their dignity as human beings. They say that they have no privacy at all. They live in communal tents with five or six other families separated by a see through curtain. They detail the way that the basic needs for life are made as punitive as possible.
Toilets
400 people share four toilets. They are cleaned very irregularly. Asylum seekers talk of the filthy toilets which the children don't want to use. They have no water and are allowed no cleaning agents to clean by themselves. They talk of the constant long queues for the toilet. Many women and children cannot wait and have become incontinent as a result. They wear pads when they can get them. Even the older children are wearing pads because they do not have enough clothes.
Showers
They explain that showers open for only three hours a day, mostly 9am to 12 midday but sometimes 1pm to 4pm. Everyone is in the queue until time is up. You simply miss out when the three hours runs out, or sometimes the water runs out. The showers are controlled by guards who tick the person off a list before allowing them into the stall. The guard controls the water stopcock, giving one or two minutes. The list ensures that no-one gets more than one shower per day – no exceptions, if woman or child are sick or have had an accident. The women beg for extra water to wash a child or themselves. Skin rashes and infections are endemic.

Washing Clothes
Washing machines are frequently broken or there is no water. People wash clothes secretly in toilets. There is trouble if they are caught and then the toilet water is turned off as punishment. The queue for washing machines opens only for a few hours. Many women and children are restricted in their clothing ration to only two pairs of underpants so washing is a priority.
Drinking Water
Water supply for drinking is from a large plastic container. People are issued with two plastic disposable cups each day. They must then queue to fill these two cups, then move away and queue again if they want more. No bottles are allowed. This limits the water use and is causing health problems in the hot Nauruan climate. Water from a tank is collected, rainwater however it is not potable being unclean, discoloured with debris floating in it and fit only for washing.
Basic Health Care
Medications are dispensed daily, even contraceptive pills. Sanitary pads are also issued in small numbers because they are deemed a fire hazard. There are long queues in the hot sun daily and there is no privacy – everyone knows your business. Diabetic medication needs to be given before breakfast but is often not available. Women who are sick and who cannot stand in the queue for hours, miss their contraceptive pills and risk getting pregnant.
Women are flown to Australia for abortions because these are illegal on Nauru. Young women have told me of the awful decision they feel forced to take. Many of these are first babies but they say that it would be wrong to have a baby on Nauru and ask how they could keep a baby alive in such conditions.
Staffing
Australian nurses have been replaced by nurses from the Philippines who have no connections to Australian media, so damaging stories about terrible medical practices are less likely to leak out. Local staff are all related with family loyalties protecting each other. Many of the Australian security staff are ex-Army from Afghanistan, carrying their own burdens of trauma and mental illness. Why would they go to Nauru after completing tours of duty in war?
Information control
The contractors have confidentiality clauses ensuring silence with threats of legal consequences if they speak out. Journalists have to pay $8,000 up front to apply for a visa to go to Nauru to work. No-one on Nauru wants to take responsibility for what is happening to the people imprisoned there. The Human Rights Commission was blocked from visiting Nauru. Phillip Moss was commissioned to go but will his report ever see the light of day? It could further corroborate the expert evidence given by doctors, psychiatrists, welfare workers and asylum seekers themselves to the Human Rights Commission.
Children and families have been living in these conditions for over 18 months now. Is it any wonder that children are depressed, self-harming and starving themselves?
As one eleven-year-old girl said to me, "I learned how to cut myself on Nauru, I did not know about this before". I asked why, and she said 'It helps my head not to explode".
*Names changed to protect their identities.
Donate To New Matilda
New Matilda is a small, independent media outlet. We survive through reader contributions, and never losing a lawsuit. If you got something from this article, giving something back helps us to continue speaking truth to power. Every little bit counts.