Every year the heavy police presence at Mardi Gras includes the use of drug dogs, and this year is shaping up to be no different.
Police know that drug dogs are normally wrong, but continue to use the detections as an excuse to conduct humiliating and invasive public searches.
The LGBTI community is a particular target for the use of drug dogs, and this has to end.
In NSW, police routinely use a positive indication from a dog as a reason to search people, even though 64 to 72% of these searches turn up no drugs.
When drugs are found, it is usually a small amount for personal consumption.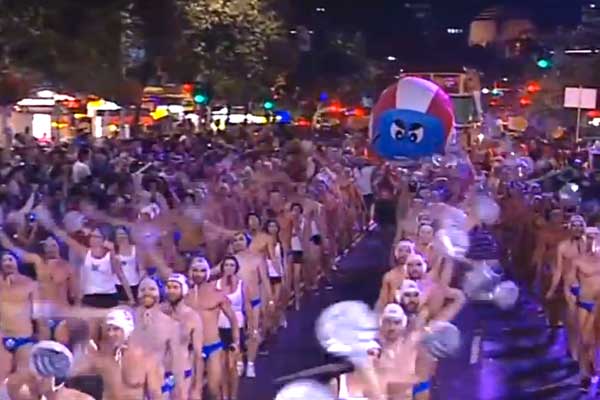 Only 2.44 per cent of searches following a positive drug dog detection result in a supply conviction.
Despite the ineffectiveness, police continue to use drug dogs extensively.
In 2013, 17,746 people were searched in NSW during general drug dog operations. This sort of policing is highly visible, with patrols of nightlife spots, festivals and public transport.
The searches are public and humiliating. It is policing for show, a performance act that disguises the impotence of the police in the 'War on Drugs'.
The use of drug dogs without a warrant is similar to controversial "stop and frisk" policies which have widely been condemned as discriminatory.
On paper, the drug dog program is not discriminatory. Dogs are a supposedly neutral, scientific detection tool. But the location of operations and how officers act when searching people is subject to entrenched preconceptions.
Police specifically target LGBTI events. Drug dogs are routinely deployed at the Mardi Gras after-party, and throughout the year on Oxford Street.
Regarding the 2013 Mardi Gras operation, where the majority of searches found no drugs, Surry Hills Local Area Command Duty Officer Inspector Stephen Crews said "We make no apologies for doing what we can to stop people taking drugs into this type of event."
Other types of event are subject to less scrutiny. I've never seen drug dogs outside an opera.
The use of drug dogs is just a small part of the long history of over-policing of the LGBTI community. In 1978, thousands of people marched down Oxford St to commemorate the Stonewall Riots and protest against police brutality.
Police broke up the march and arrested 53 people. Homosexuality was a crime until 1984, and as recently as the 2013 Mardi Gras parade we saw Jamie Jackson the subject of disturbing physical aggression from police.
The other parts of the community particularly affected by drug dogs will come as a surprise to nobody – young, poor, and Aboriginal people. Between one third and a half of all searches conducted in NSW are on public transport, more likely to be used by people with a low income. Of these public transport searches, Redfern is a particular target.
If you visited Redfern Station last year, you were 6.5 times more likely to be searched than if you went to Central instead. It is just another example of over-policing of the Aboriginal community.
Humiliating searches are bad enough, but ultimately drug dogs can kill people. We have seen cases around the world where police with drug dogs have approached people who then panicked, took all of their pills at once and died. Drug dogs don't stop drug use – they just make it more dangerous.
For decades, major parties and the police have supported the War on Drugs which disproportionately affects marginalised people and continues to fail to stop drug use.
If police are seriously worried about the health risks, they should stop harassing LGBTI people with drug dogs, and instead allow proven measures like pill testing kits and realistic drug education.
The law and order driven War on Drugs is unwinnable, and bringing in dogs doesn't change that.
Donate To New Matilda
New Matilda is a small, independent media outlet. We survive through reader contributions, and never losing a lawsuit. If you got something from this article, giving something back helps us to continue speaking truth to power. Every little bit counts.