The head of Australia's multicultural broadcaster – Special Broadcasting Services (SBS) – has defended the decision to axe NITV National News by saying he doesn't believe "it's necessarily important" to be "wedded to a half hour news bulletin that looks and smells and sounds like every other news bulletin".
SBS Managing Director Michael Ebeid was questioned by NITV National News Executive Producer Malarndirri McCarthy at a public meeting on Wednesday.
New Matilda revealed earlier this week that SBS and NITV plan to scrap the award-winning nightly news bulletin in June, in favour of a revamped current affairs show headed by prominent Aboriginal journalist and former SBS World News host Stan Grant.
The move will make NITV the only free-to-air channel without a nightly news bulletin. It is not yet clear whether the new panel show, hosted by Stan Grant and said to be modelled around Channel Ten's 'The Project', will be a daily program.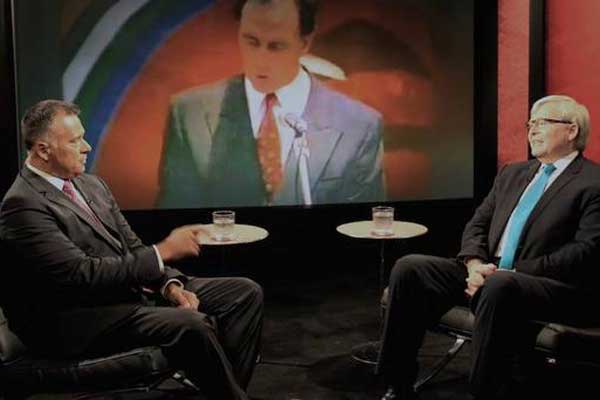 In a meeting on Wednesday, Ms McCarthy challenged Mr Ebeid to outline his plans for NITV National News to her news team.
"When we talk about the new changes being discussed around the place, I think, for the benefit of certainly the news team, just a question around the importance of having an Indigenous news service, a half hour news service, especially when there are other news bulletins across the channel – Turkish news, Greek news – can you just let me and my news team know what your thoughts are in regards to having a full half hour news bulletin," Ms McCarthy asked.
Mr Ebeid told Ms McCarthy while the biggest investment from the NITV budget had been the news service, the question was now a matter of formatting.
"There is no doubting that news is one of the biggest investments out of the NITV budget and it is the biggest in term of dollar investment in the NITV budget because it's an important part and there's no doubting that," Mr Ebeid told the meeting.
"In terms of whether Indigenous audiences feel it is important to have a dedicated Indigenous news service, versus different programs around current affairs issues, talking about issues that matter to the communities is a question I'm more than happy for you guys to talk about."
He said while the NITV News team "know what your audiences want", SBS knew from "some of our research from audience rating results" that it was a challenge to "have a NITV news service that looks like a mini news bulletin like everyone else is doing".
"We've had better success through our current affairs programs whether it be Awaken, whether it be Living Black, in terms of audience response."
He said "Indigenous news is incredibly important to the network" but could not see how NITV National News was different to any other news bulletin.
"How you deliver that news and what format is the question that's being asked. So is Indigenous news important, absolutely. Is it really important to have Indigenous journalists come through the organisation to train up and skill up to cover all sorts of issues, not just Indigenous issues? Absolutely.
"Do I think we should be wedded to a half hour news bulletin that looks and smells and sounds like every other news bulletin," he said.
"No. I don't believe that's necessarily important."
But Mr Ebeid admitted in November last year the broadcaster could not measure how many Aboriginal people view NITV, and the rating system used was "very unscientific".
"For example, there are no measurement boxes anywhere in the Northern Territory (NT) so any viewer in the NT is not counted anywhere in our measurement system," Mr Ebeid told the Mumbrella website in November last year.
"(The lack of ratings boxes in the NT) would obviously be a disadvantage for NITV in terms of measuring their numbers," he said. "It is something we just have to live with. The measurement system is the measurement system – we know it is not accurate."
He also told Mumbrella that NITV was "not about chasing numbers and ratings".
That has obviously changed. New Matilda asked SBS whether it could confirm how many Aboriginal and Torres Strait Islander viewers watched NITV National News.
A spokesperson for SBS said the broadcaster was not in a position to provide any further comment about what it labelled NITV's decision to re-structure its news and current affairs teams.
The spokesperson sent through the official media statement on the changes stating it is based on "comprehensive audience research and analysis of nightly ratings which average only 2000 viewers."
The spokesperson did not comment on how NITV and SBS obtain its ratings, and whether it is an accurate representation of Aboriginal viewing patterns.
"It is evident that the 5:30 pm NITV News bulletin is a challenging timeslot and needs to evolve. We also know there is a vital place for Indigenous news and current affairs and our challenge is to find formats, timeslots and platforms across digital devices which resonate with audiences," the statement said.
"To that end, NITV is exploring innovative and contemporary ways to ensure its Indigenous news and current affairs programming reflects audiences' media consumption patterns and enables more Australians to engage with news produced by the talented NITV news team."
It also sought to distance itself from statements made by the federal opposition, who yesterday connected it to the more than $50 million in federal budget cuts to SBS.
"Changes to NITV news programming are solely aimed at evolving its news programming offering and growing audiences and are unrelated to outcomes of the Australian government funding cuts announced in November 2014."
But with the head of SBS claiming NITV News "looks, smells and feels" like any other news bulletin, insiders are concerned the multicultural broadcaster doesn't understand the critical difference Aboriginal media delivers in this nation's communities.
Donate To New Matilda
New Matilda is a small, independent media outlet. We survive through reader contributions, and never losing a lawsuit. If you got something from this article, giving something back helps us to continue speaking truth to power. Every little bit counts.