As public focus on asylum seeker rights remains fixed on the horrifying findings in the children in detention report, and anger grows at the lack of justice for the murder of asylum seeker Reza Barati one year after his death, a signature feature of Australia's refugee policy established merely six months ago has been quietly unraveling.
In September 2014, the Australian and Cambodian Governments reached an agreement for refugees currently detained on Nauru to be resettled in Cambodia.
The four-year deal provides that Australia will support the transfer of refugees that volunteer for resettlement and will ensure that they are granted access to basic services.
Funds from $40 million in development assistance provided by Australia will be directed to implementing these arrangements.
Former Immigration Minister Scott Morrison celebrated the signing of the agreement with champagne at the Australian Embassy in Phnom Penh in September, yet the deal has been slowly coming unstuck ever since.
Announcement of the agreement was met with immediate protest in Cambodia, and on the recent visit of a delegation of Cambodian and Australian officials to Nauru, only three refugees agreed to meet to discuss the prospect of being transferred under the plan.
But a more critical threat to Australia's continued commitment to the deal has recently emerged. Since finalising the agreement, Cambodia has been experiencing its own asylum seeker crisis and its treatment of those seeking refuge raises grave doubts about its capacity to provide protection for refugees.
Since late 2014, a steady flow of Vietnamese ethnic minority Montagnards have been crossing the Cambodian border in the country's north-eastern province of Ratanakiri to seek asylum.
The Montagnard people have suffered decades of ethnic, political and religious persecution by the Vietnamese Government and have been subject to ongoing military force in an attempt to suppress their calls for self-determination and autonomy.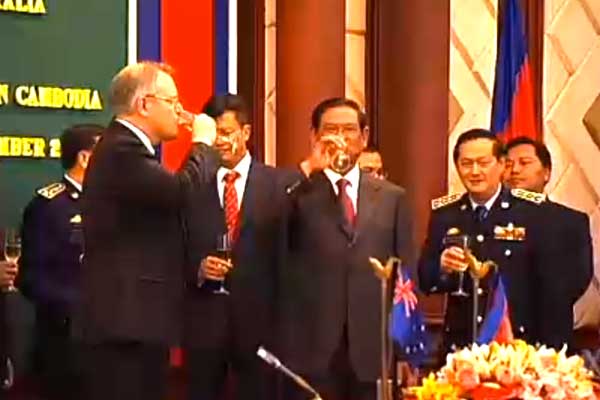 Many are persecuted for practicing Christianity, and their history of having sided with US forces during the Vietnam War has seen them routinely punished by the government in the years since.
While Cambodia has received asylum seekers from Vietnam in the past, this latest influx is the first to have arrived since the Australian resettlement deal was established.
In early December, a group of 13 Montagnards was discovered hiding in the Cambodian jungle, having spent more than seven weeks without support or protection.
The United Nations High Commissioner for Refugees reported concern for their health and wellbeing, and warned that local police were seeking to locate the group with the intention of returning them to Vietnam.
Following the intervention of UN agencies, this first group was transferred to Phnom Penh to process their claims for refugee status, but as more Montagnards arrive the official response has hardened and the Cambodian Government's regard for the rights of asylum seekers has become increasingly concerning.
By mid-February, local authorities returned a family of five Vietnamese asylum seekers back across the border, and over 30 Montagnards are currently reported to be in hiding in the jungle, where police are using dogs in an attempt to track them. Cambodia's Ministry of Interior has announced that if asylum seekers have their refugee status approved they will be sent to a third country or returned to Vietnam, rather than being settled in the community, telling the Phnom Penh Post that acceptance of refugees is contrary to Cambodian constitutional law.
This claim – that Cambodia views the recognition of refugees as unconstitutional – should be concerning for the Australian Government. The Memorandum of Understanding signed between the two countries makes clear reference to Cambodia's national sub-decree that recognises the rights of refugees as preliminary to the implementation of the resettlement agreement.
But to date, Australia has not responded to these claims, nor to the ongoing threats to the safety and protection of the Montagnard asylum seekers. Instead, Immigration Minister Peter Dutton told the ABC only last month that Cambodia is "very credible to deal with" regarding refugee resettlement.
If Cambodia is behaving credibly on refugee issues, then it seems to be doing so only in response to an agreement for which it will receive $40 million in development assistance. Asylum requests from those fleeing persecution in Vietnam without the same multi-million dollar incentive attached don't appear to be treated with this same credibility.
This latest crisis to plague Australia's botched refugee agreement with Cambodia is seemingly slipping under the radar of public attention.
Human Rights Watch has called for countries that provide Cambodia foreign aid to press the government to respect the rights of asylum seekers, yet given Australia's own abhorrent treatment of refugees, to do so would simply be a case of the pot calling the kettle black.
With Australia agreeing to bear the cost of resettling refugees from Nauru at the same time as Cambodia is publicly asserting it has no intention of respecting refugee rights, Australia must move to terminate the resettlement agreement.
Anything less makes Australia complicit in the inadequate protection being afforded to the Montagnards, and is yet another mark against Australia's very poor regard for asylum seekers.
* Carla Silbert is a writer, lawyer and human rights advocate currently based in Phnom Penh.
Donate To New Matilda
New Matilda is a small, independent media outlet. We survive through reader contributions, and never losing a lawsuit. If you got something from this article, giving something back helps us to continue speaking truth to power. Every little bit counts.