Tony Abbott is trapped on the leadership hamster wheel and he can't get off unless there's a game changer driven by an external event beyond his control.
Despite a pledge at the start of the week that "good government starts today", things have steadily gone from bad to worse.
Comparing jobs to genocide sets the rhetorical bar to a new low and will renew whisperings to call time on the Abbott prime ministership.
The latest unemployment figures – 6.4 per cent in January and the highest since 2002 – are yet more bad news for the government and one's thing for certain: they will be viewed through the prism of Tony Abbott's leadership.
The government's change of approach on submarine builds in South Australia is about Tony Abbott's leadership.
Tanking business and consumer confidence, whether the upcoming Budget makes cuts, spends big or makes structural changes are all functions of Tony Abbott's leadership.
Images this week of Abbott alone in the chamber – and for that matter Treasurer Joe Hockey under an Exit sign – are all indicative of Tony Abbott's leadership.
Every single political issue is now about Tony Abbott's leadership.
The egg can't be unscrambled. What has been spilled, cannot be unspilled.
Once there is blood in the water, news outlets go in for the kill. Fair enough. It sells papers and makes for good television.
They tend to run out poll after poll after poll. And none of them are good.
The fact that they are focussed entirely on the negative breeds more negatives, as that becomes the prism through which all is seen.
Then there is the fact that your opponents – mainly internal – seem to get a disproportionate amount of airtime. Their smiling head will constantly be on the TV news, casually flipping burgers at a community barbeque or catching a train or hanging out with loved ones at the park.
There will be process yarns, staffer yarns, expenses yarns. The list doesn't end.
There's the contradictions and unsolvable equations – where you're damned if you do and pilloried if you don't.
Take submarines – there was justified criticism of mixed messages about an open tender process and a so-called competitive evaluation process, and that the PMO should have controlled the message.
Yet in the current environment, if you come up with a set of talking points and distribute them to MPs, they will undoubtedly leak.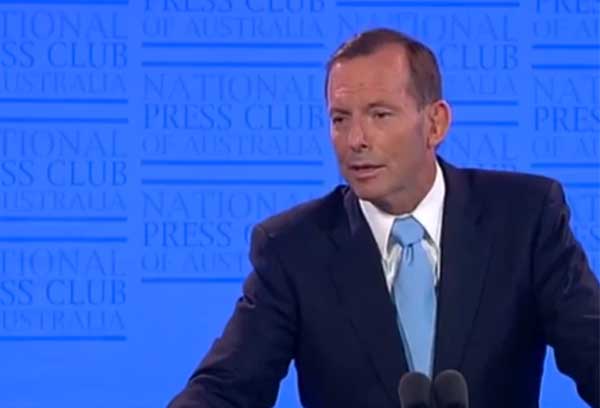 Or the Budget – there are mixed messages with Abbott saying the Budget was too ambitious and Hockey saying the public has to accept last year's cuts.
Continue with the cuts and you haven't listened. Reverse the cuts and you have flip-flopped.
On polls – change the leader and you're like Labor. Don't change the leader and you're electorally doomed.
Abbott is trapped in a mirrored room of his own making and there's no way out.
So here we have a leader who history suggests won't change, hurtling towards a budget he can't fix.
His party faces the choice between a leader who probably can't win an election versus an alternative they don't like.
Abbott may have narrowly survived his party room's spill, 61 votes to 39 – with 20 of those votes locked in through cabinet solidarity – but all this has done is sentence him to a kamikaze mission.
Budget 2015 is booby-trapped by both circumstance and his own performance in Budget 2014.
The Medicare co-payment, welfare changes and deregulation of universities remain deeply unpopular policies, and are stalled in the Senate.
And added to the mix are potential increases to the GST, and changes to the minimum wage and penalty rates through a review of workplace relations.
Any changes would be taken to an election but good luck selling an increase in the cost of living combined with a pay cut.
And when you're running low on political capital, that's exactly how they will be painted.
Yet any backdown from these positions will provoke howls of hypocrisy from the electorate and betrayal from the hardliners in the party who supported the PM against mutiny.
So what can be done? Is the Abbott Government in the mood for changing? Recent comments suggest not.
Certainly his Treasurer, Joe Hockey, whose fate is now inexorably tied to the PM's, doesn't seem to think so.
He is now urging his "rattled" colleagues to hold their nerve and push on with the toxic measures in last year's budget.
This is a path to certain doom.
Some are helpfully offering suggestions on how to find savings elsewhere.
The Australia Institute found that superannuation and housing tax breaks for the wealthy are costing the budget 10 times as much as leaving the GST off fresh food.
"The Abbott government says it will do anything to repair the budget bottom line, but their definition of anything does not extend to closing the loopholes which are draining tens of billions of dollars from the budget each year," said Dr Richard Denniss, Executive Director of The Australia Institute.
It's not a policy you would expect the Liberals to adopt and Abbott can't afford another fight anyway.
I spent a full day with the crossbench Senators last week at a Senate inquiry, and while some admit to feeling some pressure, they all agree that the electorate thinks the stalled Budget is a stinker.
This combined with Abbott's diminishing power means they fear him less and less by the day.
What incentive does the Senate have to pass the extreme agenda of an unpopular government?
Indeed redoubtable Tasmanian Independent Senator Jacqui Lambie started her first quote in a press release this week with: "It won't come as a shock to most Australians, when I say that I'm not the PM's biggest fan but…"
In other words, no-one will be doing Abbott any favours anytime soon.
Yet what is the alternative?
Abbott cruised to victory on a raft of slogans, but he's finding they are no help in keeping him afloat as Prime Minister.
He evidently thinks his failure to date is all just a big misunderstanding. That voters are suffering from an aberrant "fit of absent-mindedness" that will surely pass.
Yet the polls will keep coming. And the economic news will keep coming. And it will all be about Tony Abbott's leadership.
The leadership hamster wheel didn't end well for Julia Gillard and it's hard to see it ending any differently for Tony Abbott.
Donate To New Matilda
New Matilda is a small, independent media outlet. We survive through reader contributions, and never losing a lawsuit. If you got something from this article, giving something back helps us to continue speaking truth to power. Every little bit counts.