A dramatic attempt to prevent a Tamil man being removed to Darwin to face deportation appears to have succeeded for now, after a passenger protest delayed the Qantas flight carrying him from Melbourne to Darwin this morning.
In a desperate attempt to prevent the removal, asylum seeker advocates raced to Tullamarine airport earlier this morning and handed out leaflets to passengers encouraging them to disrupt the flight and help prevent the removal of the asylum seeker.
One member of the group, 21-year-old Jasmine Pilbrow, bought a ticket for Qantas flight 383 shortly before its scheduled departure, then refused to be seated when the passengers were asked to prepare for take off.
"I visit the detention centre in Broadmeadows so know the guys in there. When I heard about this, I wanted to be involved," she told New Matilda.
"I [boarded the plane]and just kind of acted normal. I sat down until I saw the last few people getting on. And that's when I stood up and refused to sit down again."
As Pilbrow stood, she explained to other passengers the reason she was interrupting their flight.
Then, in a show of support, two further passengers who appear to have had no previous connection to the protest, stood up.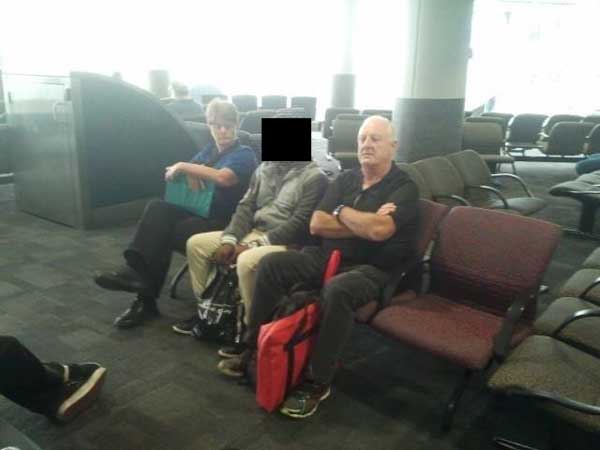 According to Pilbrow they were both young, in their 20s or 30s.
"We didn't know them, they were just random passengers," she said.
"That was really nice, when I saw them stand up I felt a lot happier."
New Matilda understands that the Tamil man at the centre of the protest had been living in the community on a bridging visa for around two years, but had recently received a negative refugee determination.
Aran Mylvaganam, a spokesperson for the Tamil Refugee Council, told New Matilda he had visited the man in detention and seen his Refuge Review Tribunal papers.
He said the Tribunal had accepted the man had been detained by the Sri Lankan army before he fled the country, but rejected his application because they did not believe returning him now would put his life in danger.
"His application failed because the immigration officials believe there is not a threat to his life," Mylvaganam said.
"Our argument is that while there are a lot of promises being made by the new government [in Sri Lanka], Tamils who had records with the Sri Lankan army in the past continue to face problems at the hands of the army when they're deported back."
Fleeing Sri Lanka in the manner most asylum seekers do is illegal in Sri Lanka, and many face prison sentences of up to two years immediately upon return.
Because of this, Mylvaganam is hopeful there will be enough time to appeal the man's negative determination before he is deported from Darwin.
After delaying the flight for close to an hour, Pilbrow was removed by the Australian Federal Police.
The two other women who joined the protest left the plane voluntarily, and are now en-route to Darwin on separate flights.
Pilbrow said that while passengers around her had been sympathetic to the protest, many had been heading to Darwin for work purposes and so declined to join.
Police escorting Pilbrow off the plane received applause from passengers, and Pilbrow said some jeered as she was removed.
The Tamil man was also escorted off the plane – a condition of Pilbrow's exit – but it appears he was quietly re-boarded after Pilbrow exited.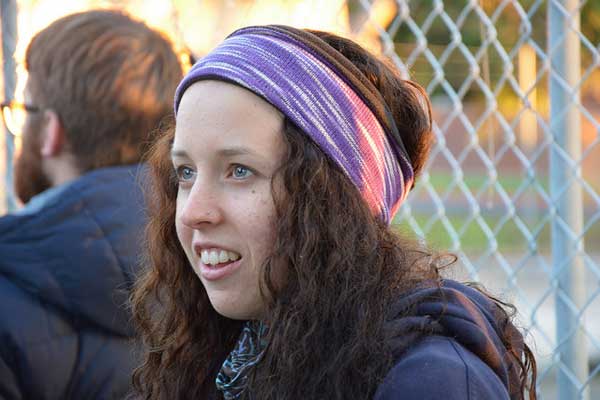 New Matilda has not been able to confirm whether he remains on the flight, now around half way into its three and a half hour journey, but advocates at the airport have not been able to make contact with him since Pilbrow disembarked the flight.
A spokesperson for Qantas confirmed the incident delayed the flight by 50 minutes and referred further questions to the AFP.
The AFP has not confirmed whether Pilbrow will be charged, but her details were taken at the scene.
The incident follows a protest at the Australian Open final last night, with activists unfurling a banner to protest human rights violations in the detention centre on Manus Island.
It's also not the first time a flight has been interrupted to stop a deportation.
In 2014, another young woman, Steph O'Donnell, interrupted the deportation of asylum seeker Wei Lin by refusing to be seated on an Air China flight.
Earlier in the morning, advocates tried to stop the Tamil man being moved from the Melbourne detention centre in which he was held.
Update: The Department of Immigration has confirmed the removal was not successful, but that it will still go ahead in the future.
Due to the action of some of these protestors, the transfer did not proceed and some passengers were inconvenienced as a result.

This was an unfortunate incident and the Department will continue with plans to transfer this detainee.
The AFP have been contacted for comment.
Donate To New Matilda
New Matilda is a small, independent media outlet. We survive through reader contributions, and never losing a lawsuit. If you got something from this article, giving something back helps us to continue speaking truth to power. Every little bit counts.