A dispute over pay and conditions at a Dandenong factory in Melbourne's south-east entered its third day today, with workers hoping a second day of Fair Work hearings will bring the row to a close.
On Tuesday morning workers at the International Flavours and Fragrances (IFF) factory arrived on site to find themselves locked out, foreshadowing a dramatic escalation in the ongoing industrial dispute.
The National Union of Workers (NUW), which represents the Dandenong employees, had implemented a paperwork ban early Tuesday morning.
IFF claims this forced them to lock workers out, but workers stormed the site and initiated a sit-in when the gates were opened to allow a maintenance worker to enter the premises.
Around 30 workers have occupied the factory lunchroom for the three days since, in what unionists have dubbed "Occupy Dandenong".
Arthur Ingles, a union delegate who works at the factory, spoke with New Matilda from the lunchroom earlier today.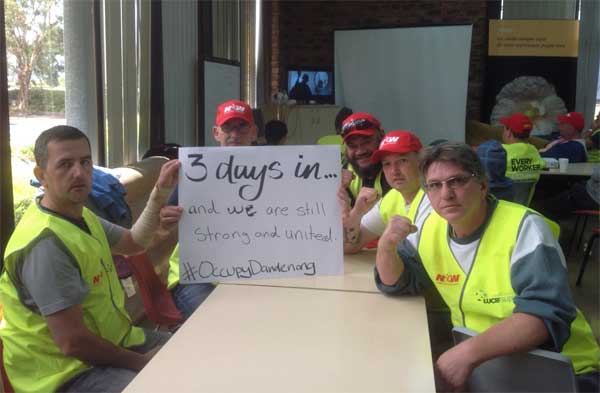 "It's not an easy situation," Ingles said, "but we're not rolling over to a gutting of pay and conditions".
The NUW is pushing for a pay rise in line with the Consumer Price Index, and says that the workers are actually being asked to give up existing conditions.
"What makes it even harder to swallow is they're asking for a poor wage increase and people to lose conditions they've already fought for in the past," an NUW spokesperson said.
Negotiations have been ongoing since September, but the NUW says IFF has failed to negotiate in good faith.
"Basically workers have been trying to negotiate a workplace agreement since September and haven't been able to get anywhere with the management, who have done anything but negotiate," the NUW spokesperson said.
A spokesperson for IFF defended the company's attempts at negotiation, but said the company had been left with "no choice but to lock out the workers" and initiate conciliation action with Fair Work Australia.
The company claims that the paperwork ban imposed by unionists in the early hours of Tuesday morning (before the workers arrived for their 6am shift) was unacceptable because its products would not have "the benefit of quality control processes".
But workers say uncooperative attempts to steal away existing conditions by IFF are the real issue.
These conditions include two paid 10-minute breaks per day, which workers say they will not give up.
The Fair Work Commission will also hear arguments today over proposed changes to accrued sick leave, which the NUW says it's willing to negotiate on.
The union is also pushing for a pay increase; in October last year they proposed a 3.5 per cent increase to IFF, which they have since lowered to 2.75 per cent.
Workers say any pay increase should, as a minimum, be in line with CPI, which closed last month at a weighted-average of 2.3 per cent.
"They've offered a 55 cent flat increase which equates to about a 1.5 per cent or 2 per cent increase depending on what level [wage]people are on," Ingles said.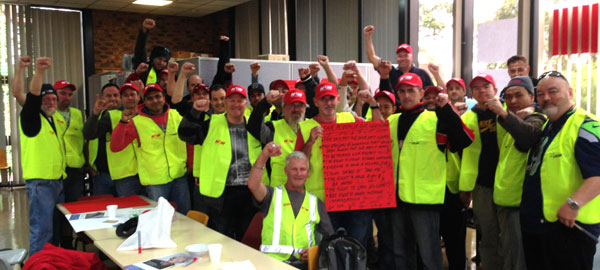 For workers like Arthur Ingles, frustrated negotiations with IFF must feel somewhat familiar – negotiations also broke down last time pay and conditions came up for negotiation at the Dandenong factory.
In that case, an agreement was reached only after unionists took the matter to senior Asia Pacific management in Singapore.
"It is workers' understanding that the best approach for the union to take is [still]to approach senior management in Singapore," an NUW spokesperson said.
A National Union of Workers representative told New Matilda that most of the first day of Fair Work hearings, on Tuesday, had seen IFF representatives arguing that the workers should abandon their hold-out in the lunch room, rather than focusing on pay and conditions.
Many of the workers at IFF's Dandenong factory have worked there for more than a decade, and they say they are eager to get back to work.
"We're quite happy working for the company but it would appear now we're less happy than we were," Ingles said.
"We want to be treated in a respectful manner that recognises our importance in the productive process," he said.
IFF said the company was committed to "market-relevant compensation" for its employees.
"We look forward to an equitable resolution and to getting our employees back to work," a spokesperson for the company said.
A petition started by the workers has received over 650 signatures, and will be presented to IFF management in Singapore if NUW representatives meet with them as hoped.
Donate To New Matilda
New Matilda is a small, independent media outlet. We survive through reader contributions, and never losing a lawsuit. If you got something from this article, giving something back helps us to continue speaking truth to power. Every little bit counts.