Merry Christmas! Prime Minister and Minister for Women Tony Abbott announced good news for both types of people yesterday morning on Channel Nine's The Today Show. Men: no need to rush out and get that last minute present for the missus, Tone's got your back this year. Women: you just wait!
The announcement came in response to Lisa Wilkinson's question: "Along with being Prime Minister, you are also Minister for Women. What would you say has been your biggest achievement in the last year in that role?"
The Minister for Women's response? (And yes, this is real life): "Well you know it's very important to do the right thing by families and households, and as many of us know, women are particularly focused on the household budget, and the repeal of the Carbon Tax means a $550 a year benefit for the average family."
As both a scholar and a gentleman, Abbott knows not just what women want, but how to get it for them. Merry Christmas from Prime Minister Casanova!
As usual, the policy detail can't fit on a card. To ensure, in the name of equality, that all men are equipped with the same set of information necessary to explain the policy to their women the same way, New Matilda has gone to the trouble of answering three of the Australia's most frequently asked questions.
1. What IS women anyway?
Women, like men, make up around fifty per cent of the population. They are, however, a bit smaller than men. Women like: sitting down to urinate, raising heirs, cooking, and laughing at your jokes. In their spare time women wear nice things, remove all that yucky leg hair, and write down potential children's names in neat cursive. Women dislike: creepie crawlies (ew!), farts, and The Carbon Tax.
2. So what is Carbon Tax anyway?
The Carbon Tax was the ALP's attempt at doing what they do best: gutlessly camouflage into mainstream dialogue. The Gillard government implemented Malcolm Turnbull and Tony Abbott's policy recommendation — to install a classical liberal economic market instrument designed to incentivise more socially viable means of energy production — turned out to be better used as a political weapon against that lying witch than a federal policy.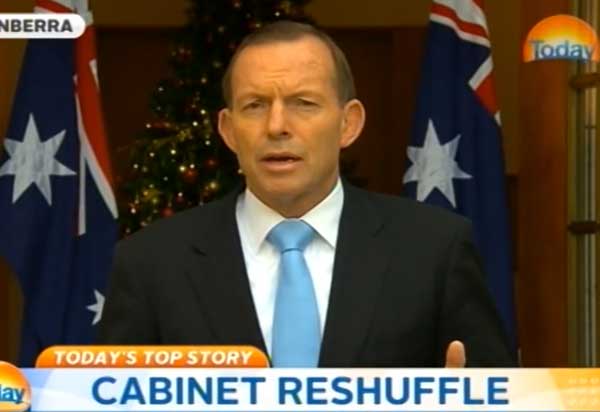 3. So, how does the Carbon Tax repeal make home-making more affordable?
It's simple. Ironing, cooking, and incubating the next generation all require carbon. Making it more affordable to increase one's carbon footprint is a weight off the shoulders of every woman, especially during the holiday season. Having spent $550 a year less on carbon empowers women nation-wide to put on the Chrisso that the family deserves.
So there you have it, mates. On behalf of all of us, the Minister for Women has given a gift that will continue to give for years to come.
In case you hadn't noticed, it might too be worth mentioning that the Carbon Tax repeal isn't ALL about women.
When a government puts a price on carbon, they are putting a price on families, which means that The Carbon Tax repeal is good news for us blokes too.
Without families, who will raise the top blokes of future generations? In a world without top blokes, where would mates come from?
Without mates, we wouldn't have mateship. Without mateship, where would we be?
The only boat we can't afford to turn back is the Mateship. Think about it.
Donate To New Matilda
New Matilda is a small, independent media outlet. We survive through reader contributions, and never losing a lawsuit. If you got something from this article, giving something back helps us to continue speaking truth to power. Every little bit counts.