Police have begun slowly releasing information about the siege that came to a dramatic climax in Sydney's Martin Place early this morning.
The siege, which began with a lone gunman taking 17 people hostage at the Lindt Cafe at around 9.30am Monday morning, escalated at 2.10am this morning, with heavily armed police finally storming the building.
Two hostages – a man and woman, aged 34 and 38 respectively – were pronounced dead at hospital, after sustaining fatal gunshot wounds.
By 3pm this afternoon, their names had not been released by police, who have not obtained permission from the families of the deceased. The names, however, have been widely reported by media from early this morning.
The gunman – 50-year-old Man Haron Monis – was also shot during the skirmish, and was pronounced dead at the scene. He was on bail, accused of involvement in the brutal murder of his ex-wife in western Sydney in April 2013.
Police media earlier today released the following information about injuries sustained during the incident:
• A 75 year-old female received a gunshot wound to the shoulder. She is listed as in a stable condition.

• A 52-year-old female received a gunshot wound to the foot. She is listed as in a stable condition.

• A 43-year-old female received a gunshot wound to the leg. She is listed as in a stable condition.

• A 39-year-old male received a minor facial injury due to gunshot, and was treated at hospital and discharged.

• A 35-year-old pregnant female was assessed for health and welfare purposes and was listed as stable.

• A 30-year-old pregnant female assessed for health and welfare purposes and was listed as stable.
One of the injured was a male police officer, who sustained an injury to his face from gunshot pellets.
"I have talked to that officer. He is in good condition. He is certainly being assessed and will be remaining in hospital for some time," the NSW Police Commissioner Andrew Scipione said this morning.
"Not too long we hope, but he is well, and grateful to be alive."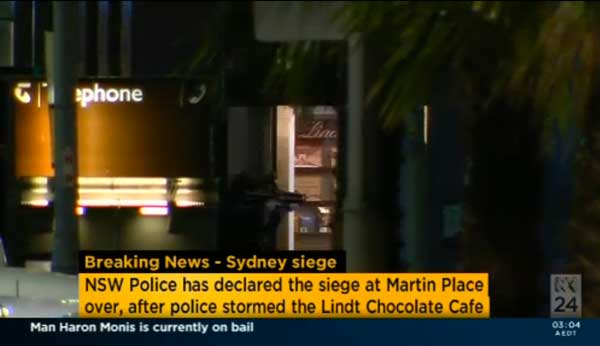 All information will be provided to the Coroner who will determine the cause of – and make any findings about – the events leading to the deaths, a spokesperson for NSW Police said.
The police operation has now ended, and a NSW Police investigation into the entire incident will be overseen by the Professional Standards Command.
"We're now dealing with a critical incident. In police terms that means there's a detailed, thorough, investigation, which has already commenced. We need to find out what's happened here and what's happened inside that cafe," Commissioner Scipione said this morning.
The Commissioner confirmed that the incident at the Martin Place cafe involved a total of 17 hostages.
"That includes the five that escaped yesterday and a number that have been caught up with, some with traumatic injuries, some with medical conditions.
"We have, as you have reported, two deceased among the hostages and six that were uninjured."
Mr Scipione expressed his sympathy for the hostages, and praised NSW Police on the scene for their efforts.
"While everyone might now second guess as to what's actually occurred in the last hours, well, they're the ones who had to make the decision," Mr Scipione said.
"Our police had to actually deal with this incident. It was tough, exacting work, many hours, whether they were on a point or whether they were part of a team that had to make that entry and deal with this situation.
"I want to point out that they have saved lives. They have saved many lives, and to those men and women – all that were involved – we thank you.
"Thank you that you're there, and that you're prepared to do this. To put your life on the line to keep us safe is a very, very, honourable cause, and for that, our gratitude goes out to you," Commissioner Scipione said.
The Commissioner said that the hostages were now part of a Hostage Reception Plan and were "being looked after in terms of their psychological needs at the moment."
Investigators will consult with hostages after they've received appropriate care.
The Commissioner also shed some light on why police stormed the building in the early hours of this morning, bringing the 17-hour siege to a dramatic close.
"Well that's a decision that was made by the teams responsible. These are the experts. What we don't do is compete with those that have to make that call.
"They made that call because they believed if at that time they didn't enter there would have been many more lives lost," Commissioner Scipione said.
The Commissioner also addressed questions relating to the possible existence of improvised explosive devices across Sydney.
Yesterday the Commissioner said police had received a number of tip-offs about possible explosives, but none had turned up a bomb.
This morning he assured Sydney-siders that the premises where the raids took place had been secured, and no explosive devices were found.
The Commissioner urged the public, and the media, to be patient, and let investigations run their course.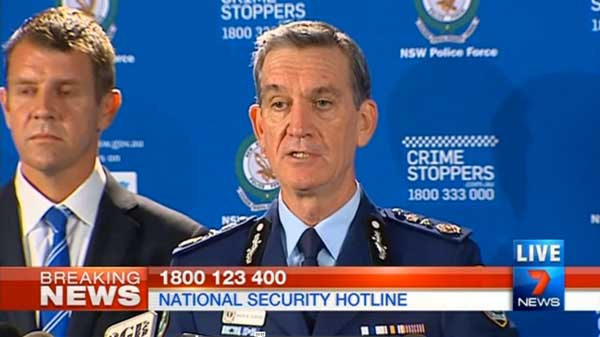 Now is "not time to speculate or to develop theories" and police will continue "to work through the facts and advise you as soon as we can," Commissioner Scipione said.
"There are many questions that will come in the coming hours, days and weeks. What I assure you is that I will answer every one of them.
"We will get to the bottom of events and we will do everything possible to ensure we do not see happen again in this city what we saw in the last 24 hours," Commissioner Scipione said.
The Commissioner also joined calls from the NSW Premier Mike Baird and Lord Mayor Clover Moore for the community to unite and support the victims and the broader community.
"It is not about finding reasons to divide communities, but finding ways to actually heal the wounds, to help everyone grow stronger – because we all want a stronger Australia," he said.
"It was the act of an individual. This should never destroy or change the way of our life, and as the Premier indicated, this won't change our lives. This will not change the things that we hold dear in this country.
"This was an isolated incident. It is an isolated incident. Do not let this sort of incident bring about any loss of confidence about working or visiting in our city," Commissioner Scipione said.
Lord Mayor Clover Moore mirrored those statements, saying this morning that the siege was an isolated incident that should not change the way people go about their daily lives.
Donate To New Matilda
New Matilda is a small, independent media outlet. We survive through reader contributions, and never losing a lawsuit. If you got something from this article, giving something back helps us to continue speaking truth to power. Every little bit counts.