Stella Young, an Australian comedian, writer and activist who died at the age of 32 on Saturday evening, was no snowflake.
As news of her passing swept across social media on Monday words of praise flowed for a talented young woman who did much to put the rights of Australians living with disabilities on the public agenda.
Judging by the reaction it seems safe to say that Young, born with osteogenesis imperfecta, inspired a great deal of respect from a diverse range of admirers.
From fellow comedian Aamer Rahman.
Dear friend, comedian and comrade @stellajyoung passed away this weekend. One of the most brilliant political and comedic minds I'd met.

— Aamer Rahman (@aamer_rahman) December 8, 2014
To human rights champion Graeme Innes.
Day tots re-orged doing media about @stellajyoung Would do 1000 more if it brought you back. Vale my fav disability advocate.

— Graeme Innes (@Graemeinnes) December 8, 2014
To a former prime minister.
Stella Young was a shining light for care and action on disabilities. We mourn her passing and rededicate ourselves to her spirit. -JG

— Julia Gillard (@JuliaGillard) December 8, 2014
And even this guy.
Saddened to hear of the passing of Stella Young. A strong advocate for people with disabilities taken too soon.

— Christopher Pyne (@cpyne) December 8, 2014
It's hardly unusual to see a positive social media reaction to the death of a prominent Australian, but noteworthy was the tone of today's praise.
"My friend Stella Young died on the weekend. She was the fiercest and filthiest of them all," columnist Amy Gray tweeted.
Throughout the day, more came forward with memories of their friend, her wit, her achievements, and her flaws. They were honest and never saccharine.
Writing in Crikey, Shakira Hussein (who described Young as "fuck-you funny") hinted at why.
"[Stella] refused to allow her life to be used as inspiration porn, so I'm pretty sure we ought to fight the temptation to make inspiration porn of her death," Hussein wrote.
It's thanks to Young that many readers would be aware of the meaning of "inspiration porn", a phrase she used to deride an approach to disabilities that sees those living with one reduced to figures of pity.
In an extract from 'Between Us: Words and Wisdom From Women Of Letters' (a letter to her 80-year-old self hat went viral today), Young illustrates the idea with an anecdote.
"One of my most beloved crip heroes, Harriet McBryde Johnson, wrote in her memoir about her realisation at four years old, while watching a Muscular Dystrophy Telethon, that she was a little girl who was going to die young. The telethon was famous for its host, Jerry Lewis, trotting out adorable disabled children and telling us all that they were going to die. Most disability charity hinges on that notion – that you need to send your money in quick before all these poor, pitiful people die. Peddling pity brings in the bucks, yo."
Young wanted to blow apart the myth that events like the telethon promoted. Screw being rolled out by a celebrity as an object of pity – she wanted to run her own show.
Her death comes at the end of a difficult year for those championing the rights of Australians living with a disability.
In July, Disability Discrimination Commissioner Graeme Innes retired from his role at the Australian Human Rights Commission, a loss doubled by the government's decision not to replace him.
Meanwhile, newspapers were running covers like this: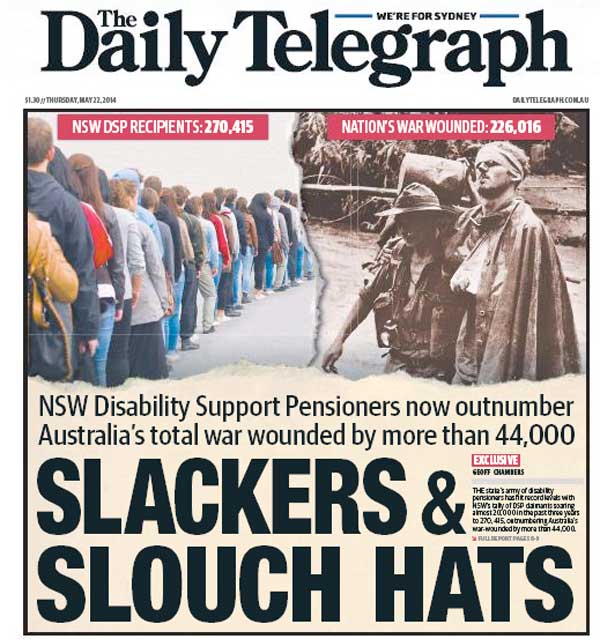 and the government started its attempt to bump people off the Disability Support Pension.
At a time the press was proving itself unable to write with any competence on issues relating to Australians living with disabilities, the ABC's Ramp Up website – a valuable outlet dedicated to news and opinion on the subject of disability – was quietly shutdown.
The ABC blamed the government, the government blamed the ABC, and neither did anything to change the outcome.
Young was the editor of Ramp Up, and contributed frequently.
In her final post she was sharp, funny, and incisive in her analysis of the bio-politics of disability.
"It's my body, and I'll bloody well dance if I want to," she concluded.
But lest anyone try to make inspiration porn of her life – or we on the other side of death try to lather over her intellect with soapy aphorisms and soppy lines – Young had this to say not long ago.
A smart woman who told good jokes and showed the trademark readability of a writer who has some skin the game – certainly no snowflake.
Vale Stella Young.
Donate To New Matilda
New Matilda is a small, independent media outlet. We survive through reader contributions, and never losing a lawsuit. If you got something from this article, giving something back helps us to continue speaking truth to power. Every little bit counts.