It was supposed to be a major win for children in detention, but lawyers say legislation passed by the parliament this morning will allow the government to deport 44 asylum seeker children from Australia to offshore processing on Nauru, despite the fact many of them were born in Australia and have never left the country.
Katie Robertson, an Associate in Maurice Blackburn's social justice department, is representing a group of 25 babies born in Australian immigration detention who are fighting for the right to apply for visas.
Robertson told New Matilda that the case, currently being adjudicated by the Full Federal Court, was now effectively over as a provision in the Bill passed today retrospectively changed the status of babies born in detention.
"We can't possibly win because the government have rewritten the rules while we're playing the game," Robertson said.
"We're not sure when the judgement will be handed down but in many ways it is irrelevant."
The 25 babies Robertson represents all had parents interned on Nauru who were flown back to Australia to give birth because of the poor medial conditions on the tiny Pacific Island.
While their families had been subject to offshore processing and defined as Unauthorised Maritime Arrivals (UMAs) lawyers argued the babies should not be assigned the same status as their parents as they had not arrived in Australia by boat.
"Clearly Morrison and his Department agreed we had a good argument because they've now amended the law," Robertson said.
A provision in the Bill passed today explicitly defines all babies born in these circumstances as UMAs, including those who arrived before the legislation was passed.
In September, Robertson told New Matilda that the amendment appeared to have been designed specifically in response to her clients' case, which was defeated at the Federal Circuit Court but then appealed.
Included among these clients is one-year-old baby Ferouz, a Rohingya child born in Brisbane.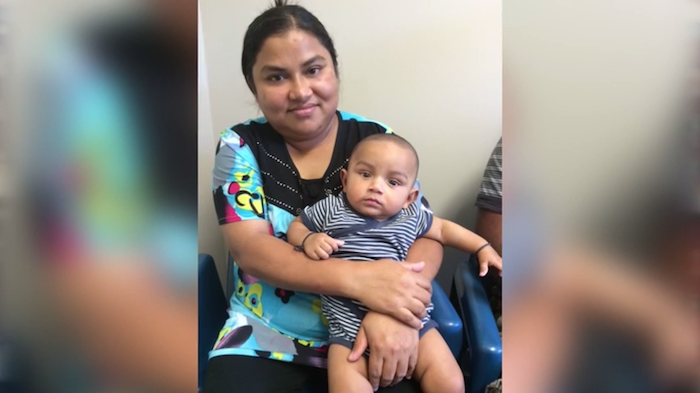 Robertson said eight of the 25 babies who will be impacted by the new laws are also Rohingya, a stateless people who are not recognised as citizens by the government in their native Myanmar.
Their families are now at the mercy of Immigration Minister Scott Morrison, who today extended an undertaking guaranteeing they will not be deported until at least 30 January next year.
"They're beside themselves with anxiety, if you can put yourself in their situation these families have fled persecution," Robertson said. "They have been returned to Australia because they are the most vulnerable cases."
In a press conference today, the Minister acknowledged the existence of the children but declined to answer questions in detail.
"That matter is still currently before the courts and the undertakings that we have given in relation to that matter to the plaintiffs are being extended," he said.
Contacted for further comment, a spokesperson for the Minister said: "we'll leave it at what he's said in the press conference".
Despite the retrospective changes, there was good news for some of those involved in the legal action.
The majority of the 108 children Maurice Blackburn are representing will now be eligible for Temporary Protection Visas, when previously they faced deportation to Nauru.
While the law passed this morning does nothing to free asylum seeker children, and in fact grants wide new power to the Minister, Morrison promised that in exchange for its passage through the senate he would release children in Australia from detention, something he has always had the power to do.
But this option will only be available to children whose parents had not yet been transferred from Christmas Island to Nauru.
Children like Ferouz, who potentially could have stayed in Australia under the previous arrangements, now face almost certain deportation.
Despite arguing the distinction between these two groups is arbitrary, Robertson believes legal avenues for the 25 babies in the same position as Ferouz are now effectively exhausted. Maurice Blackburn will instead lobby the Minister directly to use his discretion not to remove the children and have produced a video to raise awareness of the case.
Robertson said the babies, most of whom have been in Australia for around a year, have never seen freedom.
"They were born in hospital surrounded by two Serco guards," she said.
"I would make the point the Minister does have the power to include these babies in the legacy caseload."
She said that as a solicitor she had never previously worked on a case where the laws had been retrospectively changed at the very time a judgement was being conducted.
"I've never had this experience before," she said.
Donate To New Matilda
New Matilda is a small, independent media outlet. We survive through reader contributions, and never losing a lawsuit. If you got something from this article, giving something back helps us to continue speaking truth to power. Every little bit counts.