University of Canberra Vice-Chancellor Stephen Parker has delivered a scathing attacking on Universities Australia over its support of the Coalition's plan to deregulate the higher education sector, comparing the peak body to necrotizing fasciitis, a condition commonly known as "the flesh-eating bacteria".
Speaking at a rally held in the University of Sydney's iconic quadrangle, the visiting VC lashed out at fellow university leaders for failing to defend the interests of their students, saying he would not attend any further Universities Australia meetings until the organisation dropped its support of Christopher Pyne's higher education deregulation legislation.
"[Universities Australia] is doomed because it has lost its moral compass. I personally will not attend a further meeting of an organisation with necrotizing fasciitis, the condition whereby the body eats its own flesh," Parker told the rally, which attracted around 80 students, staff, and opponents of deregulation.
Parker told the crowd that Pyne's reforms were "unfair to students and poorly designed policy" and reiterated warnings that they would open the door to full privatisation of public universities, ultimately undermining Universities Australia itself.
"I find myself the only vice-chancellor to say publicly what at least a few of us believe. I've tried to understand the perspective of other vice-chancellors… but nothing justifies the position that they and [Universities Australia] have taken," he said.
"These reforms are unfair to students, the constituency to which I have devoted 35-years of my working life. They have to lead to significant increases in student debt because this is part of the government's case for them."
Asked after his remarks to expand on which other vice-chancellors had privately argued against the reforms, Parker declined to name names, but insisted he was not alone in his concerns.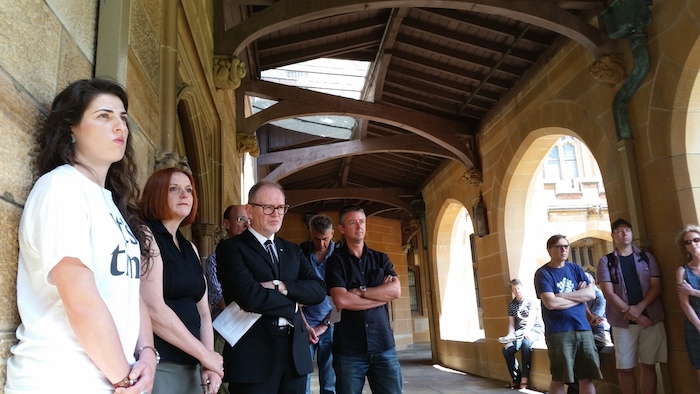 Education Minister Christopher Pyne has drawn heavily on the support of vice-chancellors in arguing for his higher education package. While generally supportive, many have expressed concern about various elements of the changes, including a 20 per cent cut to course funding, effective increase to the rate of student debt repayments, and the extension of funding to private 'for profit' higher education providers.
Pyne is now lobbying crossbenchers intensely to get the legislation passed by Christmas and has backed away from his attempts to tie debt repayments to the bond rate, likely increasing them.
But groups like National Alliance for Public Universities (NAPU), which organised today's rally at the University of Sydney, say the package is fundamentally flawed and that its safety net will not prevent poorer Australians losing out.
Parker rejected Pyne's insistence that a scholarship scheme to be legislated as part of the package would ensure equitable access to universities, even if prices were to significantly rise once caps were removed.
The scheme would force larger higher education providers to contribute 20 per cent of extra revenue raised after the removal of price caps towards a Commonwealth Scholarship Scheme.
Opponents say this will mean middle and lower income students are punished, pointing out the funds for the scheme will come from students, not the government.
"Why should the second poorest quartile of students subsidise the lowest quartile," Parker said.
The scheme has also been criticised for exemptions to smaller providers which will allow the majority of 'for profit' providers – set to benefit handsomely from the reforms – to be exempt from providing scholarship funding, regardless of how much their profits increase.
The $800 million Pyne has opened up to 'for profit' providers is likely to face scrutiny from the Senate, which last week voted in favour of establishing an inquiry into private VET providers, set to begin in February next year.
While focusing on the vocational sector, the Greens and Labor have argued the inquiry will have relevance for the higher education sector.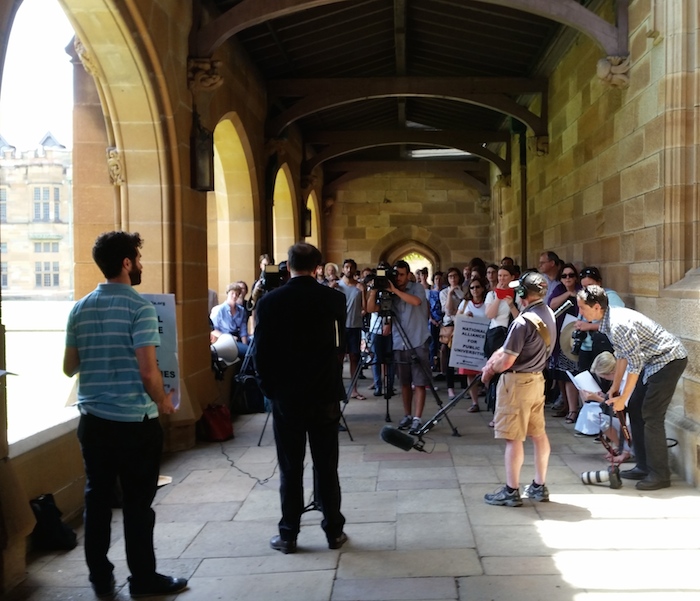 Despite the criticisms of those such as Parker, Universities Australia is standing by the principle of deregulation, calling on crossbenchers to cut large chunks out of Pyne's plan but allow universities to set their own fees.
"This is where you, the Senators of Australia, have the chance to make a difference, a chance to champion a new higher education package that is fair for all: fair for students, families and taxpayers," the organisation said in an open letter to Senators.
It's a position unlikely to win them much love at the University of Canberra, or with students around the country facing higher fees.
"This will blight the lives of a generation unless Australia comes to its senses," Parker said.
Donate To New Matilda
New Matilda is a small, independent media outlet. We survive through reader contributions, and never losing a lawsuit. If you got something from this article, giving something back helps us to continue speaking truth to power. Every little bit counts.