Victorians woke up to a new government this morning, led by Premier-elect Daniel Andrews of the Labor Party.
In any normal electoral cycle, the idea of geeky, awkward Daniel Andrews defeating a first-term Coalition government would have been preposterous.
But Andrews did win. After trailing in the polls for most of its first term of government, the Liberal-National Coalition of Denis Napthine was swept from office at its first electoral test. The Coalition will find the ashes of defeat bitter indeed.
The conventional wisdom says that elections are won in the outer suburbs of capital cities, and it was here that the Labor Party claimed victory. The Coalition held on in the country and the regions, but lost a string of Melbourne marginals in seats like Yan Yean, Carrum, Mordialloc and Bentleigh. The overall swings were modest: just a couple of percent to Labor state-wide. But the Liberals could not defeat any Labor incumbents. The likely result is a small but workable majority for the ALP.
Exactly why voters decided to throw out the Napthine government will be much analysed. The budget is in surplus, public services are amongst the best in the country and the economy, while slowing, is not in recession. Napthine himself was seen as competent and likeable, even while his party trailed in opinion polls.
Despite all this, voters took a dislike to the Coalition government early in its first term, and it was never able to climb back into positive territory. For Tony Abbott's federal government, the implications are troubling.
One thing's for sure: it wasn't much of a campaign. An unpopular first-term government faced a largely unknown Labor opposition. No grand narratives or lofty rhetoric intervened to liven up either party's platform. Instead, a series of highly targeted micro-promises dominated both major parties' approach to the campaign. Sky News' David Speers called it the "Seinfeld campaign": about nothing.
On Friday, the Guardian's Gay Alcorn penned a long and penetrating analysis of the state of play leading into polling day.
Alcorn, a former editor of the Sunday Age, is an experienced observer of politics in the Garden State. She described a "small minded" and "intellectually shallow" provincial political culture. "There is a lot of 'me too-ism' in state politics, and few ideas," Alcorn wrote. "But because the contest is narrow, there are many issues that barely get a hearing."
It's hard to disagree. The campaign saw major party policy platforms coalesce around essentially identical promises to better deliver the same big public services, like hospitals, schools and public transport.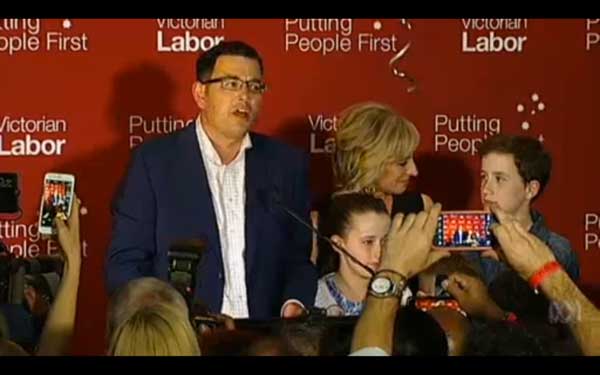 One issue did stand out, perhaps simply because of the sticker shock attached to its multi-billion dollar price tag: Melbourne's East-West Link, a giant freeway-and-tunnel that would dig up much of the inner city for the disputed end of alleviating Melbourne's traffic woes.
In a contrast that tells you everything about the interchangeable nature of major party state government, in 2010 the East-West Link was supported by the Brumby Labor government and opposed by the Coalition under Ted Baillieu in opposition. Four years later, the contracts have been signed, but it was the Coalition that wanted it to go ahead, with Labor vowing to cancel it.
Depending on how you calculate the cost (and the contract is still secret), we're talking about a $7-17 billion project. The Napthine government maintained that even if Labor cancels the East-West Link, taxpayers will still be on the hook for more than $1 billion in penalty fees. Polls showed voters wanted it built, but they also showed voters wanted more public transport.
But if voters seem fickle, it might be because politicians and parties treat them with so little respect. The modern stage-managed nature of political communication is dangerously out of step with the realities of the social media age, and an increasingly empowered population can find out plenty about politics without the imprimatur of mainstream media or campaign HQ.
This increasingly splintered, entitled and yet also disengaged electorate thus becomes harder and harder to appeal to, and politicians are forced to cede any major narrative to a patchwork quilt of bite-sized policy promises and seat-by-seat auctions. On the other hand, it is precisely this strategy that delivered Labor victory.
In any election, the record of the incumbent is up for judgment. The Napthine government struggled in this regard. Just like federal Labor in 2013, there was chaos and disunity. The Liberal Party's election-winning premier Ted Baillieu could not even survive a full term, replaced in 2013 by Napthine after two and half years marked by lassitude and internal dissent.
It says a lot for the parlous state of the Victorian Coalition that the compliment that Napthine "cleared Ted's inbox" is often paid with apparent sincerity. The Coalition did indeed run a tighter ship under Napthine, but it hardly inspired in a state with long-term progressive leanings. But under Baillieu, much damage had already been done, including damaging disputes with ambulance and firefighter unions, and savage cuts to vocational education and TAFEs.
And, of course, we cannot ignore the doleful influence of renegade Frankston MP Geoff Shaw, whose dubious personal ethics and penchant for publicity did so much to tarnish the Coalition's image. Shaw utterly destabillised Ted Baillieu, and even Napthine was unable to entirely neutralise him. Like Eddie Obeid, Craig Thomson and Peter Slipper, Shaw became a lightning rod for public disdain, and while the worst damage was done to the standing of democracy itself, the Coalition certainly wore its fair share of the opprobrium.
In the end, however, the deciding factor may well have been Victoria's struggling economy. Economic growth has been meager in recent years: in per-capita terms, the Victorian economy is actually shrinking. Unemployment is the highest in mainland Australia: indeed, at 6.8 per cent, it's at a 13-year high. The state's manufacturing base has been savaged by the high Australian dollar in recent times; regional centres like Geelong have rapidly de-industrialised. While the govenrment trumpeted its budget surplus and a AAA credit rating appeared, voters seemed more concerened about disappearing jobs and cuts to public services.
Combine a weak economy with a stumbling, disunified government, and you can conjure a first term defeat even without referring to federal issues.
But no one thinks federal issues were entirely absent from the Victorian campaign. There's no getting around it: the federal government of Tony Abbott is unpopular. Deeply unpopular, in fact, and particularly in Victoria. For instance, 46 per cent of those surveyed in Sky News' exit poll said Joe Hockey's budget was an issue.
Unsurprisingly, Abbott was kept well away from voters for most of the campaign. Julie Bishop seemed to enjoy much wider employment as a Liberal campaigner, and most federal MPs from Victoria campaigned. A glance at Abbott's personal approval ratings tells you all you need to know.
It is thus inevitable that the blame game will focus on Abbott and the unpopularity of his federal government. Given the internal dissatisfaction with Abbott amongst Victorian Liberals, the backlash could be savage.
For Labor, victory is sweet. In his victory speech, Andrews lauded the grass-roots efforts of hundreds of nurses, firefighters and paramedics, who had mounted a huge ground campaign of door-knocking and letter-boxing in support of the ALP. Labor is very proud of its 'ground game' in this election. Democracy is often pronounced sick or even dying, but in this election the intensity of the democratic struggle waged for the comparatively minor prize of state government suggests that, for a small but significant number of citizens, democratic participation is alive and well.
The Greens too will be pleased with their showing in the inner city. Ellen Sandell looks to have won in the party's stronghold of Melbourne, meaning Melbourne now has a Green representative in both state and federal parliaments. The Greens also recorded swings in nearby inner-city seats like Richmond, Prahran and Brunswick.
Picking up the seat of Melbourne would have been the minimum required to fight off charges that the party's slow climb in popular support has peaked. In fact, the Greens recorded useful swings across the inner city, even while bleeding support in the outer suburbs. This confirms the long-term trend: while Labor fights hard in the inner city, there seems little doubt of the vigour of the Greens' support base in the creative industries and white-collar middle class. This year's swings give the party a secure bridgehead to assault four or five lower house seats in 2018.
But it is Andrews and Labor that will govern.
Andrews was this morning doing the usual media rounds, declaring he was getting straight to work. The Premier-elect faces many challenges: growing the economy, providing sound public services, and working out what to do with the East-West contract. He must also deal with a chaotic upper house, where Labor will not have a majority and with the balance of power likely to be held by right-wing minor parties.
But Andrews can take heart from the fact he will take charge of the reddest state in the nation. The old clichés about the "Massachusetts of the South" have gained new currency: Victoria appears to have moved so far left that even the moderate conservatism of Denis Napthine was distasteful to the majority. Conservatives must face the unpalatable truth that Victoria is now a bastion of progressivism, in which right-leaning parties will struggle for a long time to come.
Correction: This article originally listed the seat of Wendouree in a sentence describing marginal seats in Melbourne. Wendouree is a seat in the regional city of Ballarat.
Donate To New Matilda
New Matilda is a small, independent media outlet. We survive through reader contributions, and never losing a lawsuit. If you got something from this article, giving something back helps us to continue speaking truth to power. Every little bit counts.