Legal experts and asylum seeker advocates have contradicted Immigration Minister Scott Morrison's claim that violence against refugees settled on Nauru is "wholly a matter for Nauru", after another incident left two teens hurt and escalated fears about the safety of the island's growing refugee community.
Madeline Gleeson, Research Associate at the Andrew and Renata Kaldor Centre for International Refugee Law at UNSW, told New Matilda Australia had a "clear legal obligation" to protect refugees in its care, including those temporarily settled in the Nauruan community.
"Australia continues to have obligations to protect asylum seekers and refugees in Nauru because no agreement has been reached concerning their permanent settlement," Gleeson told New Matilda.
"Some refugees have been released into the community temporarily on the good will of the Nauruan government, but they have no legal right to settle there long term and Nauru has never assumed responsibility for finding a permanent solution for them."
"This responsibility continues to rest with Australia, and therefore it is our duty to ensure they are safe in Nauru or move them back to Australia."
Australia's Memorandum of Understanding with Nauru does not require the tiny Pacific nation to settle refugees permanently, instead establishing that Australia will find a third country location for their long-term relocation.
But pressure is growing on the government to clarify what is being done to keep those on Nauru safe in the meantime, as tensions between locals and refugees released from detention escalate.
In October a number of attacks on refugees were reported, including one which left four teens hospitalised, apparently motivated by anger at the slowly increasing number of asylum seekers being moved from detention into the Nauruan community.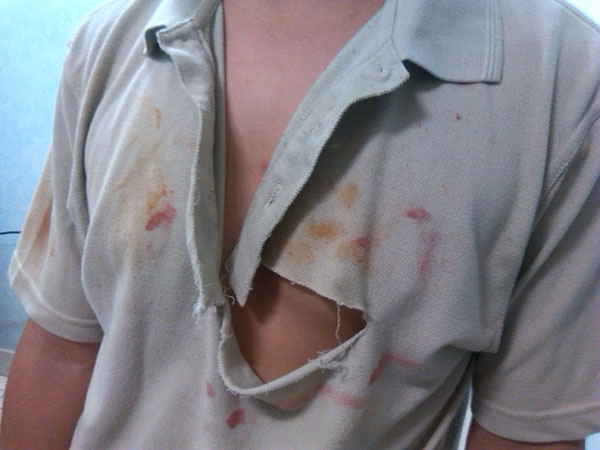 On Sunday another attack took place, following the circulation of a threatening letter to refugees. It left one asylum seeker with a broken nose, and others extremely anxious about the ability of Save the Children or Australian Immigration officials to keep them safe.
Before the Sunday attack, the Nauruan government dismissed the letter as "part of a campaign of misinformation", but that hasn't reassured refugees on the island.
"We are really, really worried, we are anticipating we will lose some of us," one told New Matilda.
Advocacy groups are also worried the situation could continue to degrade.
ChilOut's Claire Hammerton said her organisation had "very grave concerns" for the 29 unaccompanied minors now living on the island.
"These recent incidents show that it is not safe for these minors to be on Nauru," she told New Matilda.
"As well as the physical violence our concern is that these are young people who have already suffered quite severely as a result of persecution, and fleeing persecution. This could cause further mental harm."
There have also been widespread reports of self-harm inside the island's detention centre, including a sudden increase after plans to settle refugees in Cambodia were announced and it was confirmed those on Nauru would miss out on Australian protection visas.
Immigration Minister Scott Morrison has remained largely silent on the situation on Nauru. After the October incident he told media: "This incident is wholly a matter for Nauru."
Emily Howie, Director of Advocacy and Research at the Human Rights Law Centre, said there were strong arguments to suggest Australia's domestic legal obligations to refugees also apply to those transferred to Nauru, even after their release into the community.
"Australia continues to have effective control over the transfer, detention and assessments of asylum seekers in Nauru," Howie said.
"Australia's international human rights law obligations extend to all situations in Australia's control and jurisdiction. They don't stop at Australia's borders."
Numerous attempts were made to contact the Minister for Immigration but questions about what steps Australia is taking to keep refugees safe did not draw a response.
In October, Liberal Senator Scott Ryan told Fairfax that: "internal domestic law and order are a mater for another sovereign nation. But this government has put enormous effort into improving the situation on Nauru and Manus".
Since the Liberal government came to office in 2013 two men held in the Manus detention centre have died, one after an attack on the centre, the other after contracting an easily treated infection.
Doctors have warned the conditions in the Manus centre could see the toll rise further.
Madeline Gleeson said the escalating hostility on Nauru raised the possibility refugees are now facing persecution because of their membership to a particular social group. Under these circumstances, Australia is bound by international law not to leave them there.
"It is important not to forget the asylum seekers still in Australia who are at risk of being removed to Nauru," she said.
"It is beyond any doubt that Australia has legal obligations under international law not to remove these asylum seekers to any place where they will face a real risk of significant harm or persecution.
ChilOut agree.
"Australia needs to take responsibility for the situation it has created," Hammerton said.
Donate To New Matilda
New Matilda is a small, independent media outlet. We survive through reader contributions, and never losing a lawsuit. If you got something from this article, giving something back helps us to continue speaking truth to power. Every little bit counts.