Friends and family of an Aboriginal man shot dead by a police officer four years ago in north west NSW have spoken of the traumatic last 40 seconds of his life, and condemned the ongoing practice of allowing police to investigate police.
On November 11, 2010, Aboriginal man Mark Mason Snr was shot by a police officer in the small north-west town of Collerenebri, about an hour and a half west of Moree.
The police officer was one of five officers who cornered the father-of-four in a house, pursuing him after he allegedly crashed his vehicle into a police car.
Police were seeking Mr Mason in relation to a domestic dispute.
Mr Mason was tasered twice and pepper sprayed in attempts to subdue him, according to the police version of events. Police say Mr Mason armed himself with a tyre lever and swung it at police, and was then shot by the officer, who fired two bullets in quick succession.
The family, who have viewed footage of the death, dispute this version of events, stating that Mr Mason did not swing the tyre lever.
The family had to wait three years for a coronial inquiry, conducted in Dubbo in 2013, which delivered no recommendations, found the police had acted reasonably, and had used lethal force as the last resort.
Last Friday, about 50 of Mr Mason's family and friends gathered outside the small house where he died to call for justice for a well loved father and community member, who had been an Aboriginal Legal Service field officer for nearly a decade.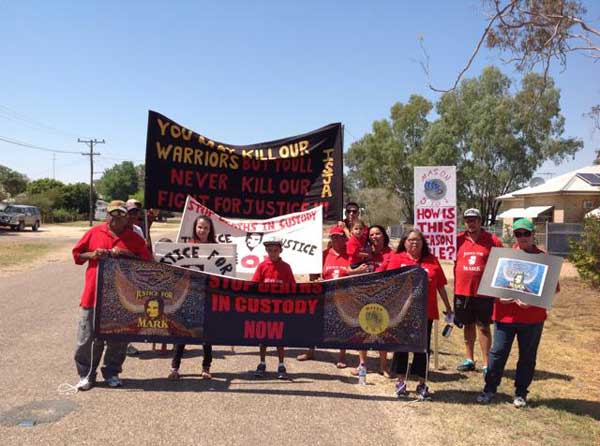 Speaking prior to the event, his sister Marcia Mason Hoskins told New Matilda this was the first protest the family had staged. The family had originally hoped for a positive outcome from the justice system, but have been left with many unanswered questions.
"I will struggle with it until the day I die, until we get justice for Mark… you just can't take a life and there's no justification for it, and there's no recommendations to stop it happening again," Ms Mason Hoskins said.
"It was really rough and we are still trying to deal with the sheer devastation of not having him, and not understanding why.
"The pain today is still raw, the fact we are trying to get things moving, and get things happening to find out what has happened. And it's just torn the family apart. It's just total devastation."
She told the rally on Friday: "The last 40 seconds of his life was fuelled with horrific pain.
"My brother did not deserve this, to the powers that be how do you sleep at night?"
The protest heard from Greens MLA David Shoebridge, who said the case raised recurring issues around police investigating police.
He said Mr Mason had been in the sights of police, who had continually pulled him up over on suspicions of drug use, despite Mr Mason never being caught in the possession of drugs.
While Mr Shoebridge said he didn't excuse Mr Mason actions in driving into the police car, there were many concerning factors arising from the case.
"The coroner says that the police had a reasonable fear because this man looked distressed," Mr Shoebridge told the rally.
"Mark's last 40 seconds of life was deeply traumatic, filled with pain, filled with fear. Of course he was distressed, of course he was angry, of course he was fearful.
"He had every right to be fearful because it was the last 40 seconds of his life and he was shot dead.
"With that history in hand, how could anyone in Mark's family think a police investigation of those police actions will produce justice… nobody can seriously believe that. Whose evidence is the coroner listening to? Police evidence and police investigations."
Mr Shoebridge said he hoped to push for an inquiry into police investigating police and said it was crucial there was an independent body set up to probe these cases.
"The police investigate their own actions. We've seen this time and time again where you have police investigating police, and you don't get a just outcome," Mr Shoebridge said.
"You don't get a fair day in court. You don't get a fair representation of the evidence to the coroner, and you don't get a fair outcome. We need to stop this legal structure that has police investigating police and we need a genuinely independent body to… hold them to account when they do the wrong thing."
Immediately following Mr Mason Snr's death, NSW Police informed the media that the shooting was a last resort, and immediately absolved the officers involved of any responsibility, prior to investigations being made.
Acting deputy commissioner of field operations Alan Clarke had told media that Mr Mason had led a "determined attack" on police who were given no option but to use lethal force.
"Police have dealt with a life-threatening situation," Superintendent Clarke told the media.
"It would appear they have exhausted all their options, prior to resorting to lethal force, and on the information before me I certainly believe that the officer had no other option, and resorted to the only remaining option they had to protect their own lives."
The police response – to absolve itself of responsibility before any investigation – provoked an angry reaction from the then chair of the NSW Aboriginal Land Council Bev Manton.
"There have already been several premature media statements made by police before the facts have been fully correlated and the investigation completed," Ms Manton said.
"One of these claims has been the conclusion that the police had exhausted all other options.
"I find it difficult to believe police would be so forthcoming in making these sorts of statements if it hadn't been one of their own involved.
"I hope instead that the police will wait until a full, clear and transparent investigation has taken place before making claims like these."
Four years on, the family doesn't believe that full, clear and transparent investigation has ever taken place.
Donate To New Matilda
New Matilda is a small, independent media outlet. We survive through reader contributions, and never losing a lawsuit. If you got something from this article, giving something back helps us to continue speaking truth to power. Every little bit counts.