I had dinner with an old friend yesterday, a well-connected type with a firm grasp of current affairs.
"How," she asked me with a bewildered expression, "can you have a bad G20 … when you're the host?"
It's a question that should be on the minds of Tony Abbott's brains trust, as they assess a disastrous week for Australia's prime minister.
As Andrew Elder observes, big international summits aren't always politically positive for sitting prime ministers – for voters concerned with day-to-day issues, the passing parade of international leaders can sometimes underwhelm.
But hosting a big summit? That really should be a free kick. Mingling with nearly every major figure in global politics is almost the definition of prime ministerial and statesmanlike. A big summit like the G20 also delivers blanket media coverage for the government of the day, sidelining its critics and relegating opposition parties to bit parts. On the television news, which is still where most voters get their political news, images dominate: handshakes and flag-waving, red carpets and koala cuddles.
Needless to say, these should be positive moments for an incumbent. That was certainly the Coalition's plan: after all, it has made a more assertive foreign policy its leit motif ever since MH17, in large part to distract from Joe Hockey's unpopular budget.
It takes a special sort of mismanagement, therefore, to stuff up such a golden opportunity. And yet, somehow, that is what has occurred.
It's true that a world meeting is not tailored to Tony Abbott's strong points. The soft skills of diplomacy and conciliation are not the character traits we normally associate with the Prime Minister. Intellectual curiosity also seems to take a back seat to conservative conviction.
Perhaps it was that sense of conviction that led Abbott to deliver one of the stranger speeches by an Australian prime minister in modern times: his opening remarks at the G20's "Leader's Retreat" in Brisbane.
To world leaders assembled to discuss efforts to increase global economic growth and deal with a huge range of trade, governance, diplomatic and environmental issues, Abbott talked about domestic politics.
To the bewilderment of most present, Abbott lectured on his efforts to deregulate university fees and introduce a $7 co-payment to see a doctor.
He then complained about how hard it has been to get these reforms through the Senate. In a telling admission, Abbott remarked that the G20 summit should "affirm the importance of governments not overpromising things that are unaffordable and undeliverable." One can only guess he was talking about "overpromises" like his own campaign pledges not to cut health, education or the ABC.
In contrast, US President Barack Obama offered a tour de force in power diplomacy, effortlessly snubbing Abbott's climate denialism in an expansive portrait delivered at the University of Queensland. Obama talked of a world in transition dealing with Ebola and climate change, and a US still committed to the Asia-Pacific pivot.
Obama then announced a $3 billion investment in a Green Climate Fund. "You've got to be able to overcome old divides, look squarely at the science, and reach a strong global climate agreement next year," he said, almost as though he were speaking directly to Abbott himself.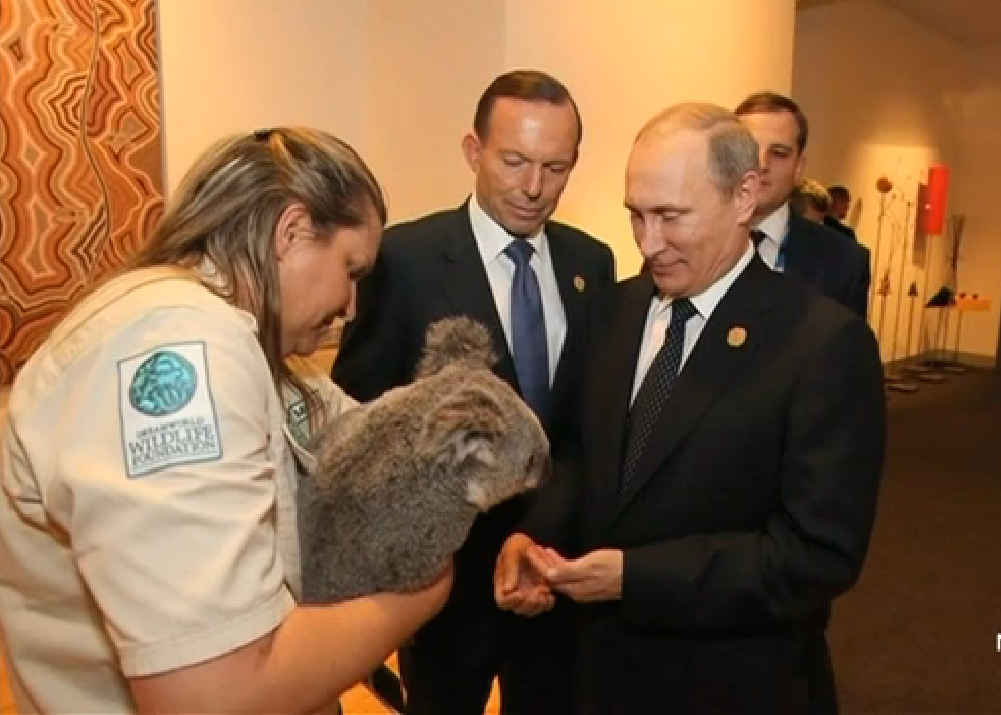 By summit's end, Australia was the only country in the G20 that had not signed up to the Green Climate Fund. Even the Kyoto-hating Canada of Stephen Harper had chipped in.
In one stroke, the veneer of the Abbott government's continuing efforts to sideline climate from the G20 agenda was punctured. Much like Kevin Rudd at Copenhagen in 2009, the Abbott government had staked much on a particular outcome of an international meeting, and had been found wanting. It was left to Joe Hockey to complete the ridicule, when he told the ABC he hadn't listened to Obama's speech.
Meanwhile, other world leaders have been embarrassing the government. German Chancellor Angela Merkel visited Australia's IT research centre NICTA. But that only served to highlight the fact that Joe Hockey defunded NICTA in the May budget.
It hasn't been all bad for the government. Today, Indian Prime Minister Narendra Modi announced a new security agreement that allowed for some positive publicity. And the much-desired fillip of a free trade agreement with China was signed yesterday, at last giving the government a concrete economic achievement to trumpet.
But here again, the government's ideology had run ahead of its political judgment. Ordinary voters have never been particularly enamoured of free trade, a point quickly proved by Alan Jones' vociferous and immediate criticism of the deal. The Howard government put much store in the US-Australia free trade deal. A decade later, trade has indeed increased. But few would describe it as a vote winner.
All in all, the Abbott government's G20 has been something of a train wreck. Today's Newspoll has Labor ahead 55-45 in two-party preferred terms; the Coalition's primary vote has sunk below 40 per cent. Tony Abbott himself is deeply unpopular: almost unbelievably, Bill Shorten is now the preferred prime minister.
And there's plenty of bad news in the pipeline.
Yesterday saw confirmation of cuts to the ABC and SBS, breaking another election promise. That will guarantee further negative coverage, for instance in South Australia, where the ABC plans to shut down most of its production.
Joe Hockey is also preparing the Mid-Year Economic and Fiscal Outlook, the half-yearly budget statement that will show us the Commonwealth's books. The MYEFO will almost certainly detail a deep deterioration in the bottom line, with the budget blown out by billions since May. All the budget pain will be for no fiscal gain.
And in state politics, it's looking increasingly likely that the Victorian election will deliver a victory to Labor's Daniel Andrews, sweeping the Coalition from office after only one term. While voters will no doubt mainly cast their vote on state issues, a really bad drubbing for Denis Napthine can hardly be good news for the Coalition federally.
All of this might seem coincidental, but there is a troubling thread that links these separate misfortunes. As the ridicule around the G20 performance hinted at, the government is beginning to lose its legitimacy in the electorate.
At the heart of the government's sorrows lies its hardline ideological positioning: on climate, on budget austerity, on the culture wars.
In opposition, Abbott was a relentless wrecker of Labor's trust and legitimacy, but he also presented a policy platform that was in many key areas quite moderate.
Yes, Abbott pledged to axe the carbon tax and stop the boats. But he also pledged centrist positions on health and education: to keep the Gonski reforms, to maintain health funding, and to leave universities and the ABC alone. Most importantly, he gave no hint that in government he would ruthlessly assault the living standards of lower and middle Australia.
A year later, voters are struggling to come to terms with a conservative crusade they didn't sign up for. This is why the G20 posturing looks so bad: it reinforces the perception of a government hell bent on its ideological agendas, even while the rest of the world gets on with addressing climate change.
All in all, it's been a terrible 2014 for the Abbott government. John Howard showed that early-term troubles can be surmounted, but he was a far more flexible and cautious politician than Tony Abbott. Nor does the government seem to realise just how out of touch it has become.
Donate To New Matilda
New Matilda is a small, independent media outlet. We survive through reader contributions, and never losing a lawsuit. If you got something from this article, giving something back helps us to continue speaking truth to power. Every little bit counts.