Freya Newman, the 21-year-old whistleblower who revealed the details of a $60,000 secret scholarship given to the Prime Minister's daughter, will be forced to wait until November to be sentenced.
She faces a maximum of two years jail under section 308(H) of the NSW Crimes Act which forbids accessing restricted data held in a computer.
While pushing for a conviction the prosecution today agreed her offence was on the lower end of the scale, meaning it is all but certain Ms Newman will avoid jail.
Ms Newman appeared in a local court at the Downing Centre in Sydney, flanked by family and friends. The sentencing hearing before Magistrate Theresa O'Sullivan began at midday after first being scheduled for the morning.
Both appearances attracted a media pack, along with Ms Newman's supporters and onlookers filling what Magistrate O'Sullivan called a "crowded" room.
In September, Ms Newman pleaded guilty to accessing the student records of Frances Abbott, Prime Minister Tony Abbott's daughter who was a student at the Whitehouse Design Institute.
The records showed Ms Abbott had received a secret scholarship from the private college after she was approached by Whitehouse's founder and managing director Leanne Whitehouse. Mr Abbott was leader of the opposition at the time.
The scholarship was not disclosed to senior figures at the college and did not appear on Tony Abbott's Members' Interests Register.
Ms Newman used the log in details of another member of staff to gain access to the records of Frances Abbott. Despite an initial report in The Australian indicating Ms Newman may have breached the privacy of hundreds of students, the prosecution today agreed she accessed no records other than those of Ms Abbott.
Ms Newman's barrister Tony Payne SC said the "mere fact of using the login of a staff member" were the "essence of the offence".
If Ms Newman had accessed the information using her own login details "there would be no offence."
He said Ms Newman had accepted the consequences of her actions and had shown remorse.
"She accepts (her actions) were excused – however, it was this sense of injustice, not a desire for personal notoriety that motivated her access. Ms Newman was not aware her actions were against the law, nor indeed her identity would become known, let alone front page news," Ms Newman's lawyer said.
Mr Payne said it was conducted in circumstances in which Ms Newman didn't know it was a crime.
"In her view, it was in the greater public interest. It should not be taken by the court as a wilful breach of the law."
Mr Payne also stressed that Ms Newman had shown remorse by apologising to Ms Abbott prior to pleading guilty. Ms Newman also resigned from the Whitehouse Institute the day after, and pleaded guilty at the first opportunity.
Mr Payne also said the "relative immaturity" of Ms Newman had to be taken into account.
She was 20-years-old and living at home at the time of the offence.
"Her political and social justice beliefs were sincerely held" he said, but at that age the views can "overwhelm measured reasoning."
He said members of staff at the Whitehouse Institute "reinforced this sense of injustice."
"While she accepts she was the one to access material" there was an acknowledgement of the "encouragement of other staff members".
Mr Payne argued this mitigated the seriousness of Ms Newman's offending.
The court heard a number of character references, all but one of whom appeared in court to support Ms Newman, attesting to her integrity and mentioning her extracurricular charity activities.
Mr Payne also said the media attention the case attracted was "astounding" and she had "suffered and will continue to suffer consequences of actions for the rest of her life".
As Ms Newman left court she was mobbed by TV crews and journalists.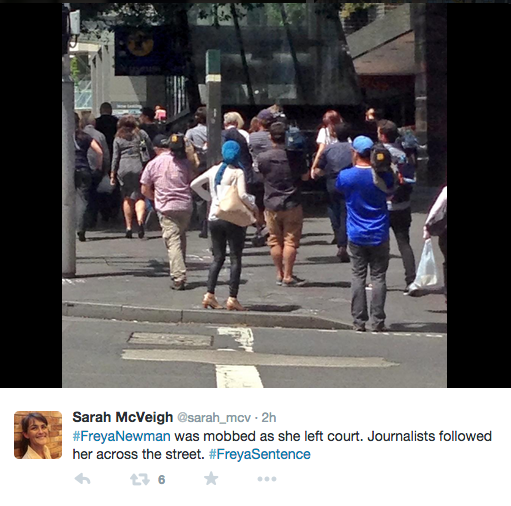 Police prosecutor Amin Assaad gave a short submission and argued for a conviction. He said there were other avenues members of the media could have accessed to obtain evidence of the scholarship.
"Ms Newman didn't have access to that database. She had no lawful reason or purpose to access that database."
While Ms Newman had not gained "financially or personally" from her actions, Mr Assaad argued the only way the courts could deliver a message of deterrence was by recording a conviction.
Mr Assaad also argued that even if Ms Newman had accessed the file with her own username and password her actions may have still breached the law.
He said in sentencing Ms Newman the magistrate must take into account the need to deter others from breaking the law in the manner the young woman had.
Ms Newman's sentence will now be handed down by on November 25.
But support continues. As she sat in the courtroom, an elderly supporter approached her: "You are a very brave young lady".
Donate To New Matilda
New Matilda is a small, independent media outlet. We survive through reader contributions, and never losing a lawsuit. If you got something from this article, giving something back helps us to continue speaking truth to power. Every little bit counts.