Professor Barry Spurr not only called Tony Abbott an "Abo lover", claimed Aboriginal people were 'human rubbish tips' and vilified respected Aboriginal singer Geoffrey Gurrumul Yunupingu, but he also claimed Australian of the Year Adam Goodes, a prominent anti-racism warrior, would only need "depression and a disability" to "become the complete role model for Australians today".
And according to Professor Spurr, Adam Goodes didn't win Australian Of The Year for his strong and consistent stance against racism.
He won it so that Prime Minister Tony Abbott could put "Abos in the Constitution".
The University of Sydney poetry professor was suspended from his job on Friday after New Matilda revealed a series of outrageously racist remarks sent in email correspondence over the course of two years.
Professor Spurr has maintained that the correspondence, written over a period of two years, was a 'whimsical linguistic game' between him and an old friend.
But a transcript of some of the emails – to be released by New Matilda later this evening – reveals that it was anything, and that it wasn't just restricted to an old friend.
Senior University of Sydney colleagues were included in the correspondence, including this one, sent on January 26 this year shortly after AFL star Adam Goodes was presented the Australian Of the Year award by Prime Minister Tony Abbott.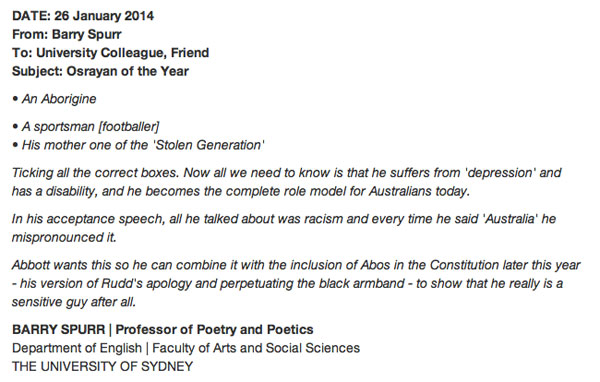 In a separate rant, revealed by New Matilda on Friday, it was revealed that Professor Sparr had labelled Prime Minister Tony Abbott an "Abo lover" and claimed he would have to be surgically separated from Goodes because they were Siamese twins.
Goodes was unavailable for comment at the time of press, but since being awarded Australia's top gong, he has had to consistently fight off attacks over his strong stance against racism. It followed an incident last year where he called out a young member of the crowd for calling him an 'ape' during a game while playing in the AFL's Indigenous round.
Goodes was also widely criticised for urging all Australians to see veteran journalist John Pilger's film Utopia*, which he said made him "ashamed to be Australian". He is also an ambassador for the government funded Recognise campaign, which is pushing the Abbott government agenda for a referendum into constitutional reform for Aboriginal and Torres Strait Islanders.
Curtin University professor Dr Sean Gorman has a long history researching racism in sport and told New Matilda while he wasn't shocked by Professor Spurr's racism, he was dismayed that someone with those perspectives had such influence over the curriculum.
He said Adam Goodes has had to face up to a great deal of criticism, particularly from newspaper columnists like Miranda Devine and Andrew Bolt, because he challenged white Australian values.
"Adam Goodes was trying to get Australians to understand some of the issues all Aboriginal people face and have had to face for many years, and that invitation was rebuffed. He was seen as someone who was a threat and someone undeserving of the situation he found himself in," Dr Gorman told New Matilda.
"That stemmed into other ridiculous situations where (cricketer) Shane Warne claimed he didn't realise Adam Goodes was Australian of the Year. Stupid things went on and it stemmed from the fact Adam Goodes challenged white Australia to at least become a bit more proactive, to go watch the film and go read a book.
"When it comes to sport, we like to see our sportspeople perform on the field and see what they're paid to do, but when they start to come out and talk about certain things, about gay rights, about violence against women or racism, people don't like that. They feel they are speaking out of turn.
"With Adam Goodes, it was compounded or complicated by his Aboriginality. There is a long history of people of colour on the sporting field generally being told they have to be seen and not heard."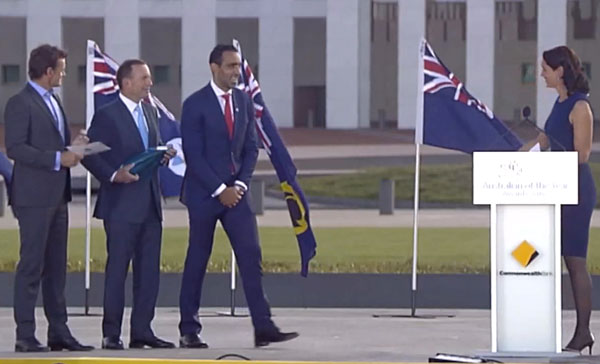 Marngrook Footy Show host Grant Hansen told New Matilda he was offended by Professor Spurr's insinuation that Tony Abbott was an "Abo lover".
"Tony Abbott hasn't done anything good for Indigenous people since he came into government. So that was pretty far off the mark," Mr Hansen told New Matilda.
"The Abbott government has taken Aboriginal people backwards 30 years with the funding cuts. To say he is an 'Abo lover' is way off the mark,"
He said Adam Goodes deserved his award and should be celebrated, rather than consistently run down.
"I think he's a great role model, but because he's Aboriginal, it's open slather to take pot shots at him. That's the only reason people have a go at him," Mr Hansen said.
"It's a traditional racism in a way. Adam is a worthy winner and he was selected by a panel, he was picked on merit."
Dr Gorman also said people were blinded by Goodes' prowess on the football field, and did not realise just how important his engagement was within communities.
"People are rooted in their own ignorance, but if they got proactive and realised the things that Adam does within his own community that goes unnoticed, that's really important in regards to engaging Indigenous youth about their potential and choices in life, and not to be going down a path that's well-worn and negative."
Professor Spurr was the Abbott Government's English specialist on the review into the National Curriculum, and his recommendations to refocus the English curriculum to better reflect western and Judeo-Christian values were repeated by Education Minister Christopher Pyne publicly.
In his review, Professor Sparr claimed the Aboriginal and Torres Strait Islander impact on literature was "minimal", but in private correspondence, racially vilified First Nations peoples as 'human rubbish tips' and claimed black writing was non-existent and not distinguished.
While the University of Sydney has publicly condemned the emails, and suspended Professor Spurr, the Abbott government has yet to announce what it will do with the review, which Labor has labelled 'tainted' because of the revelations of Professor Spurr's appalling racism.
* Amy McQuire was a searcher on Utopia. New Matilda editor Chris Graham was Associate Producer on the film.
** New Matilda relies primarily on reader subscriptions to survive. You can help fund our work here, or share this story on social media.
Donate To New Matilda
New Matilda is a small, independent media outlet. We survive through reader contributions, and never losing a lawsuit. If you got something from this article, giving something back helps us to continue speaking truth to power. Every little bit counts.