The fall out from the suspension late yesterday of leading University of Sydney Professor Barry Spurr continues, after emails sent by the respected poetry academic revealed him using derogatory language in reference to Aboriginal and Torres Strait Islanders, people of colour more generally, Muslims and women.
More than 100 students at the university staged a protest yesterday demanding Spurr's removal. Shortly after the protest, the university announced the professor would be suspended, pending an investigation.
The suspension includes a ban from campus.
"The University of Sydney has suspended Professor Barry Spurr's employment following serious allegations in relation to offensive emails sent from a University account," the university said in a statement to press.
"Professor Spurr is suspended, effective immediately, from teaching and engaging in any other University business and is precluded from attending any University campus, while the matter is investigated and dealt with in accordance with the terms of the University's Enterprise Agreement."
Spurr was commissioned as a special consultant on the federal Department of Education's school curriculum review and advised the Department to reduce the amount of Aboriginal and Torres Strait Islander content in the curriculum.
In his emails, Spurr referred to Aboriginal people as 'human rubbish tips' and "Abos", as well as making reference to "Mussies" and "Chinky-Poos" and calling Nelson Mandela a "darkie" and Desmond Tutu a "witch doctor".
He also said "Abo literature" was non-existent, angering First Nations academics and authors, and called Prime Minister Tony Abbott an "Abo lover".
Professor Spurr told New Matilda the comments did not represent his professional view and were part of a "whimsical linguistic game".
Aboriginal students at the University of Sydney reacted with disbelief after the emails were revealed.
Kyol Blakeney, a Gomeroi man recently elected as only the second Aboriginal president of the university's Student Representative Council, said he was "pretty disgusted" by Professor Spurr's remarks.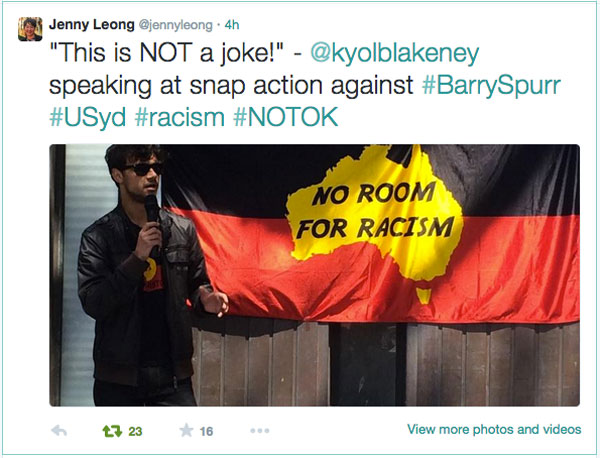 "The main reason is because in the past three years myself and members in the Koori centre, not just students but staff as well, have been working really hard to build the profile of Aboriginal people in the university," Blakeney said.
"It proves that an educated person can still be a bigot."
Yesterday morning Prime Minister Tony Abbott weighed in on the issue for the first time.

Laura Webster, a third year English student at the University of Sydney and Wiradjuri woman, said Professor Spurr should write a public apology to be circulated among students, staff and the public.
"I kind of didn't want to believe it at first," Webster told New Matilda.
"I suppose the end emotion I've been stuck with is just complete anger and even betrayal, especially because a professor at the university where Charles Perkins attended – which likes to tout that it has such an amazing relationship with Aboriginal and Torres Strait Islander students – to see a professor with his standing come out with remarks as disgusting and degrading as this is just so hurtful… I can't even find the words."
Charlie Perkins was a student at the University of Sydney and became the first Aboriginal person to graduate from any Australian university.
Before announcing Spurr's suspension, the University of Sydney said it was investigating whether he had breached its Code of Conduct.
"Racist, sexist or offensive language is not tolerated at the University of Sydney," a spokesperson said. "The expectations for our staff and affiliates in respect of their professional and personal conduct are clearly set out in the University's Code of Conduct."
Most students who had taken Professor Spurr's classes reacted with surprise, and agreed the professor had treated students with equal respect.
But Blakeney said he didn't accept Spurr's argument that the content of his emails could be separated from his role as a special consultant to the curriculum review, or that they were sent in jest.
"If you're standing in front of a lecture theatre at a university that is dominated by left-wing politics, of course you're not going to get up and say those things. But when he has a personal friend he can go back and talk to, that's when he's going to do it," he said.
"If it is a joke, it's not an acceptable one at all."
Senior Labor figures yesterday began joining the chorus of condemnation of Spurr's comments.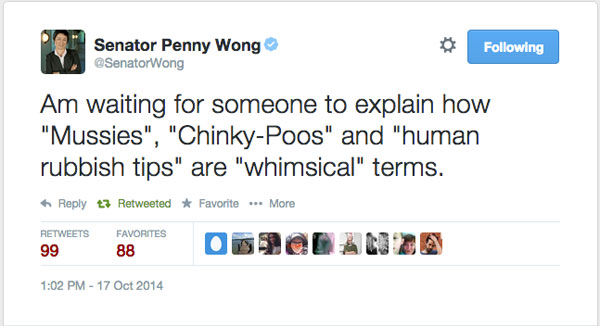 "The buck must surely stop with someone, and it must stop with the minister," opposition spokeswoman on multiculturalism Michelle Rowland told the ABC.
In a statement issued on Thursday night, Minister Pyne denied ever contacting Professor Spurr in relation to the curriculum review.
"Professor Spurr was one of 15 subject experts commissioned by the independent review to provide input on the Australian curriculum. He was appointed on the basis of his expertise and credentials as a leading Australian academic in the field of English. The appointment was not made by the Government," a spokesperson said.
"The Minister and his office had no input into the selection of any subject expert."
"Professor Spurr's alleged private emails are a matter for him. The Minister utterly rejects and finds repugnant the denigration of any minority on the basis of their sex, race, sexual orientation or beliefs."
Professor Spurr was one of just two academics commissioned to review the school English curriculum and the only one charged with examining it from beginning to end.
Donate To New Matilda
New Matilda is a small, independent media outlet. We survive through reader contributions, and never losing a lawsuit. If you got something from this article, giving something back helps us to continue speaking truth to power. Every little bit counts.