A Serco guard working with vulnerable people at the Brisbane Immigration Transit Centre (BITA) was sacked yesterday after posting a demeaning anti-Muslim picture on Facebook.
Michael Thurlow listed his employment as a "Client Services Officer" on Facebook. According to his post, he began work for the company in May 2011.
On August 15, Thurlow changed his profile picture to an obscene cartoon of a child urinating on the Koran, with the caption "seen your Koran, ya I'm pissing on it".
Up until yesterday, Thurlow worked at BITA, which is described as a low security centre and detains asylum seekers and refugees in short-term accommodation. Many detainees are transported from Manus Island or Christmas Island for medical treatment, but New Matilda understands it also has long-term detainees.
Commentators on Thurlow's profile picture expressed disgust. One commenter said it was "despicable" and another said "This is so offensive, as a Muslim, I'm hurt, please remove it."
Yesterday, after New Matilda enquired about Thurlow's employment, British security firm Serco announced he had been sacked, and the matter had been referred to police.
"We are grateful that this matter was brought to our attention. We believe that racial and religious discrimination has no place in our workplace or in society," a Serco spokesperson told New Matilda.
"We have dismissed a casual employee, and referred the matter to the police."
The spokesperson said all employees signed up to Serco's "Code of Conduct" which "mandates respect for others and specifically says that employees should 'not use language or behaviour that offends, harasses, or unfairly discriminates.'"
The photo was removed from Facebook and Thurlow's profile was set to private yesterday, after New Matilda's enquiry.
It is understood there were concerns from some detainees in BITA about Thurlow's interactions with detainees.
Thurlow did not respond to New Matilda when asked for comment.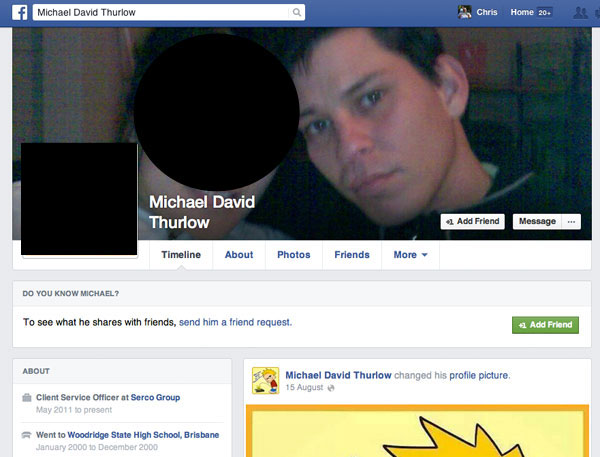 His Facebook wall also includes rants about homosexuality, with one encouraging friend to post about 'Straight Pride'. Another, ironically, laments that an Australian was sacked for making homophobic comments.
"I just heard on the news that a woman was sacked for being homophobic. Since when is it alright to sack someone based on their beliefs. We have jihadist muslims in positions of power but they won't get sacked because of race or religion. We have civil libertarians telling us that the victim deserved it and that the criminal should be allowed a second chance? Pedophiles get six months from soft judges and police are taken over coals for doing their job. What is this country coming to?"
Serco did not answer questions from New Matilda about how Serco employees were screened, and whether it had a social media policy in place.
Serco has been running immigration detention centres in Australia since 2009. Its website says its "approach is to maintain safe, secure environments with respect for humanity and dignity".
But there have been several media reports suggesting the opposite.
Last week, a Serco employee at a Perth based immigration centre was stood down and an investigation launched after allegations the staffer had asked an Iranian asylum seeker to perform sexual acts in exchange for a phone and extra food.
The detainee told the ABC he was being removed to Christmas Island, and he believed it was as a result of the complaint.
Another Serco officer at the Broadmeadows detention centre – John Flores – was sacked earlier this month after he allegedly shared inappropriate sexual photos with child detainees online.
In 2012, a Serco officer was suspended after reportedly writing on Facebook that Muslim children in detention did not need Christmas presents and that the men taught their children women had no rights.
It followed reports that detained children had not received Christmas presents until two weeks after December 25.
In January 2012, Serco also was forced to relax its ban on crayons and pencils after it claimed kids would only use them to draw on the walls.
The pressure on the Abbott government to act on children in detention has steadily mounted and yesterday Immigration minister Scott Morrison announced a number of children would be released into the community. But the move looks more about political timing than a humanitarian gesture, as Morrison is due to appear before the Australian Human Rights Commission's Inquiry into Children in Detention on Friday.
Earlier this month, New Matilda published harrowing and heart wrenching pictures drawn by children in detention.
The children drew images of themselves behind bars, crying. One described how he wanted to kill himself: "I hate my life… why I'm not same (as) the other?"
Donate To New Matilda
New Matilda is a small, independent media outlet. We survive through reader contributions, and never losing a lawsuit. If you got something from this article, giving something back helps us to continue speaking truth to power. Every little bit counts.