On the 28th of April 2007 Kevin Rudd walked onto the stage of the national conference of the Australian Labor party. Rudd was just months away from toppling the then Prime Minister John Howard.
The song "A Change in the Weather" accompanied Rudd's approach to the platform. As Philip Chubb notes in his book Power Failure, this song was symbolic and signalled to voters that they could expect a significant shift in climate policy from a Labor government.
The lyrics read:
Now do you remember
I promised in winter
That our hearts would be lighter one day?
And sooner than later
the sky would be brighter
And everything would be ok?
In his address, Rudd promised to tackle climate change which he described as the "great moral challenge of our generation."
The groundwork for Rudd's framing had been laid earlier in 2006 when Bob Sercombe and Anthony Albanese drafted a policy paper called Our Drowning Neighbours. The paper called for 'Pacific Climate Change Strategy' and assistance for climate mitigation, adaptation and emergency response efforts.
Strikingly, the paper also called for the establishment of an international coalition to accept climate refugees and financial assistance to preserve cultural heritage.
At the 2007 election the difference between Rudd and Howard on climate policy was stark.
For many Australian's Rudd represented an energetic and moral leader. This perception was initially validated when Rudd ratified the Kyoto Protocol at the 2008 UN Climate Change Conference in Bali. This act received a minute-long standing ovation and caused the Indonesian environment minister, Rachmat Witoelar to comment: "I think I speak for everyone here when I express a sigh of relief."
How far we have come from these heady days. With hindsight it almost seems naïve to think that an ethical narrative could be sustained when Australian political discourse has been so thoroughly colonised by sound bites, means to end thinking and neoliberal rationality.
As Raimond Gaita contends, Australians are not concerned with the moral character of their leaders so long as the "lies don't affect their economic interests and their security."
The ethical vacuum in Australian political discourse presents a fundamental problem because climate change is inescapably an ethical issue.
No economic model or argument for "contraction and convergence" can concretely determine, for example, what amounts to Australia's "fair" or "proportional" share of emission reductions or whether developed countries owe the majority world reparations for harm caused by historical emissions (sometimes called 'climate debt').
Even the International Panel on Climate Change recognised in its 5th report the ethical and justice limitations of economic analyses for climate change policy.
Yet, following Rudd's bold (if vague) description of climate change as a "moral challenge" it became gradually clear that ratifying the Kyoto Protocol was a largely symbolic act, and that it would be the high point of Rudd's moral leadership on climate change.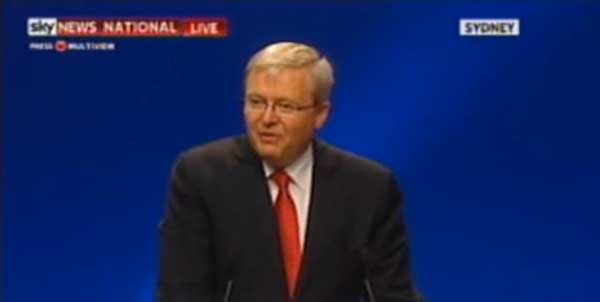 Australia then entered the morally barren years of 2008-2013. During this time a succession of reports, including the green and white papers for the Carbon Pollution Reduction Scheme; The Wilkins Review of Australian Government Climate Change Programs; The Garnaut Climate Change Review (including the 2011 update); and Treasuries Australia's Low Pollution Future all failed to make a single reference to Australia's moral responsibility to reduce emissions, and our ethical obligations to vulnerable countries.
Instead, the narrative shifted dramatically to focus on protecting Australia's "international competitiveness", "domestic economy" and limiting action to our "appropriate" or "full proportionate share" of any global mitigation effort.
Despite describing himself as "deeply religious" Tony Abbott has demonstrated an unprecedented hostility toward the moral dimensions of climate change. As David Marr suggests, when "Values Abbott" and "Politics Abbott" are in conflict it is the latter that prevails.
Upon being elected Prime Minister in September 2013, Abbott immediately began to dismantle Australia's climate policy institutions. Most importantly, on the 17th June 2014 Abbott fulfilled his 2011 "blood pledge" and repealed the Clean Energy Future Bill 2011, making Australia the first country in the world to abolish a price on carbon.
On the international stage, the Abbott government was ostracised at the 2013 UN Climate Change Conference in Warsaw for failing to send a ministerial level representative to the talks.
It has also joined the United States, Japan and Russia in calling for developing countries to do more to cut carbon emissions and has stated that a future deal should treat all countries equally.
Moreover, the Abbott government has worked hard to forge alliances with centre-right governments (such as Canada) to resist global moves towards carbon pricing and has refused to pledge funds to the Green Climate Fund to assist the developing world.
Given the state of political discourse in Australia, it is difficult to imagine how we might build on the moral ground that we had back in 2007.
Compounding this difficulty is the growing conservatism of many large environmental NGO's over the past two decades.
To gain access to power, many large NGO's now frame their campaigns in purely instrumental or economic language and have become distant from the moral concerns of their membership.
To reinvigorate an ethical discussion about climate policy in Australia it is imperative that we confront the full facts of climate science and develop a deep understanding of how power works in our country.
This requires both a "renewed environmental radicalism" and a commitment to engaging the ethical dimensions of climate policy.
We cannot cede the ethical dimensions of climate change and adopt the rhetoric of self-interest and economic rationality. Instead, progressives must work to develop their message and reframe the political debate so that ethics are understood as integral to climate policy.
Only in this way do we retain the possibility for a climate policy that is not only effective, but also just.
Donate To New Matilda
New Matilda is a small, independent media outlet. We survive through reader contributions, and never losing a lawsuit. If you got something from this article, giving something back helps us to continue speaking truth to power. Every little bit counts.