A new app allowing users to spam parliamentarians with job applications has been launched, so voters can dish out a small fraction of the suffering they endure onto any politician who votes for the tough welfare measures.
The app is called 'DoleBludger' and is inspired by the Coalition's plan to make job seekers complete 40 applications per month if they want to continue receiving Newstart benefits.
Now live for Android phones, users can log in to the app, upload a CV, and send it to dozens of Federal MPs simultaneously, allowing them to reach the 40 application mark in just minutes.
The app brings home to MPs a complaint made by many, including Labor, that the 40-application target will see employers overwhelmed by fake or underprepared applications.
The Coalition has used its time in office so far to push a range of tough new measures, restricting access to welfare and seemingly punishing people who are unable to find work.
Key Budget measures will see under-30s barred from receiving welfare for the first six months of unemployment.
Those who do receive Newstart payments will have to run the 40 jobs per month treadmill as well as complete up to 25 hours of 'work for the dole' a week (which will value their labour at a hefty $10 an hour).
Given the volatility of the journalism jobs market, New Matilda decided it would only be sensible for us to give the app a go, lest we need to make the 40-application target.
And who better to send our first application to than Assistant Minister for Employment Luke Hartsuyker, a prominent face of the Coalition's tough new welfare measures.
We now keenly await the Minister's response, though given we failed to attach a relevant CV, and the body of our application simply read "mate", we are not exactly holding our breaths.
One down, thirty-nine to go.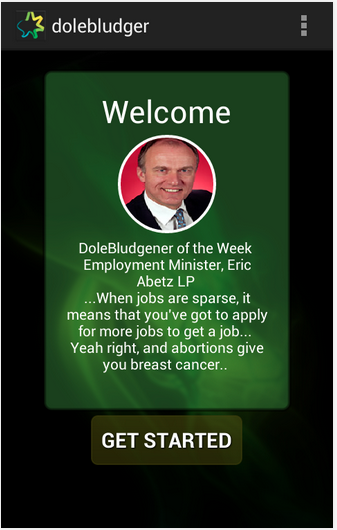 Despite its very real capacity to annoy, the DoleBludger website makes clear the app is intended as a joke, to draw attention to the equally real problems the unemployed will face if the Coalition's welfare changes come into effect.
The site plays with the language usually used to deride those on benefits.
"Here at ApplyForTheDole.com.au , we're all about helping you really apply yourself, for the dole," it says.
"This app was developed by a former dole bludger, who will likely soon be out of work and facing the struggles that everyday bludgers are already up against; listening to the same piano loop for 90 minutes to finally speak to someone at Centrelink – only to be told their systems are down, again.
The initial concept was born shortly after the 2014 budget, with work beginning once the government's plans became more detailed."
While the tone of the site is overwhelmingly satirical and tongue-in-cheek, it also draws attention to a series of damning indictments of the Coalition's proposed changes to the welfare system.
The site quotes a series of economics professors, academics, and business leaders.
"The idea that there are people out there having fun on unemployment payments is just ridiculous…This is policy based on the idea that people are lazy. Is that true? There's not a lot of evidence," a quote from Peter Whiteford, Labour Market Economist at the Australian National University, reads.
Another from Jennifer Westacott, CEO of the Business Council of Australia, records concerns about the viability 40 job applications per month target given Australia's weak employment situation.
In grim news for the staffers tasked with wadding through parliamentary inboxes, the DoleBludger site promises a new version of the app which runs autonomously will soon be developed.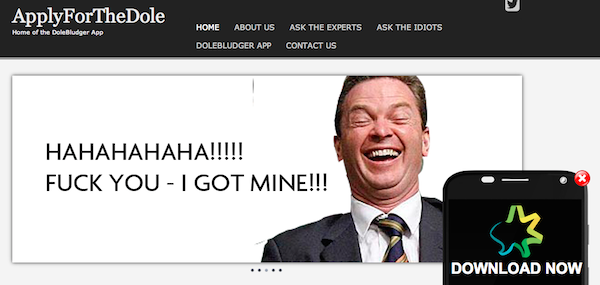 PLEASE CONSIDER SHARING THIS STORY ON SOCIAL MEDIA: New Matilda is a small independent Australian media outlet. You can support our work by subscribing for as little as $6 per month here.
Donate To New Matilda
New Matilda is a small, independent media outlet. We survive through reader contributions, and never losing a lawsuit. If you got something from this article, giving something back helps us to continue speaking truth to power. Every little bit counts.