In times of war, it's always a good idea to be careful watch you wish for, and even more careful what you report.
But in times of war when Israel is involved, it's best to wish for nothing, and run a mile if the Israeli Defence Force (IDF) offers up some 'information'.
Last week, far right columnist for the Sydney Morning Herald Paul Sheehan filed his regular column under the headline 'The Hamas trap: hidden labyrinth was wired for war'.
Turns out, the only trap laid was the one by the IDF for suckers like Sheehan.
"Israeli security thought it had adequate intelligence about Gaza. It was in for a surprise. It was not just the labyrinth of tunnels discovered, much more extensive than expected, but the stockpiles: thousands of weapons, Russian anti-tank missiles, explosive devices, and large amounts of tranquillisers, handcuffs, syringes, ropes. The tools of capture on a large scale."
So handcuffs, syringes and ropes are tools of capture now? I wonder what Sheehan thinks of the Israeli Defence Force's tanks, war planes and missiles. Tools of slaughter, perhaps?
He continues: "Some of the tunnels are very deep, big enough to hold vehicles. They were dug with electric jackhammers, mostly about 20 metres below ground, and reinforced with concrete made on site, in workshops adjacent to the tunnels.
"The tunnels served as command centres, infiltration points into Israel, weapons stores, rocket-launcher hiding sites, and the means to move and conceal fighters during urban combat. The tunnels dug into Israel were created in parallel pairs, with multiple shafts to the surface for multiple entry points. Inside urban Gaza, the labyrinth could allow fighters to move unseen between homes and alleys."
Yes. Well that does happen when you illegally occupy and invade a whole nation of people. They tend to find ways around the blockade to (a) resist the occupation and (b) bring in supplies (including arms).
On he goes: "Gaza had been wired for war. On a scale more advanced than Israeli military intelligence realised, which is why the Israel Defence Forces lost more than 40 soldiers in the first phase of Operation Protective Edge.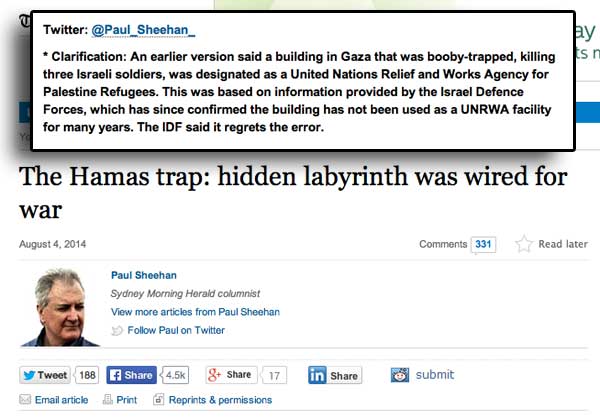 Stop you there Paul… I think you mean 'in the first phase of the invasion of Gaza'…. You remember that one… the one that killed hundreds of Palestinians – most of them civilians – during the 'first phase'. In any case, continue…
"Areas of cities were laced with hundreds of booby-traps. The commander of the IDF Gaza Division, Brigadier-General Mickey Edelstein, said that in a single street in Khan Yunis in southern Gaza, his soldiers had found booby-traps in 19 of 28 homes. Three Israeli soldiers were killed by an explosive device when they entered a building*. The IDF has conceded it was surprised by the scale of the bomb traps across Gaza."
The little asterisk after 'building' has been inserted by the Herald. The story was published on August 4, and the asterisk only recently appeared.
Here's what it refers to:
* Clarification: An earlier version said a building in Gaza that was booby-trapped, killing three Israeli soldiers, was designated as a United Nations Relief and Works Agency for Palestine Refugees. This was based on information provided by the Israel Defence Forces, which has since confirmed the building has not been used as a UNRWA facility for many years. The IDF said it regrets the error.
Wow, that's some 'clarification'. You might even call it an 'error', like the IDF did.
But not at the Herald, where telling readers to 'f*ck off' after a week of abuse can get you punted. But blindly reporting Israeli propaganda amongst the slaughter of thousands of people… well, that requires a 'clarification'.

Donate To New Matilda
New Matilda is a small, independent media outlet. We survive through reader contributions, and never losing a lawsuit. If you got something from this article, giving something back helps us to continue speaking truth to power. Every little bit counts.