In the annals of homophobia, it's probably at the lower end of the offence spectrum. But in terms of irony, it's right up there with the best of them.
A GIO insurance ad – on a loop at the Daily Telegraph on video stories reporting on Ian Thorpe's 'coming out' interview with Sir Michael Parkinson – tries to promote home and car insurance to rugby league fans by highlighting, wait for it… the 'awkwardness' of men hugging other men.
The ad, which precedes three videos on a Daily Telegraph transcript of Thorpe's Parkinson interview, begins with images of the NSW Blues winning the recent State of Origin series, and a roaring NSW crowd.
"To celebrate the NSW Blues' win, GIO is helping you save big on home and car insurance," says the voiceover.
It cuts to images of NSW Blues players hugging each other in celebration at their win, including one particularly enthusiastic embrace between NSW Blues coach Laurie Daley and a player.
The voiceover chimes in: "We think this will make you feel very happy. We're talking awkward man hug happy."
What's awkward about men hugging is, apparently, left to the viewer's imagination.
Ironically, the ad also appears at the start of a Sky News story which features a brief interview with renowned Australian actor Magda Szubanski commenting on the recent homophobic slur from Channel 7 commentator Brian Taylor (he called a Geelong player a "big poofter" on air).
"It is an indicator that there is a kind of casual homophobia that still persists," Szubanski says.
Victorian Director of Australian Marriage Equality, Tim Peppard says he's beyond getting angry at homophobic advertising, and in the case of GIO, he just finds it tiring.
"It's not funny. GIO are out of touch with the community," Mr Peppard said.
"It just gives me a sense that GIO is a company run by old, white men. I simply wouldn't buy their product.
"But I'm not outraged by it. I just think it's tedious."
Peppard said there was nothing 'awkward' about men embracing, particularly during a sporting victory.
"Has GIO not seen the World Cup? Every nation, every culture, every religion – Muslims from Morocco, Buddhists from Japan– whenever they score a goal they hug and clap each other.
"There's nothing awkward about it. It's no big deal.
"They're just playing on the 'blokey, jokey old Aussie homophobia'. But it's just not funny anymore."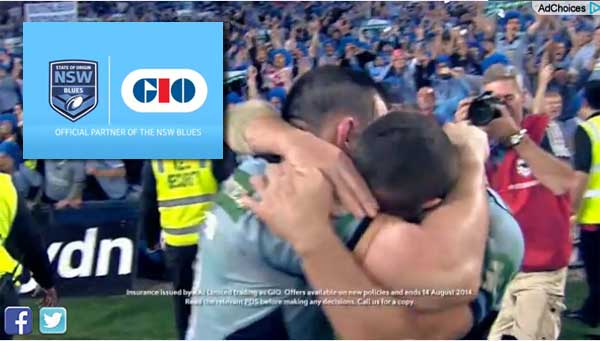 Feminist author, and academic Eva Cox agreed the ad was at the lower end of the offence scale, but said this sort of advertising reinforced to people there was something wrong with same-sex relationships.
"Why the assumption that 'man hugging' is awkward?" Cox said.
"You should be able to hug someone without someone else making smart arse comments about it.
"It just reinforces the idea that any man who throws his arms around another man is not normal.
"It's a casual generalisation which can be quite hurtful to people who've been the butt of more pointed homophobia.
"What we want to do is normalize it so you don't make assumptions about people's sexuality just because they've hugged each other."
Cox, however, warned against people waging a social media war against GIO.
"I think that too much 'shock horror' about one incident exhausts people's political involvement, so that we don't look at the causality of the issue," she said.
"We just end up jumping up and down about the symptoms.
"I'm much more interested in looking at why these attitudes exist, and how you can correct them."
Peppard pointed to the upcoming Bingham Cup in August – an international gay rugby competition in Sydney – as a good example of being 'ahead of the game'.
"The Bingham Cup is a great example of where the football codes are ahead of the media, and I include the advertising agency for GIO in that."
At the time of press, GIO had not responded to requests for comment. We'll bring you their response if it's forthcoming.
* Chris Graham tweets here. Eva Cox tweets here. GIO tweets here.
Donate To New Matilda
New Matilda is a small, independent media outlet. We survive through reader contributions, and never losing a lawsuit. If you got something from this article, giving something back helps us to continue speaking truth to power. Every little bit counts.