It's official, the art market is booming. The lean years following the global financial crisis are history now as buyer-confidence and sales figures hit record highs.
This much is clear upon looking back at the art fairs and sales of the European and North American summer.
Following on the heels of massively successful New York fine art auctions in May came the much-anticipated week of mayhem that is Art Basel, the world's premier annual art fair, held in Switzerland in late June.
This year the usual big names were out in force – Larry Gagosian, David Zwirner and Dominique Levy – as well as almost 300 gallerists and dealers from 34 different countries.
The fair opened with a preview day for press and VIPs that, in previous years, has seen desperate art dealers employ Hollywood make-up artists to disguise their true identity and allow them to peruse work and lock in purchases for the next day.
No such antics occurred this year, but the days of the sale were as chaotic as always and over the course of the week almost 100,000 visitors attended.
In the wake of the event the industry and press have concurred that the art market, especially the contemporary art market, is now not only stable but thriving.
This is good news not just for artists, private gallerists, dealers and auctioneers but also for institutions with significant collections.
While these institutions are invariably buffered from the hardships of the rest of the field by virtue of government funding or private donors, they still have a huge interest in stable and healthy commercial market.
Most important for large institutions is that their collections retain and, hopefully, accrue value.
This facilitates government and public confidence. An appreciating collection also allows institutions to more confidently engage in energetic purchasing of new art and to justify funding for conservation and research.
Contemporary art, by which I mean work produced in the last 20 years, has historically had the most volatile market and investment in works in this category considered especially risky.
That view is changing in light of decades of evidence to suggest that well-researched and considered purchasing of contemporary art makes economic sense.
This is especially true for institutions that aspire to have expansive, even encyclopaedic, collections.
For institutions like these, holding back from purchasing now often means buying at a higher price a few years down track.
Delayed purchasing policies also make it more difficult to truly reflect current trends in showings of the permanent collection and in temporary exhibitions.
For the many people who do not welcome the increasing demands that public arts bodies justify their existence with reference to economic imperatives, all this talk of fiscal matters might be unwelcome.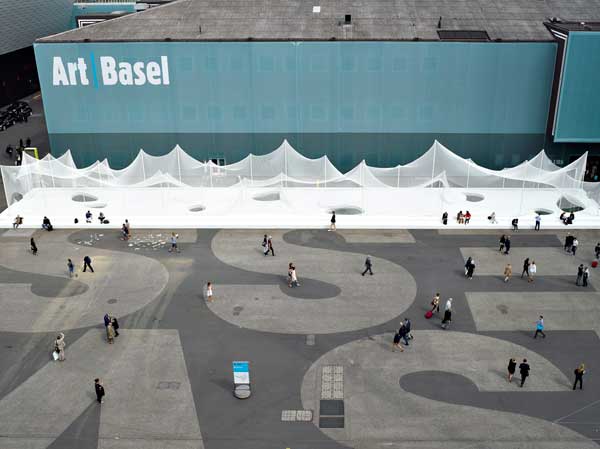 These same people rightly fear that the increased attention to economic considerations is jeopardising the integrity of the whole art world, including those producing art.
It is difficult to completely allay those fears, but Basel bore witness to some promising arguments to the contrary – most notably the concurrent 14 Rooms exhibition and the work of Wade Guyton.
14 Rooms was an exhibition of not-for-sale performance works held just across the road from Art Basel and running for the period of the fair.
Organised by Klaus Biesenbach and Hans-Ulrich Obrist, directors of MoMA PS1 and the Serpentine Gallery respectively, the show included works by Damien Hirst and Marina Abramović.
Not only were the works not-for-sale, but they were all in the typically unremunerative category of performance art – a practice which many people might see to be challenged by the capital-centric focus of today's art world.
Unsurprisingly, given the progressive character of the show's curators, the works in 14 Rooms were more challenging and risqué than much of the work next door at the fair proper.
Abramović's work involved a full nude doppleganger spread eagle on a bicycle seat.
In typical Hirst fashion, his contribution self-consciously referred to his precarious position as an artist, whose work is predominantly constructed by assistants.
He had two assistants, who are identical twins, sitting in front of one of his spot paintings.
It is heartening to see this sort of work being commissioned and shown as a foil to the sales driven environment of the fair.
Another interesting development, that can also be seen as a reaction to the art world's capitalist drive, came courtesy of the American artist Wade Guyton.
In a protest against the huge prices at which his work has recently been resold, the artist made five identical works – completely black prints – and gave them to each of his gallerists at Art Basel, asking them to sell them at exactly the same price.
It's easy to see the comment Guyton was trying to make about mass produced art for the consumer age. It is less easy to assess the success of his protest given that all the five pieces were eagerly snapped up on the first day of the sale.
When all is said and done it is heartening to see the market recovering after the lean years following the global financial crisis, and to see artists doing interesting work examining the intersection of art and capital.
Donate To New Matilda
New Matilda is a small, independent media outlet. We survive through reader contributions, and never losing a lawsuit. If you got something from this article, giving something back helps us to continue speaking truth to power. Every little bit counts.