At any point in time, one could report on what is really happening in Palestine. The systematic oppression of the Palestinians. The fact that Israel rules over millions of Palestinians in the occupied territories, that it has done so since 1967, whilst denying those Palestinians all of their basic human rights.
The fact that Palestinians in the West Bank and Gaza are subject to Israeli military law, whilst Israelis, including the Israeli Jews who live in the West Bank, are entitled to all of the rights and protections that accrue to citizens of Israel.
One could report on the crushing siege on Gaza. The continuing construction of Israel's wall in the West Bank, unilaterally annexing Palestinian land to Israel, whilst driving Palestinians from their land and homes.
Yet this is not news, because it is not new. People who are unaware of these facts may react angrily to them, and require evidence to show them. That's a charitable way to interpret how Australian media covers the Israeli Palestinian conflict.
Lest I be accused of picking an easy target, take ABC's reporting on what is news in the conflict. ABC reported that Israel
launched air strikes against militant Hamas targets in response to Palestinian cross-border rocket attacks.

There has also been a second day of violent Palestinian protests in Jerusalem after the discovery of the body of a 16-year-old Palestinian boy on Wednesday in a forest near the city.

Israeli police are investigating the possibility that he was the victim of a revenge killing over the deaths of three Jewish teenagers, whose abduction on June 12 Israel has blamed on Islamist Hamas militants in the occupied West Bank.
The story goes on to note that 'residents' claim 15 Palestinians were injured in the air strikes, and provides no evidence for the Israeli claim that it bombed 'militant Hamas targets'.
It notes that UN 'human rights chief' Navi Pillay condemned the rockets from Gaza and Israel's 'excessive acts of retaliation'. Whatever these might be, we are left to wonder. Netanyahu is cited as saying that Israel would stop the fighting if the rockets stopped.
There's links to other stories, such as the discovery of the bodies of the three Israelis, Israeli Prime Minister Binyamin Netanyahu blaming Hamas for what happened, and an account of the Israeli funerals.
Those who waded through that article would have found near the bottom these paragraphs:
Hamas has been rocked by the arrest of dozens of its activists in an Israeli sweep in the West Bank over the past three weeks during the search for the teenagers that Israel said was also aimed at weakening the militant movement.

Up to six Palestinians died as a result of the Israeli operation, local residents said.
So let us review what we would learn from the ABC about what happened.
Israel bombed Gaza, in response to rocket attacks. There were also violent Palestinian protests, over the murder of a Palestinian boy, which apparently was in response to the murder of three Israeli boys.
Oh, and in the search for the murderers by Israel, six Palestinians died. Unlike Israelis, they didn't have funerals, or their funerals just weren't worth reporting on.
What might be worth reporting, for someone who adopted the radical notion that Palestinians are also human beings?
On May 15 this year, Palestinians marked Nakba Day, commemorating the expulsion of hundreds of thousands of Palestinians from their homes during the creation of Israel.
On that day, Israeli human rights organisation B'Tselem noted:
… four Palestinians were shot with live ammunition in the West Bank town of Bitunya, close to Ofer Prison, during a demonstration marking Nakba Day.

Two of them, both minors, died of their wounds: Nadim Siyam Nawarah, 17, from Ramallah, and Muhammad Mahmoud Salameh (Abu Daher), 17, from the village of al-Mazra'ah al-Qibliyah. Muhammad 'Azzah, 15, also a minor, was hospitalized in the Intensive Care Unit in Ramallah, where he is recovering from his wounds.

The fourth victim, a 23-year-old who wished to remain unnamed, was lightly injured.

All four were injured in the upper torso: Nawarah and 'Azzah were struck in the chest, Salameh was struck in the back, and the fourth man was struck below his left elbow.
B'Tselem had video footage of the murders and shootings, from two different camera angles.
The Israeli army denied responsibility, claiming that it hadn't used live ammunition that day, inconsistent with the "entry and exit wounds found in the bodies of all four victims, which are completely consistent with injuries caused by live fire".
B'Tselem demanded the Israeli army investigate the shootings.
Despite two children being killed on film, this was not considered news, and the Israeli army yawned off the allegations.
Edo Konrad noted that "the Israeli mainstream media unquestioningly adopted the narrative of the defense establishment".
Noam Sheizaf noted that this required the ignoring of "21 gigabytes of videos from the Beitunia shooting, taken from four security cameras; there are hours of tape from that day… the real bodies of two dead Palestinians… the reports from the hospital they were taken to".
The video footage was dismissed as forged, and the deaths of the Palestinian children were regarded as trivial, at best.
In the last 13 years, a Palestinian child has been killed by Israel every three days. But when Palestinian children die, it is not news.
Palestinians do not mull over whether to send in their planes and tanks to bomb Tel Aviv, and Western politicians do not urge them to exercise 'restraint'. And ABC did not report on the funerals of the murdered Palestinian children, because presumably Palestinians don't love their kids like Jewish Israeli parents love theirs.
On May 21, another 12-year-old Palestinian boy was shot by Israel. He was paralysed below the waist by the shooting, among other injuries. Such incidents are considered too mundane to warrant reporting.
However, on June 12, three Jewish Israelis were abducted. This is when events in Israel and Palestine became news.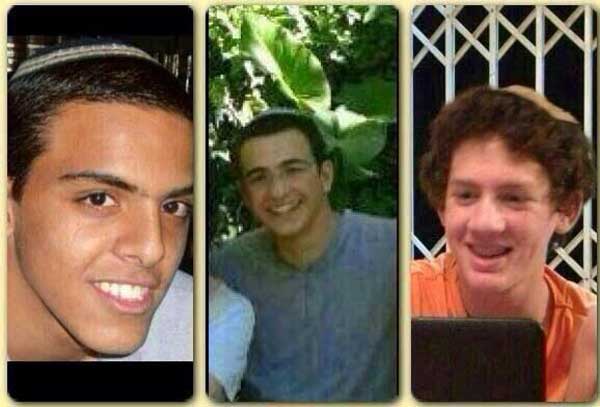 This essentially means the framework is from the perspective of the Israeli government: how should Israel respond to Palestinian savagery?
It should be noted, it was assumed at this point the perpetrators were Palestinian, and the Israeli government tried to blame Hamas for the kidnapping.
It also sought to tie in Palestinian Authority leader Mahmoud Abbas, in the hope of using the kidnapping to challenge the legitimacy of the unity agreement reached between Fatah and Hamas.
Liberal Israeli journalist Larry Derfner responded to the kidnapping by observing that:
while the three boys are innocent and their kidnapping wrong, that doesn't mean Israel is innocent or right in what it does to the Palestinians; the opposite is the case.

Israel is running a military dictatorship in the West Bank, which means Israel shares in the blame for the kidnapping because Israel's treatment of the Palestinians was at least one of the things, probably the main thing, that provoked it.

So ultimately the answer to kidnappings and other acts of terror against Israelis is to end the occupation
In saying this, Derfner explicitly does not support the kidnapping of the Israelis. He argues that the political context matters, because "the fight to end the occupation is a fight for Palestinians and Israelis both".
Once the three Israelis were kidnapped, Israel responded. Within three days, B'Tselem had warned that "Israeli authorities must also refrain from meting out collective punishment to the local population. Likewise, the security forces must take whatever steps necessary to prevent any violence directed at Palestinians". They clearly knew who they were dealing with.
On June 17, B'Tselem issued another press release, titled "Hebron District and its 680,000 residents under third day of closure".
The release also worried about the arrests of approximately 200 Palestinians.
By June 22, 11 human rights organisations – including B'Tselem, Amnesty International, Gisha, Yesh Din, Adalah, the Public Committee Against Torture in Israel – issued a joint 'urgent' letter to the heads of Israeli military and security. The letter noted:
For eight days now Israel has been conducting extensive military activity in the West Bank, including entering city centers and widespread raids of private homes.
As part of these actions, two [Palestinian] youths were killed by live fire: 15-year-old Mohammed Dudin from Dura, a minor, and 20-year-old Ahmad Samada from Jalazoun.

Last night a third death was reported, 36-year-old Ahmad Said Khalid from al-'Ein Refugee Camp.

In addition, there have been reports of a person who sustained a live bullet to his head and is in a serious condition as well as several persons moderately injured.

According to media reports, the military has raided over 1,000 homes and arrested roughly 370 Palestinians.

B'Tselem has received information indicating that, in some cases, the raids and arrests have also caused damage to property.

It has also been reported that the military has caused damage to civilian institutions and raided educational institutions, such as Birzeit University and the Arab American University in Jenin.
The letter observed
In addition to all of the above, in accordance with decisions by the Israeli security cabinet, the Minister of Internal Security has been authorized to set guidelines for making prison conditions harsher for prisoners classified by the Israel Prison Service as members of Hamas.

These guidelines have not been published officially, but media reports indicate that such guidelines have indeed been set and that they include very harsh steps such as cessation of family visits and significant harm to the welfare of the prisoners.

B'Tselem's examination of this issue indicates that as of early this week, family visits have been cancelled for all Palestinian prisoners.

In addition, according to information published by the Palestinian Prisoners Club on June 19, 2014, 55 Palestinians have been apprehended as administrative detainees since the start of the operation, in addition to some 190 administrative detainees held in Israel Prison Service facilities according to April 2014 data.

Please note that these steps raise serious concerns about collective punishment, which is absolutely forbidden by international humanitarian law, and of disproportionate and unnecessary violations of basic rights under international law.

It must be emphasized that actions intended to pressure and intimidate the population are utterly unacceptable.

Extensive raids and detentions raise concerns that some of these actions are not the result of pressing operational needs.

Overall, it seems that the actions taken and their extent do not serve a security need that could justify the harm that they have caused.

This is true of military actions in city centers, as well as the sweeping and arbitrary travel restrictions.

These actions have caused and continue to cause disproportionate harm to the basic rights of Palestinians, including their right to safety, health, freedom of movement and livelihood.

Imposing restrictive conditions on a group of Palestinian prisoners solely based on their organizational affiliation is a severe violation of the prohibition against collective punishment.

In addition, some of the heightened restrictions reported are severe violations of the basic rights of the prisoners, specifically the right to dignity and the right to family life.
It should be explained: administrative detention is when Israel arrests and detains Palestinians without charge or trial.
The process is essentially the same as when Israelis are kidnapped, although given the lack of fairness or due process under the Israeli military justice system, one would not want to endorse the detention of any of the other Palestinians held by Israel either.
On 23 June, B'Tselem issued a new press release. In retaliation for two Palestinians alleged to have killed an Israeli, Israel was going to destroy their family home.
The two alleged murderers would not suffer from this act, however "Their family members, who are not suspected of any offence, are the ones who will suffer the loss of their home: 13 people are currently living in the house, including 8 children."
A challenge to this act in the Israeli High Court failed.
This was "not particularly surprising in view of previous cases… the HCJ has rejected the vast majority of petitions against punitive home demolitions," B'Tselem bitterly observed. It noted with disgust that this meant "adopting an official policy of harming the innocent".
As for the raids, an Israeli army officer admitted that the Israeli army had been preparing for the attack due to the arming of the residents.
+972 reported that "the officer stated that the army is intentionally trying to agitate the population in order to provoke stone throwers, which will allow Israeli snipers to kill them".
The Israeli army spokesperson responded to inquiries by saying that the Israeli military actions had "two objectives: returning the kidnapped teens, and dealing a serious blow to Hamas in the West Bank".
When the kidnapped Israelis were found dead, Amnesty and B'Tselem responded similarly.
B'Tselem warned against "abusing the public atmosphere in Israel with the discovery of the bodies, to impose collective punishment, as was done in the past two weeks as part of the searches. The deliberate harming of an entire civilian population as punishment for the actions of individuals is both illegal and immoral. Additionally, the security forces must prepare for possible acts of revenge by settlers".
The toxic atmosphere of racist chauvinism in Israel is also worth commenting on.
On July 1, Ha'aretz reported on the hundreds of 'right wing extremists' who protested in Jerusalem, attacking "Arab passers-by": five Palestinians were attacked, two were injured.
The group "shouted slogans such as 'death to Arabs,' 'a Jew is a brother, an Arab is a bastard,' 'we want war,' 'Mohammed is dead,' and 'Kahane was right.' While running, some of them were asking dark-skinned people 'what's the time?' in Hebrew in order to check for an Arab accent in the reply."
The story notes that one of the Palestinians attacked, Mohammed Sayyad, "called the police after Jewish youths in 2012 lynched Jamal Julani, 17, who was seriously wounded."
That story might also have passed by Australians, because the lynching of Palestinians is not considered news here.
Meanwhile, on Facebook, over 30,000 Israelis liked a page called (roughly) "The people of Israel demand revenge".
It was covered with pictures of Israeli soldiers, their guns, bullets and uniform insignia, holding signs demanding revenge. Israeli politicians were swept up in the calls for revenge, with Prime Minister Netanyahu one of many warning of the revenge to come.
After all this, a 16-year-old Palestinian boy, Muhammad Abu Khdeir, was abducted and murdered.
An autopsy showed that he had burns on 90 per cent of his body. This act was quickly condemned by the US and Israel, as it does not appear to have been carried out by the Israeli military or police.
Within a few days of the murder of Abu Khdeir, his cousin, a 15-year-old boy named Tarek Abu Khdeir, was brutally beaten by Israeli soldiers, according to Palestinian human rights organisation Adameer.
Tarek is a US citizen. There are shocking pictures of his brutalised face, and two videos of the severe beating he was subjected to, whilst lying on the ground, with his hands cuffed behind his back.
Yet this is another story that will barely make the news, because the victim was Palestinian. He was attacked and kidnapped by Israeli soldiers in East Jerusalem, but perhaps he can take solace from George Brandis's theory that East Jerusalem isn't occupied.
One might hope that if Brandis does not regard the soldiers patrolling East Jerusalem as part of an occupying military, he might regard them as simply wanton criminals, but that might rashly attribute to Mr Brandis a shred of humanity, and we know that in relation to Mr Brandis, that characteristic is disputed.
Andrew Bolt offered his take on what was happening in Israel and the occupied territories, explained that "In this clash of civilisations, one side represents barbarism". With that kind of sensitive and thoughtful analysis, it's hard to believe that Mr Bolt was once found guilty of breaching the Racial Discrimination Act's provisions on racially offensive speech.
On a similar end of the spectrum, David Werdiger, also from Melbourne, wrote in the Times of Israel a blog complaining about America urging Israel to exercise 'restraint' in response to the murdered Israelis.
Werdiger, however, prayed "that the government of Israel find no room for 'restraint'".
It's true, ABC doesn't run that kind of extreme commentary. It simply fails to explain what is actually happening in Israel and Palestine, and leans towards the Israeli government's idea of what is and is not news.
Yet as Israel proceeds on yet another rampage through the occupied territories, as its national cultures descends into uglier and uglier forms of chauvinism, it becomes more important to actually understand these trends.
For example, before the three Israelis were kidnapped, over 100 Palestinians were on a hunger strike for over 50 days, protesting their trial without detention.
The murders effectively ended the hunger strike.
However, if more attention and sympathy were offered to Palestinian efforts at non-violent resistance to the occupation, Palestinian violent resistance to the occupation might become less attractive as a way forward.
Donate To New Matilda
New Matilda is a small, independent media outlet. We survive through reader contributions, and never losing a lawsuit. If you got something from this article, giving something back helps us to continue speaking truth to power. Every little bit counts.