A senior bureaucrat who was forced to apologise for misleading a federal Senate inquiry into petrol sniffing in Aboriginal communities and who appeared on an ABC current affairs program under a false identity has been appointed the nation's first 'Threatened Species Commissioner'.
Minister for the Environment, Greg Hunt announced this afternoon that Gregory Andrews, a long-serving Canberra public servant, will take on the new role aimed at protecting Australian plants and animals.
"Mr Gregory Andrews takes up this position at a critical time in our efforts to halt a potential tide of extinctions," Hunt said in a written statement.
"In his role as Commissioner, Mr Andrews will bring a new national focus to the conservation efforts for Australia's endangered native flora and fauna.
"Mr Andrews will work closely with some of Australia's most respected scientists in the national Threatened Species Scientific Committee to ensure that practical action is taken to safeguard our native threatened species.
"As a public servant and former diplomat with experience inside and outside of government, Mr Andrews has a proven capacity to bring people together to design and successfully implement practical solutions to complicated problems."
Andrews was at the centre of a lengthy investigation by this writer (and others) at the National Indigenous Times newspaper in 2006 and 2007, following his appearance in a June 21, 2006 Lateline story, entitled 'Sexual slavery reported in Indigenous community'.
He appeared in the story with his face filmed in shadow and his voice digitized, and was falsely described as a 'former youth worker' by Lateline, a description Andrews maintains – and the ABC admits – was concocted by the Lateline.
At the time, Andrews was an Assistant Secretary in the Office of Indigenous Policy Coordination, and was advising then Minister for Indigenous Affairs, Mal Brough on violence in Central Australian Aboriginal communities.
Andrews told Lateline Aboriginal men were trading petrol for sex with young girls, and that children were being held against their will and traded between communities as "sex slaves".
But briefing notes which Andrews provided to Minister Mal Brough about what he intended to say on camera revealed he grossly embellished his story.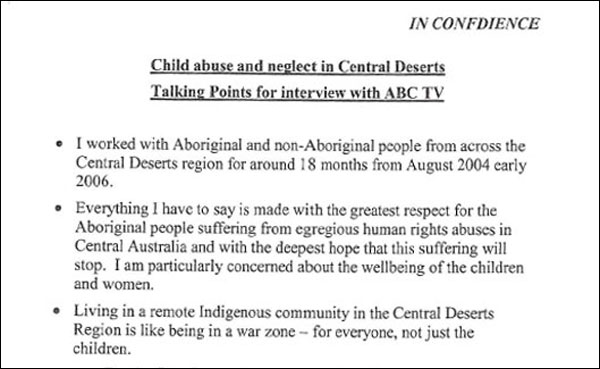 A lengthy police investigation found "no evidence whatsoever" to support the claims made by Andrews and others on Lateline.
It also emerged that Andrews mislead Lateline about statements he made to police on violence in Mutitjulu.
Andrews wept on camera as he told Lateline he made multiple reports to police of violence and sexual abuse against women and children in Mutitjulu, but withdrew his statements because he feared for his safety.
Chief Minister of the Northern Territory, Clare Martin later revealed to Parliament that during his time as a project officer in Central Australia, Andrews never made a single statement to police about violence against women or children.
After Andrews moved to Canberra, a Mutitjulu man was convicted for making threats against him.
In the course of the Indigenous Times investigation, it also emerged that Andrews had grossly mislead a 2006 federal Senate Inquiry in Petrol Sniffing in remote Aboriginal communities.
Andrews told parliament that he lived in Mutitjulu for nine months, when in fact he lived 20 kilometres away, at the five star Ayers Rock tourist resort.
He also mislead Parliament about life in Mutitjulu, telling Senators: "Young people were hanging themselves off the church steeple on Sunday and their mothers were having to cut them down."
Police confirmed at the time that no child has ever hung themselves from the Mutitjulu church, nor has a mother ever had to cut her child down.
Andrews subsequently apologised in writing to the Senate, acknowledging he never lived in Mutitjulu and that he "inadvertently mislead" the parliament, including about the findings of a coronial inquiry into two petrol sniffing deaths.
Andrews has never corrected his claims about children hanging themselves from the church, and has refused repeated attempts to seek comment.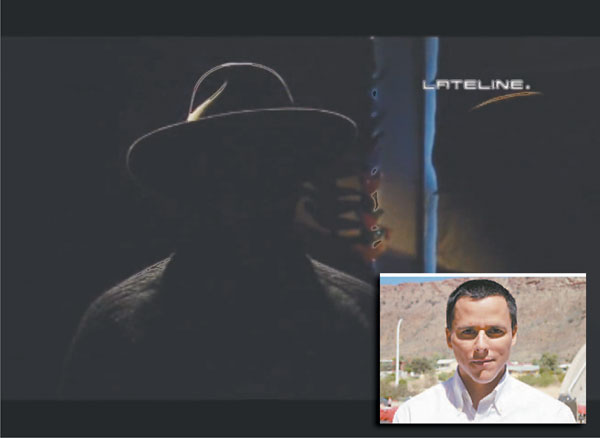 Before taking up the Threatened Species Commissioner position, Andrews was managing implementation of biodiversity conservation programmes, including management and evaluation of National Landcare Programme and 20 Million Trees initiatives. He previously worked in the former Department of Climate Change and Energy Efficiency where, as the Deputy Head of Australia's delegation to the United Nations Climate Change Convention, he led negotiations on key issues with developing countries.
There is no suggestion by New Matilda that Andrews did not win the job on merit.
In 2009, Andrews became the star witness in a federal government prosecution of former bureaucrat Tjanara Goreng Goreng, who later confirmed she was one of the whistleblowers in the Mutitjulu scandal.
A court found Goreng Goreng leaked government information (unrelated to the Indigenous Times' reporting). She was subsequently convicted, sacked, and ultimately bankrupted.
The Lateline story sparked the Little Children Are Sacred report, which the Howard government used as the basis to launch the Northern Territory intervention.
Andrews' role in the Lateline report – which the ABC still defends as largely accurate – featured prominently in John Pilger's recent documentary, Utopia.
Respected Central Australian Aboriginal leader Rosalie Kunoth-Monks described ABC's reporting around Mutitjulu as "a lie" on a recent Q&A program.
A spokesperson for the Minister confirmed Greg Hunt was aware of Mr Andrews' past prior to the appointment. New Matilda has offered both Minister Hunt and Mr Andrews the opportunity to comment.
* Chris Graham was the Associate Producer of Utopia, and the former editor and a shareholder of the National Indigenous Times.

Donate To New Matilda
New Matilda is a small, independent media outlet. We survive through reader contributions, and never losing a lawsuit. If you got something from this article, giving something back helps us to continue speaking truth to power. Every little bit counts.