A Rabbi arrested overnight during a sit-in protest over the jailing of asylum seeker children at the offices of a federal MP has spoken out about her experience, and issued a call to other Jewish Australians to consider respectful civil disobedience over the issue.
Love Makes A Way is a movement of faith leaders which began earlier this year, when Christian leaders refused to leave the Sutherland, Sydney offices of Immigration Minister Scott Morrison. All the protestors were eventually arrested.
Since then, Love Makes A Way protestors have been arrested in Foreign Minister Julie Bishop's office in Perth, and at the Sydney offices of Prime Minister Tony Abbott, and the Melbourne offices of Bill Shorten, the Leader of the Opposition.
The protest has gathered pace nationally, and protesters have crossed denominations – Catholics, Baptists, Uniting, Anglican, and independent Christians.
But yesterday, in Adelaide, the protest also crossed faith lines.
The latest Love Makes A Way group – which consisted of eight Christians and one Jew – targeted the office of the Member for Mayo, Jamie Briggs (Assistant Minister for Transport and Regional Development).
The group spent the day in the reception area, singing and praying. Rabbi Shoshana Kaminsky described it as "a very long day".
"We arrived at 10am and we were there for seven hours," Rabbi Kaminsky said. "We communicated as warmly as we could with staff.
"They were respectful and professional, but they were understandably frustrated because it's not exactly what they had planned for today.
"At 5 o'clock they reminded us the office was closing. We let them know we were not planning to leave until we learned the answer to the question of when all children in detention will be released.
"Police arrived around 5.30. There were initially three police officers from Mt Barker, and there was quite a bit of back and forth. The [officer]from Mt Barker tried very earnestly to talk us out of it.
"Then they needed to call officers from Adelaide."
Another six officers arrived – one to arrest each of the nine protestors. The group was escorted from the building.
"My experience, and I hope everyone shared this, was that I was dealt with incredibly respectfully. So much so there was no handcuffing," Rabbi Kaminsky said.
"Some were taken to different police stations. I was taken to the Adelaide Watchhouse along with two others."
The group consisted of Rabbi Kaminsky (Beit Shalom Progressive Synagogue), Rev. Jennifer Hughes and Rev John Hughes (Brougham Place Uniting Church), Ellen Mitchell (Rosefield Uniting Church), Kate Leaney and Amy Bradshaw (Activate Community (ACC)), Jana Norman and Rev Sandy Boyce (Pilgrim Uniting Church) and Peri Coleman (Religious Society of Friends (Quakers, North Adelaide Meeting)
Each member was charged with one count of trespass, and Rabbi Kaminsky was bailed to appear at Mt Barker Local Court on August 13.
She said the protest was aimed not just at releasing children from detention.
"We came in with this idea of what's called a double victory – achieve our goal of having the children released, but also to win over hearts and minds to our cause.
"I think it's an issue that not only bridges faiths, but really should be taken up by people with no specific faith.
"It's an Australian issue. It's about what kind of country we believe we should be, and how we treat the most vulnerable people in the world.
"I hope that not only other Jews and people of faith take up this cause, but everyone will as well."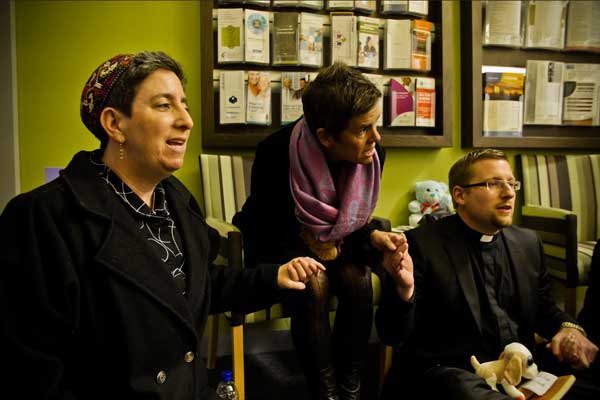 Rabbi Kaminsky paid tribute to her fellow protestors, who she said went out of their way to respect her beliefs.
"I really owe a tremendous debt of thanks to the people with me," she said.
"They were so incredibly respectful of my faith traditions, and worked so hard not to do anything to cause offence or exclude me."
Rabbi Kaminsky is the first Jewish leader to join the national protests, and she hoped other Jewish Australians would consider respectful civil obedience in the fight to release jailed children.
"This is a cause a number of Rabbis have written quite passionately about. We'll see after today if others are inspired to do the same as me.
"[The Jewish faith in Australia] is quite autonomous, and I consulted a bit with colleagues, and a number sent me personal messages wishing me well.
"I haven't talked to anybody from my community yet. I got Facebook messages of support, but expect there'll be quite a lot of discussion amongst the people I know and work with about this issue.
"I hope it will catch fire."
You can follow Love Makes A Way on Twitter at #LoveMakesAWay and on Facebook.

Donate To New Matilda
New Matilda is a small, independent media outlet. We survive through reader contributions, and never losing a lawsuit. If you got something from this article, giving something back helps us to continue speaking truth to power. Every little bit counts.