Admittedly, it's a pretty difficult concept to get your head around.
People of colour don't like it when people who are not of colour paint their faces black and pretend to be people of colour.
In other words, people of colour don't like Blackface.
White Australians, however, apparently do. And that's despite years of news coverage about why it's so offensive, including international embarrassment when Harry Connick Jnr objected to a Blackface skit on Hey Hey it's Saturday, half a decade ago.
Samantha Robinson, aged 18 and a rising young star in the Australian modeling scene must have missed all that coverage. And this coverage featuring Qantas and Radike Samo… and this coverage featuring Chris Lilley, because she's become the latest 'celebrity' to post a picture of herself on social media posing with a someone dressed in Blackface.
That picture, shared on Robinson's Instagram account this morning, shows her posing with a friend at a fancy dress party who is apparently 'honouring' black American rap artist Lil Wayne. They're both throwing the international rap symbol for 'Westside', a sign which obviously has very strong cultural links to white girls from the Gold Coast.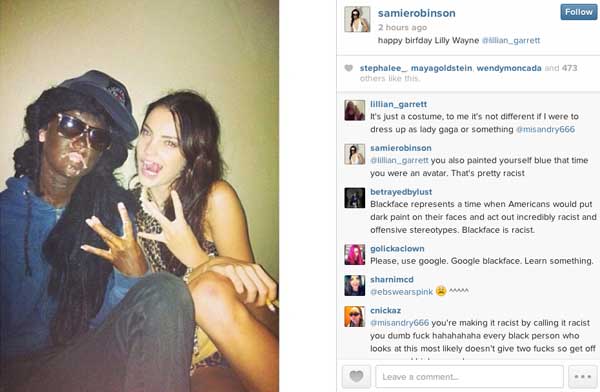 But unlike Delta, who backed down almost immediately with a public apology after widespread social media outrage, 'Samie' – who has more than 44,000 followers on Instagram – decided the best strategy would be to stand and fight. How very Anzac of her.
While the photo disappeared from her website this afternoon, Robinson spent the morning defending her conduct, and that of her friend. In other words, she did what Australians ignorant about issues of racism always do… she went to the shed, got a shovel and starting digging herself out of the hole.
Robinson's defences included such gems as 'If painting yourself black is racist against black people, then painting yourself blue is racist against Avatars.'
Well, that might be true if Avatars were a race, or actually existed. But they're neither. Indeed they're imaginary.
And there was this: "Well she clearly didn't paint herself to act out offensive stereotypes, she did it at a costume party where she was told to come as lil Wayne. Why is it always the people who aren't even black that have a problem, when I've showed black friends this before and they laughed for hours haha."
And this: "I don't see how (it's racist), he is clearly black and she has painted herself that way to portray him. Would it not be more racist to portray him as a white man, which he clearly isn't?"
And this: "So you're saying, lil Wayne has a racist background because he was born black? Makes sense. Hey as long as my black friends are cool with this, which they are, then yeah… I guess it is all cool then."
One concerned Instagramer made a genuine – and calm – attempt to take the heat out of the debate, by urging Robinson to "just google Blackface" and find out what all the fuss was about.
Robinson was clearly already in over her head… cue the friends, such as Lillian Garrett, who leapt to her defence.
"It's just a costume, to me it's not different if I were to dress up as lady gaga or something."
Except, of course, Lady Gaga is white, and so is Lillian.
'Cnickaz' decided to enter the debate, to defend both Samie and now Lillian.
"You're making it racist by calling it racist you dumb f**k hahahahaha every black person who looks at this most likely doesn't give two fucks so get off your moral high ground."
There's a couple of problems with that theory. Firstly, you don't make something racist simply by calling it racist. That would be like suggesting you make something 'fair' by calling it 'fair'. The Abbott Government's budget is a case in point.
Secondly, real black people – not fake ones – do find Blackface deeply offensive, as numerous media scandals can attest. And at least one of them did look at Robinson's profile… and it appears she gave quite a bit more than 'two f**ks'.
Ebony Allen, a prominent Aboriginal blogger wrote in response: "Wow blackface in Australia again…I have no words…"
For her part, Ms Robinson has so far not responded to attempts to seek comment. We're awaiting her response as well.
And in the meantime, if anyone can point us in the direction of an 'Avatar' who can comment on whether or not painting yourself blue is also racist, it would be greatly appreciated.
Donate To New Matilda
New Matilda is a small, independent media outlet. We survive through reader contributions, and never losing a lawsuit. If you got something from this article, giving something back helps us to continue speaking truth to power. Every little bit counts.