One of the defining moments in the realisation that Kevin Rudd's days were numbered was his inability to sell a super profits mining tax to the Australian people.
Imagine that, a wildly popular Australian Prime Minister unable to convince the average Ocker that people like Gina Rhinehart should pay more tax after they make obscene profits from selling minerals we own.
Well, this evening, Prime Minister Tony Abbott's office was back-pedalling furiously from a media release which sought to milk one of the most basic of political wells – Australia's deep affection for war heroes – but blew up in his face.
Yesterday, Abbott's office issued a media release which announced he was heading overseas to join seven Australians who fought at D-Day during World War II.
And within a couple of paragraphs, Abbott had managed to turn what should have been the most simple of political messages – I like diggers, and diggers like me – into a blatant party political about the removal of the carbon and mining taxes.
Yep, you read that right. D-Day to 'no carbon tax' in one deft move.
By late evening, as the issue blew up on social media, the media release had been removed from the PM's site. But unfortunately for the PM's IT boffins, they forgot to remove the promotion of the media release from the PM's home page, leading Bernard Keane of Crikey to describe it as the 'worst cover up' ever to his Twittter followers.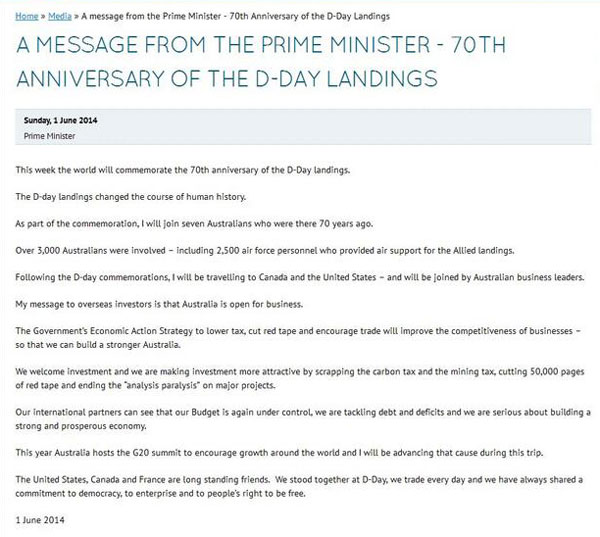 They also forgot to take down a Youtube video where Abbott actually reads the speech to the camera, replete with images of old diggers being shamelessly exploited, thereby virtually assuring that this story will whip up outrage not just in print media on Monday, but on the morning tele as well.
The media release starts well enough for Abbott: "This week the world will commemorate the 70th anniversary of the D-Day landings. The D-day landings changed the course of human history," the Prime Minister announces.
"As part of the commemoration, I will join seven Australians who were there 70 years ago.
"Over 3,000 Australians were involved – including 2,500 air force personnel who provided air support for the Allied landings."
Everything is fine and dandy up to that point, but unfortunately for the PM, it's at this juncture that his political instincts kick in… and things basically go to political hell in a hand basket.
"Following the D-day commemorations, I will be travelling to Canada and the United States — and will be joined by Australian business leaders.
"My message to overseas investors is that Australia is open for business. The Government's Economic Action Strategy to lower tax, cut red tape and encourage trade will improve the competitiveness of businesses — so that we can build a stronger Australia.
"We welcome investment and we are making investment more attractive by scrapping the carbon tax and the mining tax, cutting 50,000 pages of red tape and ending the "analysis paralysis" on major projects.
"Our international partners can see that our Budget is again under control, we are tackling debt and deficits and we are serious about building a strong and prosperous economy."
It's not simply the case of an unfortunate media release linking two issues together by accident, because by the end, Abbott returns to D-Day.
"The United States, Canada and France are long standing friends. We stood together at D-Day, we trade every day and we have always shared a commitment to democracy, to enterprise and to people's right to be free."
By late Sunday evening, the issue was trending heavily on Twitter, via the auspol hashtag.
New Matilda is awaiting comment from the Prime Minister's office. At the risk of putting words into the spinner's mouths, the response is likely to be something along the lines of '… we never removed the story, the link just broke… by itself… oh, look over there, a unicorn!'
Whatever the truth, expect to wake in the morning to more outrage from the public about a Prime Minister who can't even manage to milk Aussie sentiment around war heroes without stuffing things up.

UPDATE: Early on Monday morning, the Prime Minister's office replied to questions from New Matilda, issuing the following response: "Every Sunday afternoon, the Prime Minister's office provides a weekly video of important events for the week. This week the world will commemorate the 70th anniversary of the D-Day landing and the Prime Minister will join seven Australians who were there 70 years ago. The Prime Minister will also be traveling to Canada and the United States this week and he will be joined by Australian business leaders. During the Trade Mission and during Parliament sittings this week the Government will be discussing our Economic Action Strategy to build to a stronger Australia and more prosperous economy. The video is on the PM's website. A press release regarding the trip was released on Saturday and a transcript of the video was released on Sunday"
Donate To New Matilda
New Matilda is a small, independent media outlet. We survive through reader contributions, and never losing a lawsuit. If you got something from this article, giving something back helps us to continue speaking truth to power. Every little bit counts.