The owner of the Whitehouse Institute of Design – the Sydney college embroiled in a furore over the awarding of a secret $60,000 scholarship to the daughter of Prime Minister Tony Abbott – has denied claims the only other time the scholarship has been awarded was to her own daughter.
But Leanne Whitehouse, owner of the Whitehouse Institute of Design has conceded that her daughter Billie did attend the college, and paid no fees for her education.
The comments are in response to claims made by this writer on Channel 10's 'Studio 10' program on Tuesday.
"My daughter, Billie, studied at Whitehouse," Ms Whitehouse said, in a written statement to New Matilda via public relations firm Res Publica.
"She was not awarded a scholarship but studied here free of charge."
Ms Whitehouse said other private tertiary providers had similar arrangements for their children, and for the children of senior staff and teachers.
"The school is wholly owned by myself and it is not unusual nor surprising that, when my daughter showed a strong interest in a career in design, she pursued this interest at Whitehouse.
The Whitehouse Institute is still refusing to disclose on how many occasions the 'Managing Director's Scholarship' has been awarded in the 25-year history of the organisation, citing 'privacy concerns'.
In other developments, New Matilda also revealed on Studio 10 that the Prime Minister and his wife Margaret attended a function at Whitehouse in December last year, as guests of Whitehouse.
Relatives and friends of students were told they had to pay $60 to attend the same event, which was staged, in part, to showcase the work of graduating students.
Prior to the event, more than 250 students signed a petition to Whitehouse seeking a waiving of the fee, on the basis that tuition costs were already high. The college refused.
But Whitehouse insiders revealed to New Matilda that two parents did not have to pay – Mr and Mrs Abbott.
Both were given free tickets to attend the event, and they were also hosted at a small, private VIP function upstairs from the main event, complete with two cases of Dom Perignon champagne.
A spokesperson for the Prime Minister declined to comment on whether or not he knew other parents were required to pay, but said that Mr Abbott had met all public disclosure requirements around the free event, and the awarding of the secret scholarship.
"The Prime Minister was invited to the event on a complimentary basis and his obligations to the Register were fully met. Questions regarding arrangements for Whitehouse students should be directed to Whitehouse," the spokesperson said.
The Whitehouse Institute declined to elaborate further.
In other developments, around 100 protestors converged on the Melbourne campus of the Whitehouse Institute.
The CEO of Whitehouse, Ian Tudor claimed that protestors "vandalized" the campus and targeted individual students attending the college.
"We support the right of people to protest peacefully against government policies they are opposed to but there is simply no justification for singling out and disrupting our students and staff or vandalising our campus," Mr Tudor said in a written statement.
The organiser of the protest, Jade Eckhaus, a student at nearby Melbourne University was unavailable at the time of press.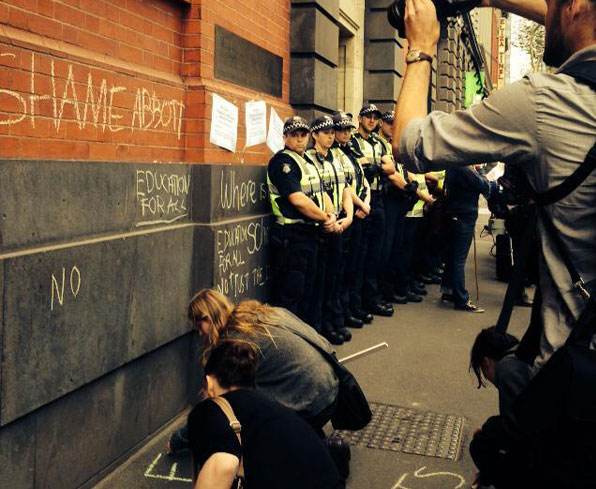 However, pictures captured at the protest show slogans opposing a rise in higher education fees had been written on Whitehouse walls in chalk. Asked if this constituted 'vandalism', a Whitehouse spokesperson said that was how media had described the incident.
The pictures published on Facebook include a line of police mobilised to protect the college. No arrests were reported.
* New Matilda will be reporting a major development in our ongoing investigation into private college funding tomorrow morning.

Donate To New Matilda
New Matilda is a small, independent media outlet. We survive through reader contributions, and never losing a lawsuit. If you got something from this article, giving something back helps us to continue speaking truth to power. Every little bit counts.