Photos by Rusty Stewart.
A controversial anti-drinking measure used in Alice Springs is being deployed in other major centres across the Northern Territory, despite allegations that it is racist and unfairly targets Aboriginal people.
Since February this year police in Alice Springs have overseen a lock-down of take-away alcohol venues as part of Operation Leyland, under which patrons are prevented from buying alcohol if their ID lists them as a resident of a "dry" area or if they have been placed on an Alcohol Protection Order.
While the NT Chief Minister's office has confirmed these "temporary beat locations" are now also being used at bottle shops in Katherine and Tennant Creek, residents in Alice Springs have warned that police are regularly performing the checks only on those who appear to be Aboriginal.
Barbara Shaw, an Indigenous activist, has been observing police monitoring bottle shops in the town, and claims to have seen several instances of racial profiling.
"They're only pulling up Aboriginal people," Shaw said. "Police are very selective of whom they can choose to ask for ID and … it is Aboriginal people that are in fact getting targeted — and it is racist."
Non-Indigenous residents told NM they have been able to enter bottle shops without being asked for identification but have seen Indigenous patrons pulled up by police at the same outlets.
Although similar measures have been used in Alice Springs for some time, concerns about the escalation of selective policing have been growing. Twice in the past month crowds have gathered in Alice to protest racist policing and demand a repeal of Section 95 of the NT Liquor Act, which gives police broad search powers.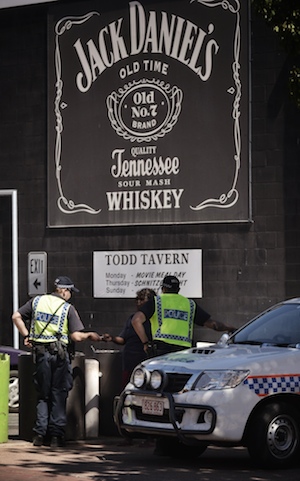 Chief Minister Adam Giles, who is Indigenous, has denied the policy has allowed for or encouraged racist policing.
"Every time I have been through a drive-through bottle shop or a take-away bottle shop I have had my licence checked and have been asked if I am drinking grog," Giles told parliament last month. "Every time I have been with someone else, it does not matter if they are Caucasian or otherwise, those people have been checked."
"There is no racial element to the checks," he reiterated in a statement to New Matilda.
But one of the Alice Spring rally organisers, Dr Hilary Tyler, told New Matilda that the manner in which police selected which patrons to check was clearly racist and that Aboriginal visitors from outside Alice Springs had been targeted on the basis of their skin colour alone.
"The excuse [the police]are giving is that for people who come from interstate, you need to have an address in Alices Springs before you can buy alcohol — but they don't say that to non-Aboriginal tourists," she said.
Police check the licences of patrons before they enter outlets where alcohol is sold to check whether they live in a "prescribed area" — communities and town camps where alcohol has been banned under federal legislation since 2007. Prescribed areas are inhabited almost entirely by Indigenous residents and the legislation that brought them into being required the suspension of the Racial Discrimination Act.
Signs have been placed out the front of bottle shops warning potential patrons that if they intend to take alcohol to areas where drinking is banned, police will prevent them being served.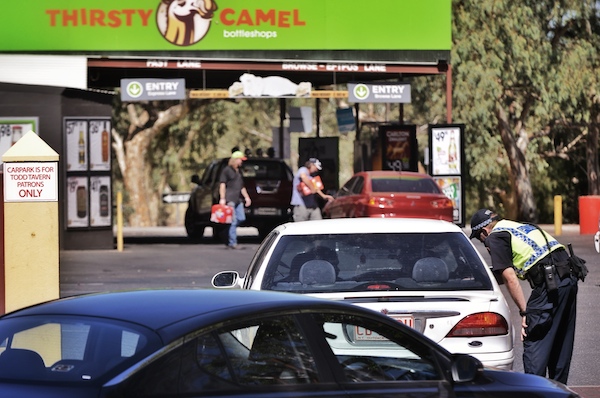 Supermarkets such as Woolworths, Coles and IGA are licensed to sell take away alcohol, so police are performing checks on people who do not even intend to buy alcohol, according to Tyler.
"[if you're Aboriginal]you're watched when you go into the shop to see if you're going into the alcohol section or the bread aisle. People are getting questioned when they just go to the shop for groceries," she said. "People have told me how anxious they feel when approaching a grocery shop and seeing police outside."
Dr Thalia Anthony, a criminal law expert at the University of Technology Sydney, who has spent time in the NT researching the NT Intervention, said the selective policing is only possible because of laws that target Aboriginal people.
"It's an extension of how alcohol has been policed since 2007 [under the]Intervention," Anthony said. "The Stronger Futures legislation and the Northern Territory Emergency Response [Intervention] Act before it, gave police distinct powers in relation to Indigenous people and communities, especially when it came to powers surrounding alcohol and also powers relating to seizure of vehicles where there is alcohol", Anthony said.
She said that these laws had "extended how Indigenous people can be selectively policed" and that bottleshop policing was part of "a whole range of police powers relying on unspoken racial assumptions".
Tyler told NM that along with increased policing, these measures had left Indigenous people feeling "disempowered" and "humiliated".
"It's this whole sense that everyone who's Aboriginal is being seen as a dysfunctional alcoholic, violent and unable to manage their own affairs and so all together that has a huge affect on people's psyche," she said.
On a recent night Tyler, who is not Indigenous, was able to leave a bottle shop with multiple cartons of beer without having her ID inspected by police. But when an Indigenous friend tried to pick up a bottle of wine before a visit, the same convenience was not extended.
"When my friend who is Aboriginal walks out of the bottle shop with one bottle of wine she's told she can't buy it and — even if she's coming to my place for dinner — she's told that I have to go to the bottle store to buy it for her to prove that she's being responsible," Tyler said.
A response provided by NT police to NM's questions did not address accusations of racist policing and declined to confirm or deny whether the practice of bottle shop policing was targeting Aboriginal people. In an interview with local ABC radio, Assistant Police Commissioner in the NT, Travis Wurst, denied that police were acting in a racist manner.
Read our backgrounder on Operation Leyland and the broader push towards criminalising alcoholism here.
Donate To New Matilda
New Matilda is a small, independent media outlet. We survive through reader contributions, and never losing a lawsuit. If you got something from this article, giving something back helps us to continue speaking truth to power. Every little bit counts.