Yesterday morning, as daylight broke near Lismore, an estimated 2000 people had already gathered at the Bentley Blockade camp. Men, women, mothers and nannas had juggled jobs and commitments to join the protest to stop mining company Metgasco start work on its new, commercially high-risk mining project, Rosella E01, 16 kilometres west of Lismore.
In the first phase of its project Metgasco wants to install double security fences around its site on the Bungabee Road between Lismore and Kyogle. It must also carry out preparatory road earthworks and create well-pad infrastructure before bringing in the drill rig.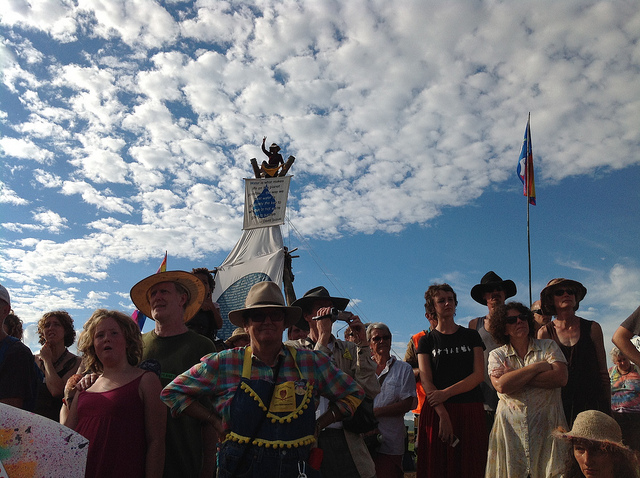 On Friday the alert went out to protesters that a 100-police riot squad had been booked into motels in Lismore. Protesters were told to arrive early at the blockade camp and that roads were likely to be blocked off by police.
Last year the farmer adjacent to Metgasco's mine site gave permission for a camp to be set up on his land, 400 metres from the proposed mine site.
But even if the blockade camp is ignored, Metgasco does not have a social licence to explore the area.
The company has already left the area once after sustained blockades by the local community in 2012 and 2013 at Doubtful Creek and Glenugie, after earlier receiving government approval to explore for coal seam gas. When Metgasco concreted up its wells, the community thought they were now gasfield free. However, at the Metagaso Annual General Meeting, held in Sydney last October, CEO Peter Henderson announced new plans for the company to return to the Northern Rivers for this new exploration project.
It is not just blockades challenging Metgasco's social licence. At one of the earliest coal seam gas rallies in NSW, 7000 people, including Lismore's mayor, marched against coal seam gas. At a referendum held during the 2012 council election, 88 per cent of voters said they did not want coal seam gas mining in their area. In 2013 an independent exit poll conducted by the Southern Cross University on federal election day showed that 65 per cent of Richmond Valley voters were also against mining operations in their area.
After Metgasco's 2013, AGM Northern Rivers anti-gas campaigner Ian Gaillard questioned Metgasco's return without a social licence. "The gas industry has no social licence in NSW, yet despite community opposition the state government is pushing ahead with plans to impose this industry on unwilling communities from the Pilliga in the North West to Gloucester and the Northern Rivers by force. This issue has now become a real test for local democracy to have this gasfield invasion stopped once and for all," he said.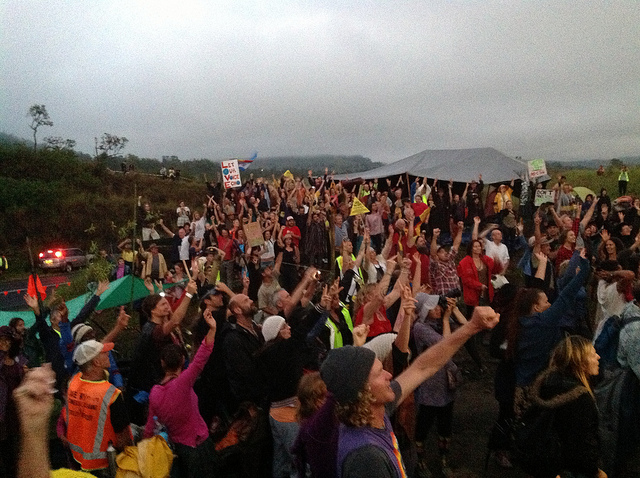 Recently the Queensland Deputy Premier Jeff Seeney has said that no mining project will be developed without a social licence but has since refused to define what that is. The term has also never been clearly defined in NSW. However, Dr Leeora Black, founder and managing director of the Australian Centre for Corporate Social Responsibility (ACCSR), says that even without a clear definition of "social licence" it is clear when there's not one.
"It's easy to see when the social licence is lost — there are blockades, demonstrations and strikes, but it is much harder to distinguish the middle ground and it is easy for companies to confuse acceptance and approval," she says.
In 2012 the CSIRO initiated a national survey of Australian citizens to understand their attitudes towards mining and develop a methodology to define the concept of a social licence. The research proposal acknowledged that meeting legal requirements was no longer enough to operate and that "trust between stakeholders and local communities" was also needed. The idea that consultation could be ticked off simply as a notification process for the community would also no longer hold.
Earlier this month secret letters from Metgasco CEO Peter Henderson to multiple ministers in the NSW government reveal his request during the 2012-2103 blockades for a "permanent 24-hour police presence" and his concern that the "police's efforts to uphold the law are in effect let down by an excessively lenient legal system." Henderson also wrote that "the judiciary show a marked reluctance to do more than release people with good behaviour bonds and without convictions against their records."
Last year in Sydney Liberal MPs Jai Rowell and Bryan Doyle lobbied NSW premier Barry O'Farrell to put a stop to the possibility of coal seam gas mining under their constituents' houses. O'Farrell obliged and introduced a no-go zone for all coal seam gas activity within two kilometres of residential areas.
In the Northern Rivers there has been no political intervention with NSW Nationals MP Thomas George ignoring community engagement and his son, then on Council, taking a job with Metgasco in November 2011.
Last year Metgasco CEO Peter Henderson admitted to the East Coast Gas Outlook Conference that "improving community support" was one of the greatest challenges facing the company.
"This region has shown that it does not want this unsafe and unnecessary industry and we have shown that people of all political persuasions are prepared to act to keep it out," said Ian Gaillard. "We would be more than happy to work together to find an exit strategy by which Metgasco can minimise its losses."
Donate To New Matilda
New Matilda is a small, independent media outlet. We survive through reader contributions, and never losing a lawsuit. If you got something from this article, giving something back helps us to continue speaking truth to power. Every little bit counts.