At a ceremony in Suva's Queen Elizabeth Barracks on 5 March, the Republic of Fiji Military Forces (RFMF) welcomed the new head of Fiji's military, Brigadier General Mosese Tikoitoga, who is replacing long-serving commander Commodore Voreqe Bainimarama.
Bainimarama, who has served as Prime Minister as well as RFMF commander since his December 2006 coup, resigned his position in the military to contest Fiji's next parliamentary elections. The vote next September will be held under a constitution designed by his military backed-government.
Tikoitoga, the RFMF Land Force Commander since October 2010, has led many of Fiji's recent international peacekeeping operations, serving as commanding officer to UN forces in East Timor and leading the Fiji contingent under the United Nations Assistance Mission in Iraq. The RFMF provided protection services for UN operations in Baghdad during the Iraq war, at the same time that hundreds of former Fijian soldiers worked with private military contractors such as Blackwater Security Consulting, Global Risks Strategies, and ArmorGroup.
Tikoitoga has managed to avoid falling out with Bainimarama since the 2000 Speight coup, while other senior officers like Jone Baledrokadroka, Ratu Uluilakeba Mara and Pita Driti have all lost their positions; the first two officers are in exile and the latter is facing disciplinary charges.
Baledrokadroka, a former RFMF Land Forces Commander, has argued that:
"[E]xperience in peacekeeping operations has influenced the Republic of Fiji Military Forces' self-image as a mediator of political tensions and executor of coups d'état. This has correspondingly led to the militarisation of the government by a largely ethnic Fijian military."
The leadership transition in the military comes at a time that Australia and New Zealand are seeking to rebuild links with the RFMF, after post-coup conflicts with the Bainimarama government.
Australian Foreign Minister Julie Bishop welcomed Tikoitoga's appointment, telling Radio Australia, "We see it as an important milestone and we have also congratulated the Prime Minister on this move. We do take it at face value that there has been a changing of the guard, a handover of the command of the Fijian military".
During her February 2014 visit to Suva with the Pacific Islands Forum Ministerial Contact Group, Bishop invited Fiji to send a defence representative to Canberra and hopes to send Australia's own defence attaché back to Suva.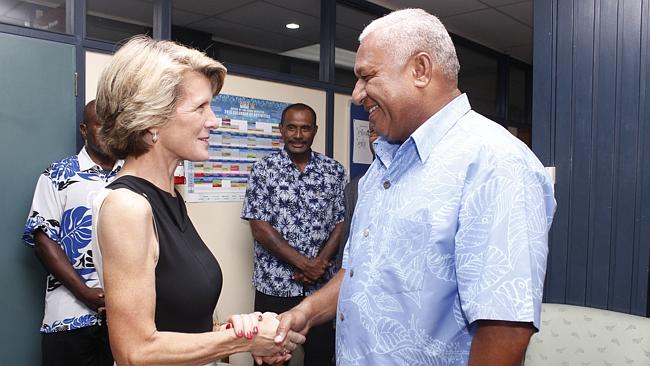 Last May, the Federal Government announced the Australian Pacific Patrol Boat Program as an extension of its long-running patrol boat program, which has provided vessels and naval advisors to Pacific island governments since the 1980s. Fiji will again be invited to participate, through the upgrading of the three ageing patrol boats in the Fiji Navy or the provision of replacement vessels under the new Pacific Maritime Security Program.
An Australia-Fiji Defence Co-Operation Program will be re-established, to include joint exercises and staff college training Many senior Fijian military officers received training at the Australian Defence College's Centre for Defence and Strategic Studies, until sanctions were imposed after the 2006 coup.
Strategic think tanks like the Australian Strategic Policy Institute have long been calling for an end to sanctions on Fiji and the re-building of military-to-military ties.
Canberra is worried that Fiji is looking beyond traditional allies for military training and equipment. In May 2013, Prime Minister Bainimarama travelled to China to meet Premier Li Keqiang and President Xi Jinping. He also announced talks with Russian President Vladimir Putin while in Moscow for the Rugby Sevens World Cup last June.
A Fiji military delegation visited China in November led by Minister for Defence and National Security Joketani Cokanasiga and RFMF chief-of-staff Brigadier-General Mohammed Aziz. The delegation met China's Minister of National Defence General Chang Wanquan to discuss cooperation and exchanges between the RFMF and the People's Liberation Army.
In recent years, the Bainimarama regime has built new partnerships with China and other developing nations. Fiji joined the Non-Aligned Movement in 2011 and served as chair of the G77 plus China group within the United Nations throughout 2013. During her February visit, however, Bishop highlighted the importance of normalising relations with Fiji, stating: "I want Australia to be the partner of choice in the Pacific and there is an opportunity with our new government to start afresh".
The renewed engagement with the RFMF comes as Australia has been promoting regional strategic dialogue, in the face of perceived Chinese political influence in the Pacific islands.
In May 2013, then Australian Defence Minister Stephen Smith joined other regional security ministers — but not Fiji — at the inaugural South Pacific Defence Ministers Meeting. Last December, the first bilateral Australia-Papua New Guinea Defence Ministers Meeting was held, as the government of Prime Minister Peter O'Neill launched Papua New Guinea's first ever National Security Statement and an updated PNG Defence White Paper.
As the military component of the Regional Assistance Mission to Solomon Islands (RAMSI) has ended, Fiji is working with Papua New Guinea on regional peacekeeping. Military leaders from Suva and Port Moresby have agreed to pool together their forces under a new defence co-operation agreement incorporating the RFMF and the Papua New Guinea Defence Force (PNGDF).
The Melanesian Spearhead Group began looking at an MSG Police Formed Unit (PFU) in 2011, to send police officers on international peacekeeping missions. At their June 2013 summit in New Caledonia, MSG leaders endorsed the expansion of this concept through the establishment of a Department of Peacekeeping Operation (DPKO).
The transition of military leadership in Fiji is a key step before elections scheduled next September. Even with Tikoitoga pledging the RFMF's support for constitutional rule, the latest Fiji Constitution has placed significant power in the executive's hands, and outgoing military commander Bainimarama has the advantage of incumbency as he moves to establish a new political party to contest the poll.
Donate To New Matilda
New Matilda is a small, independent media outlet. We survive through reader contributions, and never losing a lawsuit. If you got something from this article, giving something back helps us to continue speaking truth to power. Every little bit counts.