Public outrage over the Federal Government's immigration detention and border protection regime, and specifically over conditions at Manus Island detention centre, which last week led to a riot and the killing of Iranian asylum seeker Reza Barati (pictured), has coalesced into two campaigns.
The "Light the Dark" vigils organised by activist powerhouse GetUp!, ran over the weekend. An estimated 15,000 gathered in the capital cities to respond to the secrecy and brutality of Operation Sovereign Borders.
"Despite our Government's best attempt to keep us in the dark, we're going to light up the night," GetUp!'s post on Light the Dark read. The vigils were widely supported and promoted on social media, including by NGOs like Amnesty International.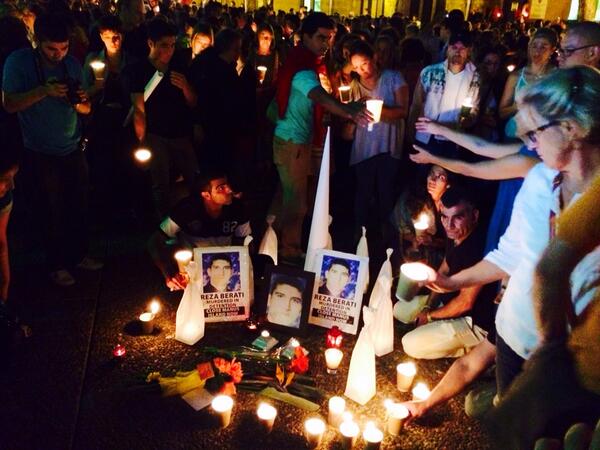 Images from the rallies, Buzzfeed reported, will "restore your faith in humanity". Indeed, as the blogger at charredcaesia noted in a post on the vigils:
"Candlelight vigils can be a powerful tactic of solidarity with those in and killed by mandatory detention, as well as building affective bonds for a social movement with a diversity of tactics."
However, the blogger writes, "These repeat rally tactics mainly benefit groups that want to channel dissent into official politics or recruit to their own group, which in turn creates their own internal social basis for rally after rally."
In a post on asylum seekers published today, the well-regarded left blogger the Piping Shrike suggests that such an approach is futile: "The panic about asylum seekers is primarily a panic of the political class, that politicos on the left and right continually project onto the public, but for whom polls show it remains no more than a middling concern."
Asylum seekers infringe upon traditional (some might say imagined and racist) notions of sovereignty, the blogger continues, showing them to be much less secure than otherwise presumed. The political and media class are giving the Coalition Government credit for the asylum seeker issue that they do not deserve; the porous nature of borders will inevitably undermine an "operational" approach to sovereignty, and since Rudd at least, border control now intimately involves other countries — a rising Indonesia and PNG, a troubled state.
"Far from making the government seeming in control, the Manus solution is highlighting the lack of it," the Piping Shrike writes, before concluding that:
"The left, as would be expected, is largely treating this as a moral issue, as it seeks to make a virtue of its isolation from society by proclaiming its compassion against the racist and compassion-less rest of us. In doing so, it makes it seem that this policy is being driven by a racist public and manipulated by a government in control of the situation. Neither is true. The last six years have shown that what asylum seekers have more to be concerned about is an insecure, out of control, political class that targets the most vulnerable to make itself look in command."
As Guy Rundle wrote here at NM earlier this year, "Everything the Coalition has done — from its pre-election commitment to a range of Labor policies, to the absence of a programme now — is evidence of weakness, not strength." How can the refugee-supporting public be convinced of that?
The Sydney Biennale boycott, the second campaign being run against Manus Island, attempts to show just how fragile the consensus is, by striking at the intersection of business, government, the public and border control. Transfield, the company taking over the management of Manus Island from G4S, is a major sponsor of the Biennale, and a growing roster of artists are asking the festival sever ties with Transfield.
"Our interests as artists don't merely concern our individual moral positions. We are concerned too with the ways cultural institutions deal with urgent social responsibilities," the artists wrote in a widely-circulated open letter.
Today on Overland, artist and activist Van Thanh Rudd indicates why a boycott of a large public event like the Biennale is an effective way of drawing out the issues around offshore detention:
"Moreover, through the targeting, isolation and interruption of the process of exchange, a bigger picture can be drawn, revealing the interconnectedness of government, big business and culture."
The Biennale, in its response to the boycott, indicated that their relationship with Transfield would not change. "The only certainty is that without our Founding Partner, the Biennale will no longer exist," they said in a statement."
"Consequently, we unanimously believe that our loyalty to the Belgiorno-Nettis family [Franco Belgiorno-Nettis was the founder of Transfield and helped establish the Biennale] — and the hundreds of thousands of people who benefit from the Biennale — must override claims over which there is ambiguity."
Waleed Aly, in a recent column for Fairfax, wrote unambiguously that "the violence we've witnessed over and over is simply a product of the system."
RISE Refugees, an NGO run by refugees and asylum seekers, many of them former detainees, also denies that the situation is ambiguous. They describe the immigration detention regime as Australia's private prison network. "Participation in the Sydney Biennale sponsored by Transfield makes artists partners in a system that silences the voices of refugees and asylum seekers and profits from their misery," they wrote in an open letter to artists.
That thousands of people would turn out to support refugees and asylum seekers in a symbolic vigil over the weekend is heartening. But could the recent violence on Manus Island entrench the system further? Just today the Abbott Government is revealed to have been seeking Cambodia's support for offshore processing. And Dinesh Perera, a former Sri Lankan army commander who ran the Manus Centre under G4S is reportedly staying on now that Transfield is taking over. A "variety of tactics" may be necessary to provoke change after all.
Donate To New Matilda
New Matilda is a small, independent media outlet. We survive through reader contributions, and never losing a lawsuit. If you got something from this article, giving something back helps us to continue speaking truth to power. Every little bit counts.