Barry O'Farrell's alcohol-fuelled violence laws, including mandatory minimum sentences for "king hit" style attacks, have been rushed through the NSW parliament just hours after most MPs were first allowed to read the proposed laws.
Passed by the upper house on Thursday evening, the new laws will increase the sentences handed down to those who cause death by "intentionally hitting" another to a maximum of 20 years, and up to 25 if they are intoxicated at the time.
In conjunction, police have been afforded new powers to perform drug and alcohol tests on those suspected of committing such a crime. Other measures introduced will limit access to alcohol and venues in Sydney's so called "entertainment precinct".
The legislation was drafted and pushed through parliament so rapidly that the government was forced to amend its own bill while it was still before the state's lower house.
Labor and crossbench MPs claimed they were only shown the original legislation one hour before the day's session began. One Greens staffer complained the morning was so rushed that the government initially failed to provide an individual copy of the bill to each MP.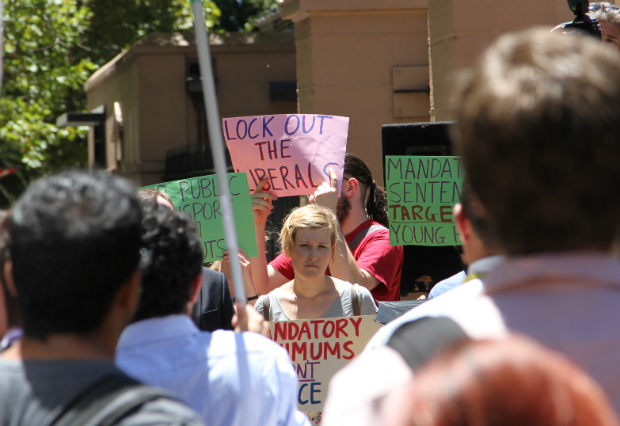 With limited time to discuss and strategise, Labor MPs found themselves in a difficult position, having already tried to score points by chastising the Premier for being weak on crime. In a confusing double act, many Labor MPs spoke out against the legislation, only to fall into line and help vote it into law.
"The proposed changes to the law are far-reaching and we think should have been given greater scrutiny than the Parliament is able to afford them on this occasion," Deputy Opposition Leader Adam Searle told the upper house, before declaring his belief that "mandatory sentences do not work".
Searle's words were consigned to little more than footnotes in Hansard — he voted for the laws anyway. The Greens and Sydney Independent Alex Greenwich were the only members to vote against the bill.
Greens MLC David Shoebridge was scathing. "A small group of the leaders of the major parties in the lower House decided that these laws should be supported because it would play out badly in the media if they were not," he said. "It has been a travesty of democracy and it demonstrates that this is a pretend democratic process."
The amendment rushed through by the government yesterday morning clarified a crucial detail — that the eight year minimum for the new offence referred to the non-parole period, not the total sentence.
When questioned about the amendment, and the apparently rushed nature of the legislation, the Premier's office referred NM to O'Farrell's statements to the parliament. "We believed the legislation was clear, but a question was raised and we are determined to fix it. I make no apologies for doing that," the Premier said on Thursday.
President of the NSW Bar Association Phillip Boulten told NM this would mean the total minimum sentences for those convicted under the new law would be closer to 11 or 12 years, but that most offenders would receive far longer jail terms.
"We think that this measure is likely to lead to disproportionate sentencing in a very large number of the cases that will be dealt with under this provision," Boulten said.
Without allies in the upper house, the Greens' attempts to amend minor segments of the bill came to nothing, ensuring that using "offensive language" in public will now cost $500 instead of $200. Christian Democratic party leader Fred Nile was enthusiastic about the increase, though it's unclear exactly how heavier fines for swearing are going to help "king hit" victims.
With the first round of reforms now out of the way, the real test for the Parliament, but especially for Labor, will come in March. A raft of radical sentencing reforms initially slated to go through the Parliament on Thursday have been deferred until the regular parliamentary year begins, giving Labor time to assess its position on the issue and the legal world the chance to pressure O'Farrell into backing down.
Though Thursday's measures are severe, March's are set to include mandatory minimums on offences including assaulting an officer while intoxicated and occasioning bodily harm. The former, which could involve as little as tugging an officer's shirt, could result in a minimum two years in prison.
"The intention of the government is to create mandatory minimum sentences for a range of offences that are very common and where people are not hurt at all or where they are not hurt seriously," warned Phillip Boulten.
"We're going to do a lot of work to try to convince politicians of all persuasions that the next round [of bills]needs to be modified if not abandoned."
The laws have caused widespread outrage among legal experts due to their potential to overwhelm NSW's prisons, and the risk they will disproportionately fall on Indigenous Australians.
Donate To New Matilda
New Matilda is a small, independent media outlet. We survive through reader contributions, and never losing a lawsuit. If you got something from this article, giving something back helps us to continue speaking truth to power. Every little bit counts.