Citizens in Nepal turned out to vote in national elections yesterday, despite the threat of violence from boycotting parties and a resounding sense of disillusionment with their political leaders. Nepal's government has failed to come up with a constitution since the monarchy was abolished and the Maoists swept to power in 2008.
A crude bomb exploded in the capital Kathmandu just hours after polls opened for the Constituent Assembly (CA) elections, injuring an eight-year-old boy and two other people. There were also reports of altercations, bombs, intimidation and polling booths being captured by party supporters outside the capital.
A series of similar attacks in recent days have been blamed on a hardline Maoist party, who sought to disrupt the vote by hurling petrol bombs at traffic and torching vehicles.
It is Nepal's second election for an assembly tasked with forming a constitution. Although gaining the most seats in the last CA, the main Maoist party, the Communist Party of Nepal, failed to win a majority and could not hold their coalition government together or produce a constitution. Instead, their leader Pushpa Kamal Dahal, who goes by the nom de guerre Prachanda, or "fierce", lost the prime ministership.
The party then splintered, three prime ministers came and went in rapid succession and the coalition shuffled and reshuffled until finally a second CA election was called this year to end the political stalemate.
There are fears that no single party will get a clear majority again and the deadlock will drag on. The usually bustling capital was eerily silent on election day with the government enforcing a transport ban and public holiday on top of the vehicle strike called by the alliance of boycotting parties.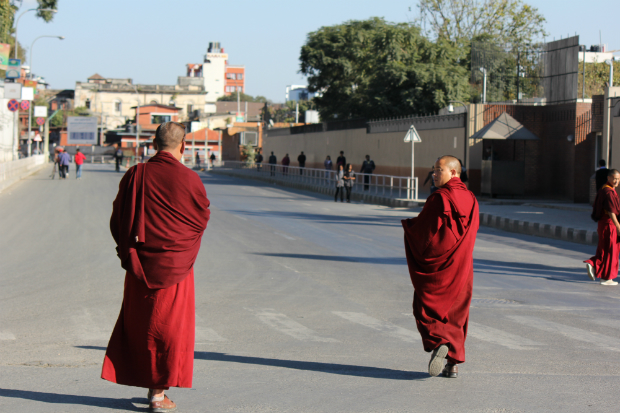 By the ancient royal palace in Durbar Square, people casting their ballots were watched over by dozens of soldiers, armed police, and a handful of tourists.
Sitting in a teashop after voting, Lalitpur resident Heramba Rejshrestha said Prachanda used to be popular but people had lost faith in him.
"After 2006 we hope for change but now we feel hopeless," he said. "Prachanda was poor, now he's very rich but he doesn't follow our demands or give us what he promised."
Heramba said there were also fears that an increasingly popular party calling for Nepal to become a Hindu state, the Rastriya Prajatantra Party-Nepal, could gain ground this election and play up ethnic divisions in the country.
Gyansagar Shakya and Dipendra Shakya (not related) were not optimistic that this election would lead to improvement in Nepal.
"Nothing will change in Nepal," said Gyansagar. "Prachanda didn't do any of the things he said he would do. He said there would be a constitution six years ago and we still have nothing, why should this time be different?"
"We feel upset about the lack of progress," said Gyansagar who, like Dipendra, earns a wage making metal handicrafts.
"Politicians don't care about Nepal, our country, what it is and what we have," Dipendra added. "They should develop the country but they are only in it for themselves, to make money. Lots of people now are leaving Nepal, I know people who have gone to Australia, to work and for study."
This election, more than 120 parties, including the three major ones – the Maoists, the Nepali Congress and the Communist Party of Nepal (Unified Marxist Leninist) – are competing for 240 directly elected seats and 335 seats via proportional representation.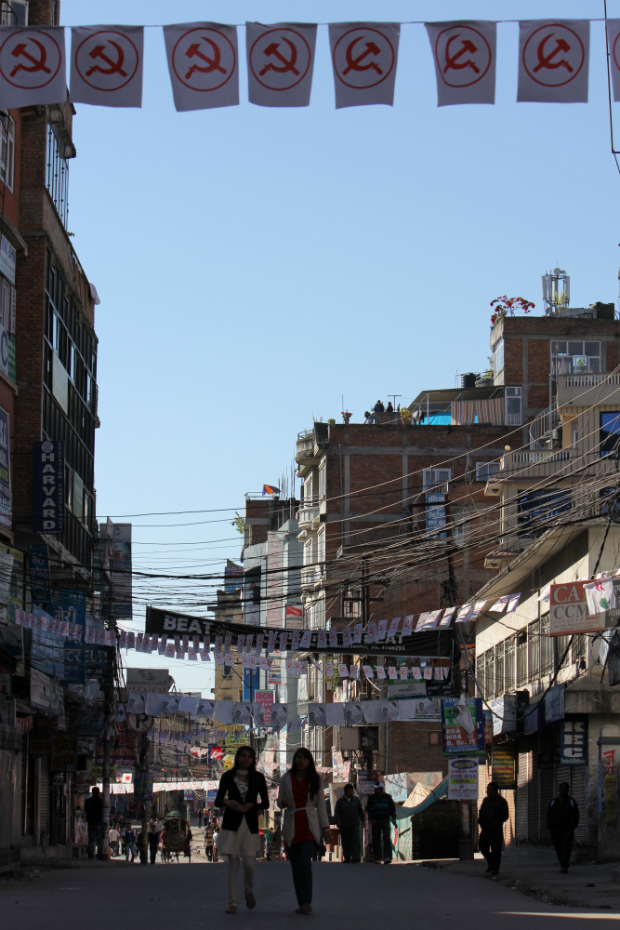 With 125 ethnic groups, 127 spoken languages, multiple religions and castes calling Nepal home, the previous CA hit a roadblock over disagreements about how to split the states – along ethnic lines or otherwise – and which model of democracy to adopt; US, French or British.
As the bickering dragged on the promise of a new Nepal faded, the economy stalled and began to slide. The government took nine months to pass its budget last year.
As a result, and despite the majority of voting having gone smoothly across Kathmandu, David Pottie, Associate Director for The Carter Centre, an NGO that has been monitoring Nepal's post-war struggle since 2003, is not optimistic that the election will solve the problems in Nepalese politics.
"We're very unlikely to see an arrangement of political parties who share a vision of federalism or share a vision of the future form of state to enjoy a clear majority, either as a single party or as a group of parties," he said.
"For a country where there is not a great deal of foreign investment in terms of much needed improvements for infrastructure, or job creation; for a country where many millions of Nepalese are going abroad, they are in a way voting with their feet."
Eminent Nepali political expert CK Lal predicts the Maoists will continue to cause problems after the election:
"Indoctrinated Maoist theology believes that power flows from the barrel of the gun — if the presumption is the election is a bourgeoisie exercise and a sham then of course you continue with protest in different forms, and you may even become more violent, after you are challenged by free and fair elections."
He said Prachanda's party was likely to win the most seats again, although it would be far from a majority.
Along with a sense of failure and disillusionment, the election campaign has been marred by rising violence. A countrywide "high security alert" was issued and the army was called in to monitor the election for the first time in Nepal's history.
After the election was called, a breakaway faction of the main Maoist party announced it would boycott the polls, formed an alliance with 33 other parties and called a 10-day strike over the election to disrupt voting.
Since the strike came into force on 11 November, one person has died and more than 50 been injured in petrol bomb attacks and clashes between party supporters, according to government officials. Earlier in the campaign, a candidate was shot dead by a former member of his party while the wife of another candidate had acid poured on her face.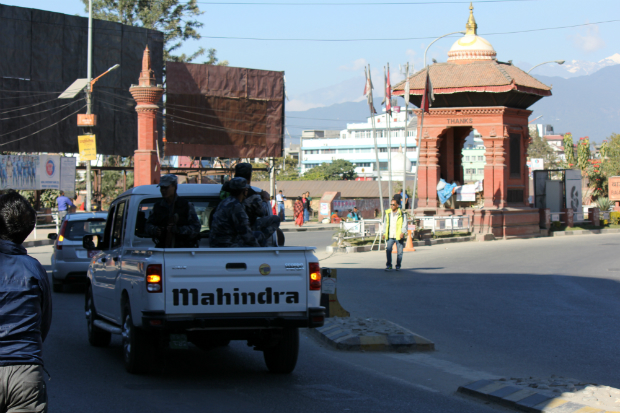 However, David Pottie said this election was actually less violent than the previous poll.
"The overall tenor and volume and extent of violence has considerably lessened this time since 2008," Pottie said, adding that the lack of progress had left people dangerously disillusioned:
"This very pregnant period of an effort to get the politics right has meant that questions of governance, state transformation, infrastructure development and job creation have all languished. I think that at one level the Nepali people have been extremely patient with their political leaders… and that's also a danger, that they get frustrated and opt out entirely of the whole political process to reform and create a new Nepal."
The new Maoist hardliners were organised by Mohan Baidhya – Prachanda's political guru during the country's decade-long civil war – who walked away from the main party in June 2012. Baidhya accused Prachanda of making a major mistake when he signed a peace treaty in 2005, accepted the "democratic republic" line, and integrated the Maoist army into the Nepali Army.
While Baidya said his breakaway faction – the Communist Party of Nepal-Maoist, dubbed the "Dash Maoists" – would pave the way for a new revolution, Prachanda announced his plan for an "economic revolution", suggesting his days fighting in the forest were firmly in the past.
Prachanda himself has fallen out of favour with many voters and members of his own party. Living in a luxurious mansion with a swimming pool and badminton court in Kathmandu's exclusive Lazimpat, he has been accused of forgetting his revolutionary roots and adopting the lifestyle of the billionaire royals he once hated.
He says he wanted to down arms and join the "election battle" long before the historic peace deal was signed – but the hardliners would not let him.
Poll results are due in three weeks.
Donate To New Matilda
New Matilda is a small, independent media outlet. We survive through reader contributions, and never losing a lawsuit. If you got something from this article, giving something back helps us to continue speaking truth to power. Every little bit counts.