In the highly-charged streets of Istanbul, tens of thousands turned out on Sunday for the city's largest ever annual LGBT Pride march.
All the colours of the rainbow strode down the city's arterial Istikhlal shopping promenade, chanting and blowing horns and whistles in a cacophony of noise. Regular marchers all reported this year's event as far outnumbering previous events. Most put the size of the bash down to the recent protest movement sweeping through Istanbul and Turkey.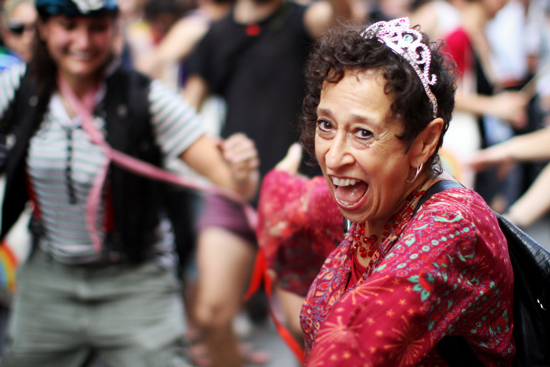 "This is the biggest Pride march I've seen," Dzar Ergarn, one of the marchers told NM. He was videoing people saying "love is solidarity," into his mobile phone for a film project. "It's been growing year after year but after Gezi Park things have definitely gotten bigger."
A protest against plans to raze Gezi Park in central Istanbul quickly grew into a public outcry against Turkey's government when police became brutal. An 11-day sit in was held at Gezi and the adjacent Taksim Square before the encampment was stormed on 11 June.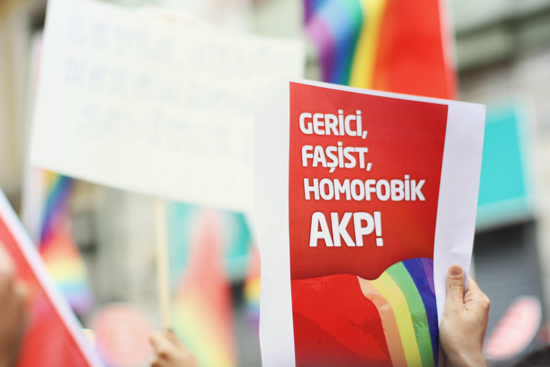 Groups that had previously not interacted in such a way before were drawn together for the first time. Ethnic and religious minorities, the handicapped and the LGBT community were integral to creating an all-embracing atmosphere at Taksim. Such a broad cross-section of society could then demand a better deal from the state.
Ergan said he thought many people had begun to act upon a newly realised sense of understanding toward minorities. "People are empathising with others now and starting to understand the feelings of LGBTs. There's less homophobia around," he said.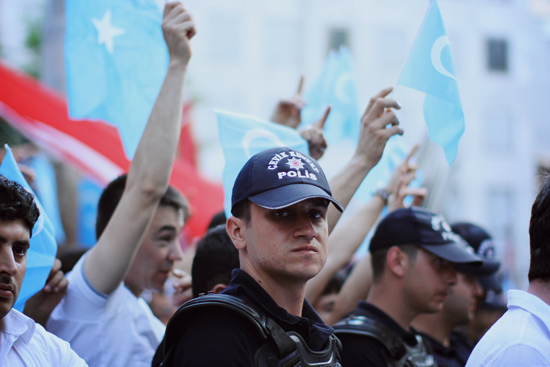 Since the Taksim and Gezi clearances the city has been subject to an overwhelming police operation. Clusters of police with riot gear and armoured vehicles man intersections and neighbourhoods in the suburbs surrounding Taksim Square. However, with the aid of social media, spontaneous events, workshops and demonstrations are materialising across the city.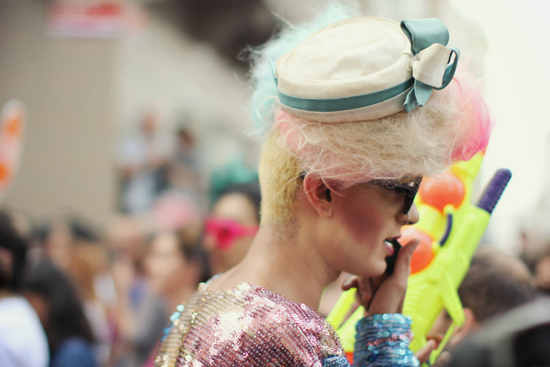 Many store owners in Istikhlal were bemused at the spectacle, standing in their shop doorways. Others clappped and cheered supportively. Some just looked tired of the daily sight of protesters and demonstrators disrupting their business.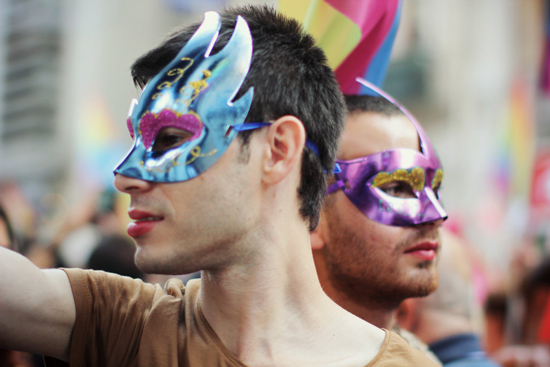 One lady, managing a perfume shop selling imitations of brand-named scents, said she supported both the marchers and the government.
"Erdogan is doing a good job, he's good for business," she said. "But these people just want some recognition and there's nothing wrong with that."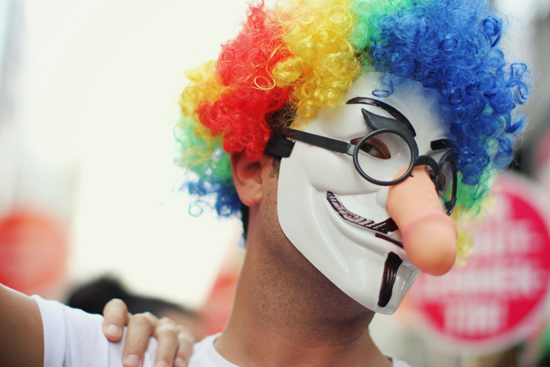 Turkey's prime minister Recep Tayyip Erdogan is a polarising figure. His authoritarian tendencies, religious pomposity, cosy relationships with the big end of town and lectures on social morality are the very reasons many younger Turks detest him. Many see him as the country's most important leader since "Father of the Nation" Kemal Ataturk.
Ataturk's personality cult can be seen in commonplace portraits, statues and busts. Erdogan, who has overseen a period of impressive economic growth during his 11-year rule, is viewed by many in a similar light.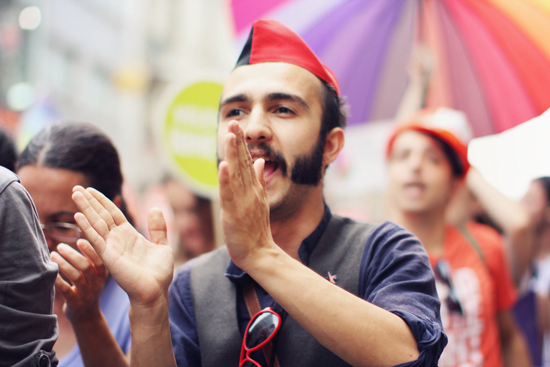 Some of the marchers drank beer. Alcohol is a common sight in the streets of Istanbul and many people gather at evening, in public spaces, with bottles of beer bought from corner stores. Since Erdogan banned drinking in alcohol in public, this has become a political statement. He has even labelled anyone who drinks alcohol – and doesn't vote for his party – as an "alcoholic".
In front of a luxury shopping centre the crowd released a deafening roar of boos and whistles. Excited young flamers squealed in delight.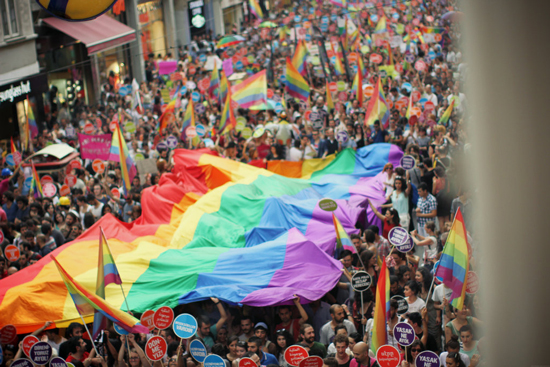 Amongst a group of teachers marching in support, Ozgun Seki said she had seen many LGBT people arrested during the protests.
"Nobody knows what it's like for homosexuals and the government doesn't care for its people. It is important for teachers to support LGBT because there is no structure within the education system to understand the differences of our classrooms. There is nothing in the education system for LGBT. Education shouldn't discriminate and it does at the moment," she said.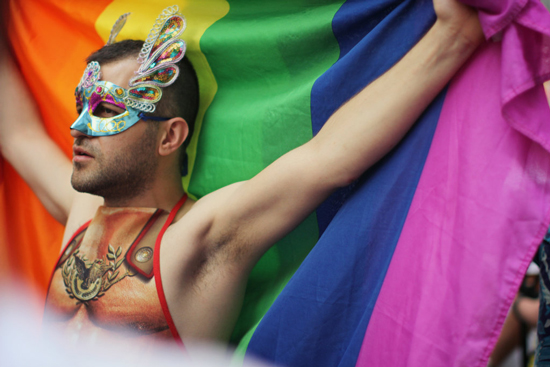 The day was as much about celebration as it was political statement. The elated faces of participants, with all ages and classes embracing the spirit of the event, showed a determination to overcome differences and the difficulties ahead of them.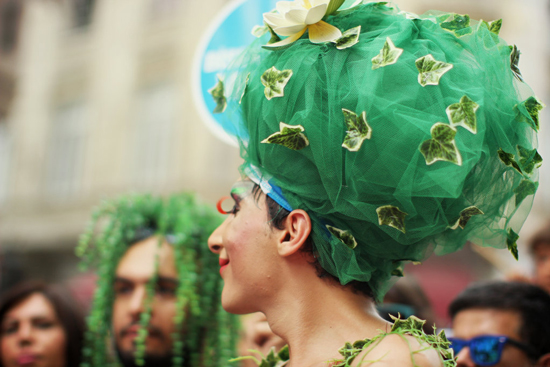 Coskun, was quick to say he was straight and identify himself as in support of the protesters.
"This is the biggest one I've seen. Last year there were maybe 20,000 here but this year I would say over 30 or 40. I just came to support their community and its aspirations," he said.
Donate To New Matilda
New Matilda is a small, independent media outlet. We survive through reader contributions, and never losing a lawsuit. If you got something from this article, giving something back helps us to continue speaking truth to power. Every little bit counts.