In the back blocks north of Adelaide, there's a small manufacturing business that is doing it tough. Thirty years ago it employed 25 people. Now it employs seven workers including the owner's parents.
As I walk around the factory, I can see machinery that hasn't been used for years. A pall has fallen over the shop floor, as if external alien forces had defeated merit and hard work.
Earlier this month General Motors Holden shed 500 jobs, 400 of which were in Adelaide. This story is about the social and economic ramifications of letting General Motors Holden in Elizabeth, South Australia close.
"The South Australian Government throws money at advanced manufacturing expecting us to be like Germany. I make irrigation pipe which carries water, which feeds you and me and possibly half of Asia. That's manufacturing, not pipe dreams," the factory owner says.
With the dismantling of local tariffs and import quotas from the 1970s onwards, Australian manufacturing shrank sharply. Since the 2008 financial crisis, the process has accelerated: between May 2008 and May 2010, 90,000 jobs were lost in the sector.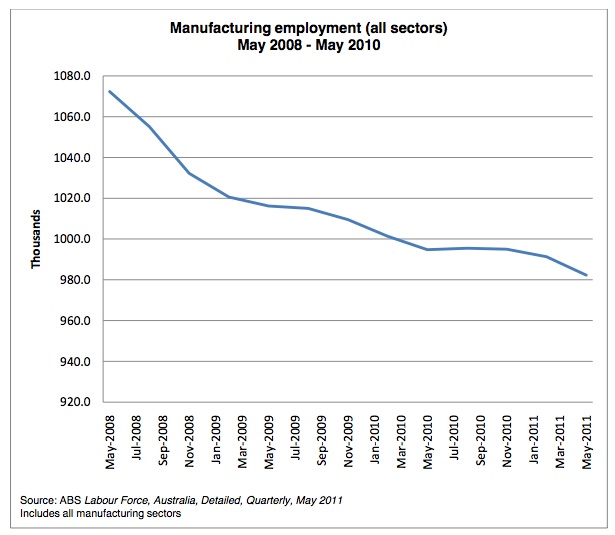 Manufacturing in the west, north and south of Adelaide is part of an integrated web that in large part, supplies component parts for GMH at Elizabeth, agricultural farm parts and components for the Australian Submarine Corporation.
The closure of GMH at Elizabeth would have an enormous "knock on" effect — the likes of which South Australia and Adelaide have not witnessed in their 177-year history. It would include the collapse of the allied parts manufacturers, a reduction of road, rail and ship freight and the collapse of large sectors of Elizabeth's retail market, which is already struggling. Liquidity would crumble and credit would stop.
The effects of GMH closing would be felt immediately. Let's estimate that the salaries of each of the 2000 employees supports four family members – or 8000 people. The fall of the parts suppliers and local services would hit another 8000 people with a knock on effect of a factor of four. This means about 32,000 people would be hit either directly or indirectly along the supply chain. Half of these, I suggest, would lose their jobs as trades fell below profitability.
There's not much change out of 40,000 people, young and old, being directly or indirectly effected, such is the reach of GMH in the north of Adelaide. A historical comparison is the closure of the coalmines in the north of England in the 1980s. Welfare services in Adelaide's north would require Commonwealth Government assistance.
While GMH said that its retrenched workers could get jobs in aged care, as gardeners or hairdressers, this is unlikely for two reasons. According to DEEWR, Elizabeth and surrounding suburbs have some of the highest rates of unemployment in Australia and the lowest number of internet advertised jobs in the state. Many of these workers are highly trained people working in complex automotive manufacturing processes and electronics. Hairdressing is not going to cut it.
Teenage unemployment in Adelaide's north has surged to more than 43 per cent — among the highest in the country — with unskilled workers unable to get jobs as manufacturing continues its decline. Many older GMH workers (50+) would not find full time work again in South Australia.
Adelaide folk have been sheltered about what happens in Elizabeth, Salisbury or Davoren Park. The push to buy SA-made, which is noble, only exacerbates the problem as external markets shun the state.
What little the media do report tends to involve crime and drugs rather than the fact the City of Elizabeth has a proud manufacturing past and an excellent football club in Central Districts. Were GMH to close, the blinkers would be ripped off; not only would people move from the northern suburbs to Adelaide to look for work, but also retail in the city would fall between 10-15 per cent across the board. Adelaide is already in a recession.
The $275 million Holden bailout included $50 million from the SA Government, which sought assurances that the company would hold on to its workers and update its Elizabeth plant to make high-tech parts, which could be sold globally. Holden has done neither.
Keep in mind that Holden's parent company, General Motors (GM), got a total of $52 billion from the US government and $9.5 billion from the Canadian and Ontario governments as it went through bankruptcy protection in 2009. In exchange, the US Federal Government now owns about 26 per cent of the company. The US Government is still owed about $27 billion but keep in mind in the States, GM has to pay the money back.
In the 1960s, GM averaged a 48.3 per cent share of the U.S. car and truck market. For the first 7 months of 2012, its market share was 18.0 per cent, down from 20.0 per cent for the same period in 2011.
Over the past 12 years, state and Federal governments have given Holden $2.17 billion of Australian taxpayer dollars. As previous Adelaide Thinker in Residence and Manufacturing expert Goran Roos wrote (pdf), "corporate welfare activities should be the exception. It should be short-lived and only acceptable if a clear transformation or rejuvenation policy is established".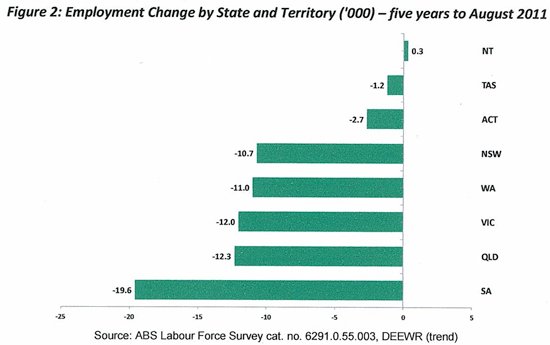 The above graph shows that there is no "bottom" to manufacturing unemployment in South Australia. It just keeps trending down. There is no doubting Roos' intellectual acuity, which is clear in his report, Manufacturing into the Future. But like many previous Thinker in Residence reports, it is heavy on prescription and light on implementation. Exactly how does the state implement the recommendations?
Roos first recommendation is telling: "Replace the efficient market hypothesis with behavioural economics as a philosophical basis for government policy." It would be easier to create a dictatorship of the proletariat in the posh suburb of Burnside. Unfortunately, in Adelaide, there are only about six people who understand behavioural economics and no one who could convince business leaders that this was the right way to go.
The recession of the early 1990s hit South Australian manufacturing hard. Other longer-term factors such as a shift in consumer preferences towards services associated with rising incomes, labour displacing technological change, and reductions in protection and subsidies combined with greater competition from imports, also played their part.
The State Government likes to hold Germany up as a model to follow. This is commendable but Germany's manufacturing sector has hands-on government interaction. It has strong focus on advanced technologies and having a mix of small, medium, and large enterprises operating across a range of industrial sectors. There is a very strong commitment to preserving and encouraging key industries at home but it does not support industries whose days are clearly numbered.
Germany's successful "short-work" policy, for example, allowed companies to keep their skilled workforce employed through the economic crisis. Workers agree to a minor reduction in wages and hours, and in turn, the government steps in to pay a percentage of wages the company otherwise couldn't afford. This enabled the German economy to kick-start as soon as global demand picked up. Almost none of the historical or current German policy settings can be applied to South Australia.
In South Australia the writing is on the wall. Penrice Soda Holdings closed recently, Hills Holdings has sacked hundreds of staff. Simpson Pope, Westinghouse, Chrysler Australia, Electrolux, Mitsubishi, the Port Stanvac oil refinery, ROH, New Castalloy, Sanitarium, Trident Tooling, Autodom, RPG Group, Bridgestone, Clyde-Apac, Priority Engineering Services, the Port Lincoln Tuna Cannery, Angas Park, Kitchen Connection, Clipsal at Strathalbyn and Darrell Lea have all closed down. Visocorp, (a car component maker) has lost 185 jobs, and I'm not confident that car parts supplier Tenneco will trade on in South Australia much longer.
This is not, as some public servants claim, simply "structural readjustment" due to the rise of the service industry. This is the persistent extermination of South Australia's manufacturing industry by external economic forces and by a high Australian dollar. These forces are beyond the ability of the government of South Australia — of any political persuasion — to fix.
There is light at the end of the manufacturing tunnel, but it's faint. Last year a South Australian automotive supplier won $1.18 million funding from the $30 million Automotive New Markets Program grant. Precise Global won a contract with a Tennessee supplier to Mercedes Benz to build tooling for B Pillar stamping, that will make ultra high strength steel for the support between the front and rear glass window of the 2013 M Class Mercedes. This is a great example of looking further afield than South Australia's backyard.
Roos and the state government are right. High value manufacturing is where the future is for South Australia but traditionally, manufacturing management in Adelaide has been risk-averse. Now much rides on whether they attack Asian markets or fold.
Donate To New Matilda
New Matilda is a small, independent media outlet. We survive through reader contributions, and never losing a lawsuit. If you got something from this article, giving something back helps us to continue speaking truth to power. Every little bit counts.