James Packer, Australia's third richest person with $6 billion, made it sound so simple. He wants to do something really exciting for Sydney – a gift of a six star $400-a-night hotel on the waterfront at Barangaroo, a controversial new development on publicly owned land that was once part of the city's shipping port.
But there were two conditions. The first was that Sydney could only have the "best hotel in Australia" if it included a high roller casino. This is tricky — Echo Entertainment already holds the sole licence allowed in NSW until 2019. The second was that Packer would only go ahead with this plan if he got bipartisan support from both the Coalition and the ALP.
One thing Packer hates is public controversy. Yet controversy is what casinos often attract.
They are associated with gambling addiction and have a history of attracting organised crime. There is a risk of state dependency on gambling taxes, pushing governments to allow unwise expansion. Up until the 1980s, casinos were illegal and had strong underworld links. This was the context in which when gambling was legalised and led to laws in NSW, Victoria and South Australia imposing a limit of one casino in each state. In NSW Echo Entertainment has an exclusive licence until 2019. To be successful in NSW, Packer needs a new law allowing for at least one more casino, which would normally expected to go to tender through a process controlled by the NSW Office of Liquor, Gaming and Racing.
James Packer has long dreamed of a casino in Sydney. After he announced his third crack in Feburary, Premier Barry O'Farrell was quick off the mark with support and last week announced his cabinet will consider the plan under its new "unsolicited proposals" policy. Several days later, NSW Shadow Minister for Infrastructure Luke Foley endorsed the proposal, although with a condition that there should be no poker machines in the new casino. Only the Greens are in clear opposition.
Today, Crown told the ASX that the O'Farrell Government had "confirmed" the company's plan for a second Sydney casino and that the proposal had moved to the next stage of the approval process.
Already the biggest player, Crown will dominate the Australian casino market if Packer pulls off his plan. His hook is that his hotel with a casino will expand economic activity in NSW by $300 to $440 million per year, a claim based on a report commissioned by Crown from Allen Consulting Group. New Matilda requested to read the report but Crown's Executive General Manager of Corporate Affairs, Karl Bitar, who was ALP National Secretary until he resigned last year and joined Crown as a lobbyist, said it wouldn't be made available.
He said the $300-$440 million figure represents projections of visitor spending at Crown and "flow-on effects to other industries." Packer's campaign has been helped by some journalists who reported these claims as fact. Bitar did not reply to a question about whether anyone outside Crown had seen the report.
Packer currently owns nearly 50 per cent of Crown Ltd through his private network of companies controlled by Consolidated Press Holdings (CPH). CPH, which earned $175 million profit last year, is in turn controlled by Consolidated Press International Holdings (CPIH) based in the Bahamas tax haven. Its beneficiaries are secret Packer family trusts. (CPIH sits atop a complicated structure of private companies arranged by Packer advisors to minimise tax bills.)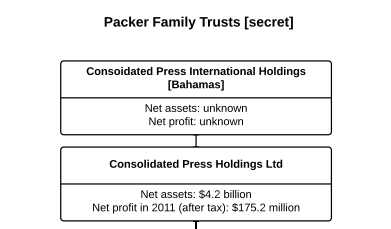 In August, he announced equally exciting plans for a new 6 star hotel at his Crown Perth casino to be built on land bought from the Western Australian government at a $60 million discount. This new Perth hotel will add to exclusive accommodation for high roller gamblers opened recently. Last year Packer also announced a major expansion of Crown Melbourne to include a new casino for younger gamblers and extra high roller facilities for which he already controls 80 per cent of the market in Australia. He has also been reported to be interested in various scenarios to establish a casino in Queensland, either in Brisbane or on the Gold Coast. According to the Gold Coast Bulletin, Crown recently "smoozed" Gold Coast local councillors in Melbourne after Crown's CEO Rowan Craigie expressed an interest in a new casino.
This week's news of bipartisan support in NSW tops what has been a good year for James Packer. This will be a relief after some horror ones over the last decade. In 2008 his private interests were reported to be losing $6000 a minute. Crown also made huge losses on a big Las Vegas casino deal during the GFC when it pulled out on the grounds that James' sister Gretel did not want to reveal details of family secret trusts.
But Crown recovered well and TV series such as Paper Giants and Howzat on the family's history helped soften the Packer image. As Crikey demonstrated in their media analysis published in August, Packer received great coverage for weight loss after lap band surgery as well as for his expansion plans. In return, he delivered millions of dollars of advertising to the cash-strapped media; News Corporation and the Australian Financial Review received Packer's largesse, leaving The Age and the Sydney Morning Herald out in the cold.
In June, SMH reporter Adele Horin (who has since left Fairfax) had raised a rare media voice against the plan: "What is good for Packer is not good for the rest of us. No one should be fooled by Packer's stance as saviour of the ailing tourist industry. Packer may need high rollers from China, but whether Australia does is another question."
While he has had a dream media run, the "bottom line", as the company reported in June. has been "mixed" with overall earning of profit before tax of more than $500 million, only 1 per cent up on 2010/2011. Consumers are being more careful with their money which has led to "softening of demand" in the gambling mass market. New casinos in Asia, especially in Singapore, are creating stiff competition. In a pointed nudge to Australian governments of the importance of their support, Packer commented on how supportive Asian governments are to new casino ventures in Crown's 2011 Annual Report.
The best financial news for Crown this year came from Melco Crown based in the gambling hub of Macau. Melco owns City of Dreams and the Altira luxury complex and is waiting for an approval for 800 more tables at its planned development Studio City. Packer holds 33 per cent of the company which is controlled by Hong Kong businessman Lawrence Ho.
After a very rocky start during the GFC, Melco registered strong growth in the last two years, especially from earnings from VIPs, or "whales" as they are known, the target market for his new Sydney casino. Growth waned as the economy slowed in China. While Macau is fast becoming a gambling mecca on a scale far bigger than Las Vegas, casinos in the former Portuguese colony have also hit by recent raids and accusations of money laundering., Reuters reported last week that residents are complaining that a government hooked on casino taxes is providing few affordable housing and health services.
Melco aims to ride the casino wave in Asia but failed to get a licence in Singapore. It has been more successful in the Philippines which is also chasing the Chinese high roller market. Melco is investing $500 million in a casino with the country's richest person, banker and real estate developer Henry Sy and is also interested in Taiwan where the government is legalising casinos.
Packers and Hos
Packer's Melco partner Lawrence is the son of Dr Stanley Ho, nicknamed the "king of gambling" who held a 40 year Macau casino monopoly. Dr Ho also had good news last week when the Chinese government gave the nod to his company SMH Holdings, already the biggest Macau earner to build a new 5 star casino resort on land granted by the government.
As Paul Barry explained in Who Wants to be a Billiionaire, the Packers and Hos go back many years. Stanley Ho was originally going to be the licence holder for his son's venture with James. This created a difficulty because authorities in a number of countries "believed him to be an organised crime figure with links to loan sharking, money laundering and the Chinese triads." The Hos have always denied these allegations.
In 1986, Stanley Ho was banned from bidding for Sydney's first legal casino and in 1989 for Sydney's Star casino. He was also banned in Queensland, Western Australia and Canada. If the Stanley Ho Packer joint venture continued in Macuau, Packer risked losing his Victorian licence for Crown. Faced with this prospect, he decided to break ties with Stanley Ho who removed himself from the Melco board. Luckily Melco scored a casino sub-concession from another big casino tycoon, the American Steve Wynn who is another big player in the restricted Macau market.
Although Stanley Ho was prevented from having casino interests in Australia, he has real estate and tourism interests here and a home on the Gold Coast. He has been consistently generous to the ALP, especially in the 2007 and 2008 when he and his company and business partner Anthony Chan contributed a massive $1.2 million to the Labor Party. The party returned $499,980 given by Dr Ho's wife Angela Leong, after what ALP national secretary Karl Bitar, who now works for Crown, described as a "due diligence' exercise. According to media reports, Angela Leong has been identified as a friend of former Prime Minister Kevin Rudd.
In 2010, New Jersey authorities ruled that Stanley's Ho's daughter Pansy was too close to organised crime to be a partner in casinos. The Hos again denied the allegations. In launching Melco on the Hong Kong stock exchange last year, Lawrence Ho made it clear he would not become a director in his father's casino company, although he revealed in a prospectus his many interests in the Ho empire. Lawrence Ho has said he will not exercise managerial responsibility in any company connected to the empire of his father, who is 90.
Missed Opportunities
Even now as his Sydney prize is within reach, Packer would be well aware that even well-made plans can unravel. Critics of the Barangaroo development will be unhappy that talks are underway behind closed doors to raise the height of the hotel to 60 floors before the planning process has even begun. Complaints about the lack of due process and dependence of the state on gambling are emerging. The Australian Shareholders' Association, the NSW Greens John Kaye and anti-gambling campaigner Tim Costello have all voiced concern.
Not only had the Packers encountered problems with their association with Stanley Ho but earlier attempts at gaining casinos had not gone smoothly in NSW or Victoria.
In 1991 NSW Premier Nick Greiner, now head of Infrastructure NSW, pushed for two Sydney casinos. He envisaged one in Pyrmont, and another in Bridge Street in the CBD but the ALP opposition led by Bob Carr would only agree to one casino licence. The Packers could not wait to get their hands on it.
This was James's first big job, although his father called the shots. During the bidding process, James phoned a NSW Minister to say, "The old man told me to ring… this is the message. If we don't win the casino, you guys are fucked." The Packers lost by $80 million to a consortium led by US casino operator Showboat and Leightons construction company. (For a more complete version of these events, read Paul Barry's book, p. 54-57).
The Packers, angered by the loss, went to war against Leightons claiming that the construction company was "unfit" to hold a licence because of findings against it by the Giles Royal Commission into the building industry. Radio broadcaster Alan Jones also attacked the winning consortium. The Labor opposition forced an inquiry into the tender process but eventually the decision against the Packer consortium was confirmed by the NSW Casino Control Authority.
There were troubles too in Victoria for Crown. Before the 1999 election, the Victorian opposition claimed the Crown licence had been won unfairly and threatened to hold an inquiry into the tender if it was elected. After a meeting with Richardson and Packer, a donation of $100,000 was made to the ALP. Bracks won the election. There was no inquiry. (Barry, p. 141-2)
Third time lucky?
There have been rumblings about a second casino in Sydney for years. In June 2007, the NSW government refused to rule out a second casino while in talks with Tabcorp which then owned Star casino about the extension of its exclusive licence. Two months later, SMH reported that the Premier Iemma had talked to Stanley Ho about setting up a second casino. Stanley Ho also attended a fund raiser where he paid $48,000 for a lunch with Iemma although he failed to take it up the prize. Later Iemma told the ABC that he had discussed Ho's Hong Kong casino operations with him, not the second casino issue. (Iemma is now calling for a tender into the current process.)
At around this time, Packer was reported to be interested in a casino at Tweed Heads, just over the border from the Gold Coast.
The now-Minister for Gaming, George Souris (then Shadow Minister) was critical of the Labor government saying, "Prior to the election, in all Mr Iemma's government's public pronouncements, a one-casino policy remained firm while at the same time [he was]accepting representations over dinner from prospective operators of a second casino somewhere in NSW."
At that time Souris told the SMH he was concerned about the prospect of Labor donors being involved in talks with ministers or the Premier. "The Government must demonstrate it's got an entirely arm's-length approach to the negotiations both with Star City and a second casino, which must be subject to an open and accountable tender [if established]," he said.
The NSW Greens were opposed to a second casino with MLC John Kaye warning of an increasing government reliance on gambling revenue and problems caused by gambling addiction.
On 30 October, News Ltd's Herald-Sun predicted that after lobbying by his friend Packer lobbyist Peter Barron, who had earlier been PM Bob Hawke's Chief of Staff, Iemma was about to give Packer a new cash cow in Sydney. According to this report, Star had been warned it must pay more tax or face competition in Sydney and that Iemma was happy to work with Packer in Sydney.
But something went wrong. On the very same day, Fairfax reported that Iemma ruled out a second casino in NSW, saying that "no one has come to me with a proposition or a discussion about a second casino, not [casino owner]Mr Stanley Ho, not Mr Packer, not Mr [Peter] Barron, not Mr [Graham] Richardson." (Richardson is an ex-Labor Federal Minister and ALP powerbroker who also worked for Packer). Iemma did acknowledge that he met Packer over dinner with Richardson to discuss the introduction of Packer's company online betting company Betfair into NSW and announced a review to consider that.
During the next couple of years, Packer was busy dealing with serious financial problems and off-loading assets to fund his casino plans, He is selling his interests in Consolidated Media Holdings to News Ltd. He has already dumped Channel Nine and his CPH's magazine empire, the core of the family empire under father Kerry. He sold the family's pastoral, financial services and successful aid contracting business after the GFC when he lost $4 billion, mostly on his investments in casinos in Nevada. This was on top of the $400 million he lost in the failed One Tel venture.
Now, he is staking the family fortune on casinos, not by gambling, like his addicted father Kerry, but by investing in them. He hopes to develop a global brand. His dream for a Sydney casino is at its core; he kept talking about it, including to Barry O'Farrell who was elected Premier of NSW in March 2011.
This is the first installment in a series of articles by Wendy Bacon and Lawrence Bull investigating James Packer's casino ambitions. Read part two here.
Donate To New Matilda
New Matilda is a small, independent media outlet. We survive through reader contributions, and never losing a lawsuit. If you got something from this article, giving something back helps us to continue speaking truth to power. Every little bit counts.