Toomelah is a struggling town. But so too are most of the state's former Aboriginal missions and reserves, and there's more than 60 of them.
The reasons why are many and varied, although one event in particular helps explain the current decay of black bush communities. And it never made the national headlines.
After producing great footy players, Toomelah's other talent was running a thriving Community Development Employment Program (CDEP).
CDEP is an Aboriginal-created program where participants, in a broad sense, worked for the dole. It began as a pilot program at the community of Barunga, an hour's drive east of Katherine in the Northern Territory.
Ironically, CDEP was unveiled in federal parliament by the Fraser government on 26 May 1977, a date that would later become Sorry Day. At the time, Ian Viner, the Minister for Aboriginal Affairs, told parliament:
"Unemployment benefits have been available to Aboriginals as to other Australians. In some cases… the lack of activity when combined with unemployment benefit has produced serious social problems such as alcoholism and other health hazards. CDEP will provide work for all Aboriginals in a particular community who wish to work."
From its humble beginnings, CDEP quickly spread across the nation. By 1986, there were more than 4000 participants, about 1.8 per cent of the total Aboriginal population in Australia. Within 10 years, the figure had increased more than seven-fold to almost 29,000 participants.
By 2001, the total number of CDEP participants had grown to 35,400 — roughly 25 per cent of the total Aboriginal and Torres Strait Islander workforce. There were almost 300 organisations delivering the program, the overwhelming majority of them local Aboriginal community groups.
In Toomelah, as in many Aboriginal communities, there was no shortage of people looking for work. They too embraced CDEP. Local participants provided most of the civil services that local, state and federal governments should provide Aboriginal communities, but rarely do.
By 2009, Toomelah's CDEP workers ran the local shop through the Toomelah Co-op. CDEP crews kept the streets clean, mowed the parks and gardens and the footy oval, drove the community bus, and repaired and maintained local housing and infrastructure.
In short, CDEP kept the town alive, and all levels of government were only too willing to watch it happen — it was, after all, a dirt cheap way of providing basic services to Aboriginal communities, without having to dip seriously into the pockets of Australian taxpayers.
Rene Adams, who ran the program through the Co-op, says under CDEP Toomelah was a different town.
"It was thriving, it really was," she told Tracker. "The community was clean. We had a cemetery crew that looked after the graves. We ran a night patrol, with shifts. They'd watch the school, the Co-op, the [health]clinic, the pre-school, the land council office. And you could have eaten off the roads, they maintained things that well."
The local community-owned shop employed 26 workers through CDEP, and workers grew hemp to provide pulp for a local paper factory. All up, around 130 local residents in a town of less than 400 accessed employment through the CDEP. So successful was the Co-op's operation that in 2000 it won the Prime Minister's Award for Excellence in Community Partnerships.
Over the next half decade, the Co-op went from strength to strength, and took over the administration of CDEPs in outlying towns, with more than 175 participants across three communities. And then, with the abolition of ATSIC in the mid-2000s, things began to unravel.
The Howard government's Indigenous affairs minister, Mal Brough, and minister for employment, Joe Hockey decided that CDEP had become a "destination" rather than a path to "real employment".
They made the mistake that many white bureaucrats have made, believing that CDEP was created by Aboriginal people as a path to mainstream employment. In fact, CDEP was created as a way for Aboriginal people to work in their communities, and to provide basic services in the absence of government doing its job, albeit at a greatly discounted rate.
Regardless, Brough and Hockey scaled back CDEP in urban, regional and remote centres. No thought was given to the reality that in many places — particularly those like regional NSW — CDEP was the only source of employment for Aboriginal people.
Labor went to the 2007 federal election promising to re-invigorate CDEP — in the Northern Territory for example, it was being axed as part of the NT intervention. But having won office, the Rudd government simply continued the "reforms" started by Brough and Hockey.
By 2009, three decades after it began, the Minister for Indigenous Affairs, Jenny Macklin, announced CDEP would be abolished in "non-remote areas with established economies".
One of the ironies is that Labor won office in 2007 claiming, repeatedly, that the biggest problem with the Liberals' policies in Aboriginal affairs is they adopted a "one size fits all" approach. Macklin's CDEP policy is based on nothing more than lines on a map.
The small community of Mungindi, for example, is just 150 kilometres from Toomelah. It has kept its CDEP. But Toomelah falls within 30 kilometres of a major centre, Goondiwindi, where, says Macklin, there are "local job opportunities".
Had Macklin read Marcus Einfeld's Human Rights and Equal Opportunity report then they would have realised that it was sparked by a massive riot in Goondiwindi in 1986, led by more than 100 Toomelah residents protesting appalling levels of racial discrimination and notably, their inability to secure employment.
And had she bothered to ask Rene Adams about the work history of the region, she would have discovered that in the 20-year history of the program in Toomelah, no single CDEP participant had ever left the program after securing a job in Goondiwindi.
"Goondiwindi is a lot better than what it was, but it's still a racist town," Adams said.
Adams' view is backed by Elaine Edwards, deputy chair of the Toomelah-Boggabilla Local Aboriginal Land Council, who along with other senior elders, met with Tracker in Goondiwindi recently. They all agreed that racism means Aboriginal people still struggle to find employment in Goondiwindi.
Adams had previously tried warning the Minister personally. In 2009, prior to the abolition of CDEP, she phoned into a live interview Macklin was conducting on ABC Radio in Tamworth, ambushing her on the air.
She did it again in 2010 and 2011, and also wrote to the Department of Employment and Workplace relations on the likely impact on the community.
"We had to do reports for (the government). We predicted it would be bad, but we never predicted it would be this bad. It's five or six times worse than we thought," says Adams.
And she wasn't alone in warning Macklin of the impending disaster. Numerous submissions to a parliamentary inquiry into the legislation abolishing CDEP warned Macklin of the dangers of her policy, including a combined submission from Professor Jon Altman and Dr Kirrily Jordan from the Centre for Aboriginal Economic Policy Research (CAEPR).
"Rather than the stated aim of shifting CDEP participants into so-called 'real jobs', the likely result is shifting people out of active work through the CDEP scheme and onto long-term income support," they wrote. That is precisely what has occurred.
In late 2009, Jordan completed a second report, this time specifically into the CDEP operations in the APY Lands in South Australia. Unlike Toomelah, the APY Lands was not considered close enough to "real economies" to lose CDEP altogether, but it was slated for reform.
Jordan noted: "This preliminary analysis concludes that although some of the measures introduced in July 2009 have had positive impacts, the changes to the scheme itself are tending to undermine the productive capacity of CDEP and induce a return to 'sit down money'.
"This is ostensibly what the government seeks to curtail and indeed what the CDEP scheme itself was designed to minimise."
In an email to Tracker last week, Macklin explained that she was aware of the problems in Toomelah, and the federal government was providing assistance:
"The Indigenous Employment Program is providing more than $1.1 million in Toomelah and Boggabilla for training, mentoring and helping local people get a job. We are also delivering $462,000 for Indigenous Community Links in Toomelah to help local people access employment services. This builds on the $450,000 provided from 2008-09 for these services."
Ironically, the explanatory memorandum that accompanied Macklin's legislation into parliament (the plain English summary to help other politicians understand what they're voting for) stated that there would be "nil financial impact" from the proposed Bill.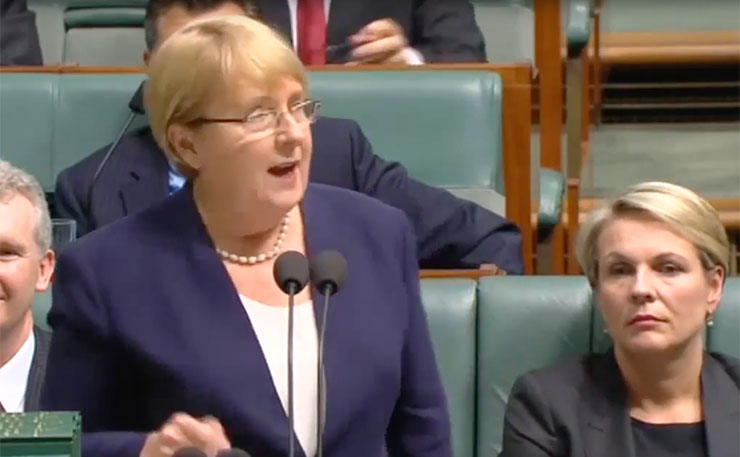 Abolishing CDEP in regional communities around the nation might not have had any impact on the bottom line of Jenny Macklin's department, but the impact on the community of Toomelah was devastating.
"All the people who were on CDEP are basically unemployed now," says Rene Adams.
With the closure of CDEP, the community store, with its two dozen employees, was forced to close. That means a loaf of bread is a 14 kilometre drive away in Boggabilla.
"We lasted 26 weeks, but it finally collapsed," says Adams.
Under the Rudd government's schools stimulus package, around $600,000 was spent on building a new school canteen at Toomelah primary.
It began to serve not only as a source of food for schoolchildren, but as the only "store" in the community.
Today, even the school canteen lies vacant, courtesy of repeated break-ins. There is, of course, no night patrol in Toomelah anymore either.
No-one is cleaning up the community anymore; the cemetery crew is gone, the civil services have ground to a halt. The street lights are blacked out, there's no-one to attend to local plumbing or basic repair and maintenance of community assets.
If Toomelah residents want work, they have to find it outside their town, but there is no public transport to and from Toomelah, save for a morning school bus, which is only for students. 20-30 local men are now in jail.
Violence in the community has increased exponentially, so much so that more than 60 videos of fights between local residents have been posted on YouTube in the past year. A punch-up in the street has become the entertainment of choice for a community in serious decline.
"Mental health issues and suicides have increased. There's more drugs, more violence, more alcohol. It's heart-breaking to see Toomelah the way it is," Adams told Tracker.
The media have overwhelmingly missed the real story at Toomelah.
Both the Herald and the ABC acknowledged CDEP as one of the causes of problems in Toomelah, but no follow-up stories delved into how and why it occurred. Indeed rather than grill the Minister for Indigenous Affairs, 7.30 Report gave air-time to Mal Brough, one of the architects of the destruction of CDEP.
Brough, as always, focussed his remarks on "saving the children", and called for the Toomelah community to be shut down. His appearance prompted zero media follow-up.
This is the second article in a two-part series on Toomelah by the editor of Tracker magazine, Chris Graham. Read the first part here.
Donate To New Matilda
New Matilda is a small, independent media outlet. We survive through reader contributions, and never losing a lawsuit. If you got something from this article, giving something back helps us to continue speaking truth to power. Every little bit counts.